Mannis: MLB Now panel highlights Day 1 of SABR 47 convention
SABR's 47th annual convention kicked off Thursday, June 29, 2017, at the Grand Hyatt New York. The day featured a dozen research presentations, multiple committee meetings, and a number of exciting panels.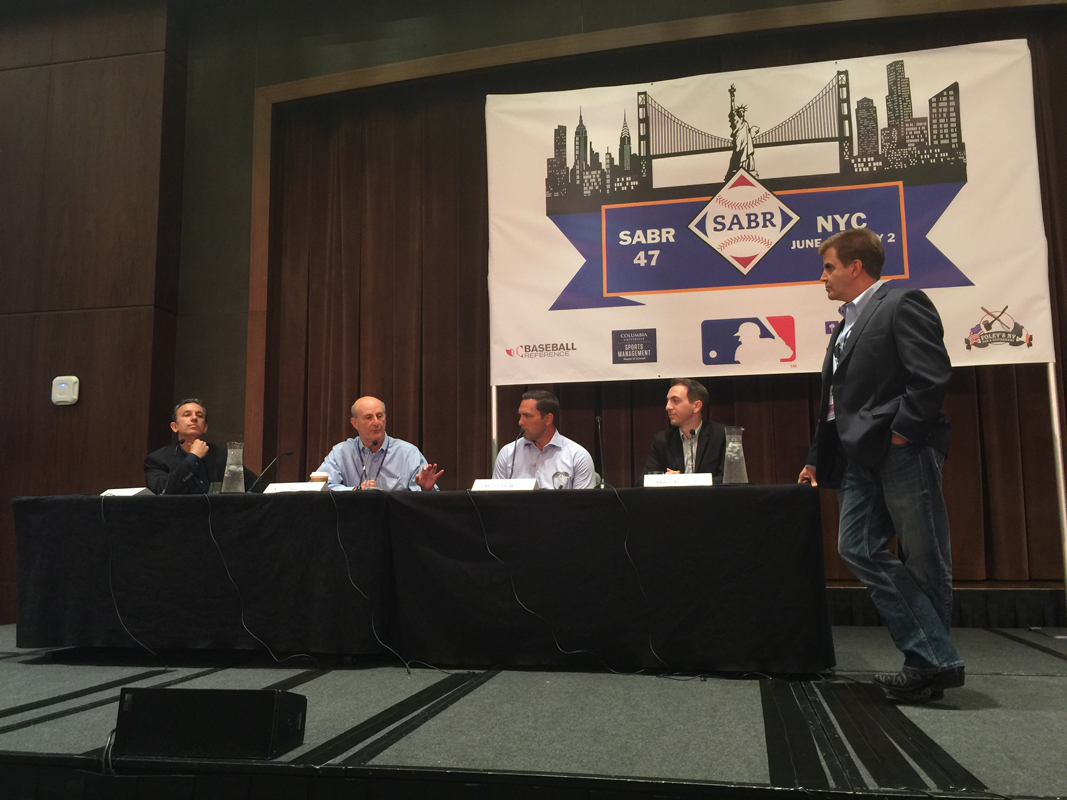 The MLB Now: The Changing State of Sabermetrics panel featured SABR President Vince Gennaro, former major-league player and current MLB Network insider Mark DeRosa, New York Post columnist Joel Sherman, and MLB.com's Mike Petriello. The panel was moderated by MLB Network's Brian Kenny, author of Ahead Of the Curve.
Petriello described how MLB Advanced Media uses measures of speed, acceleration, and velocity to determine even more data about evaluating players. Sherman said the expanded data feels "like a new toy of sorts … we have to go through growing pains to find the most valuable way to use this new toy."
DeRosa said he felt the reason he always hit good pitching well was because the pitchers didn't respect him enough. "If I got in a 1-0 count, 2-0 count, 3-0 count, [pitchers weren't] worried about Mark DeRosa," he said.
Gennaro said that makes him more impressed by a star like Miguel Cabrera: "He's getting the best of the best every time out, and he still puts up the numbers that he puts up."
DeRosa said that his perspective is unique as a former player and an analyst. He said he was surprised that Kenny saw Kansas City Royals outfielder Alex Gordon as an elite star, adding that he felt from the start of Gordon's massive contract that the signing would come back to bite the Royals.
I love Alex Gordon, but this guy [Kenny] claimed he was a superstar and now [general manager] Dayton Moore singlehandedly has to dismantle a franchise because he gave this guy $20 million a year!" DeRosa said.
Kenny said he was surprised by a recent report about Hanley Ramirez of the Boston Red Sox, who has struggled to hit left-handed pitching this year. Kenny asked DeRosa how it was possible that an MLB player, especially one in a high-caliber organization like the Red Sox, doesn't get this type of information from the team firsthand. DeRosa insisted that the team does have this information, but "they're scared to upset him. They don't want all that data to overwhelm him and affect his performance."
He explained that each player has a different way they prepare for a game. There are players who obsessively study that day's opposing pitcher, DeRosa said, and there are players like Chipper Jones who played solitare in the clubhouse until minutes before gametime, then put on his uniform and played the game.
As absurd as that may sound," DeRosa said, "it clearly worked for Chipper — he'll be punching his ticket to Cooperstown in the near future."
For more coverage of SABR 47, visit SABR.org/convention.
---
Originally published: June 29, 2017. Last Updated: July 27, 2020.
https://h2j7w4j4.stackpathcdn.com/wp-content/uploads/2020/03/research-collection4_350x300.jpg
300
350
admin
/wp-content/uploads/2020/02/sabr_logo.png
admin
2017-06-29 17:36:01
2020-07-27 16:14:49
Mannis: MLB Now panel highlights Day 1 of SABR 47 convention