Mannis: Yogi Berra panel focuses on beloved Yankee's legacy
By Max Mannis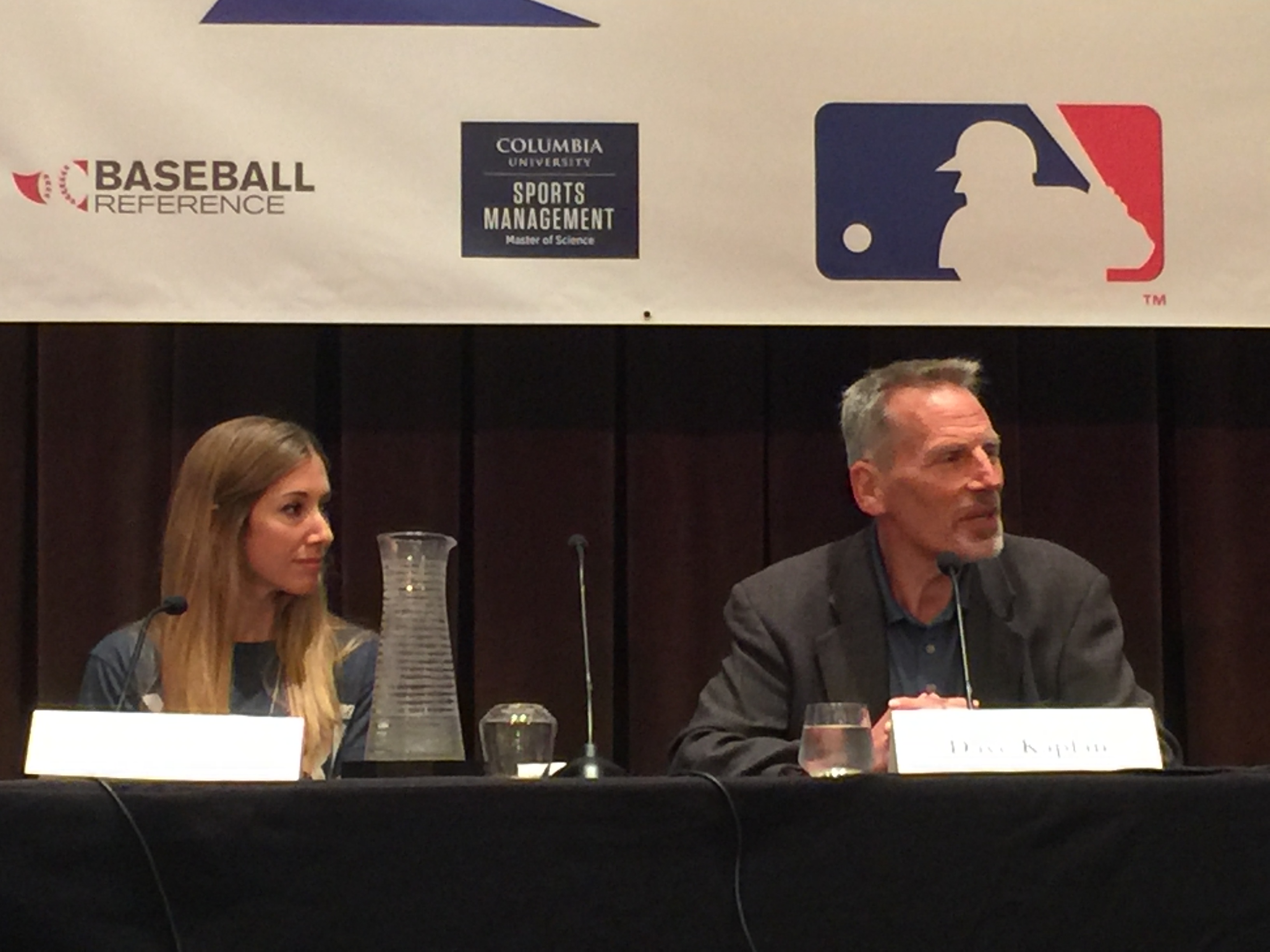 The final day of SABR 47 on Saturday, July 1, 2017, at the Grand Hyatt New York was highlighted by a panel on the beloved Yogi Berra, It Ain't Over: The Legacy Of Yogi Berra.
The panel featured Yogi's granddaughter Lindsay Berra, now a correspondent for MLB.com, Harvey Araton, a New York Times reporter and columnist as well as the best-selling author of Driving Mr. Yogi: Yogi Berra, Ron Guidry and Baseball's Greatest Gift, and George Vescey, also a New York Times reporter and columnist and author of Baseball: A History of America's Favorite Game. The panel was moderated by Dave Kaplan, former director of the Yogi Berra Museum and Learning Center in Montclair, New Jersey.
The panel marveled at Yogi's varied talents as an athlete, a wordsmith, a jokester, an author, a husband, a father, a grandfather, and much more. Kaplan said the Yankees star remained approachable and "acted like a regular guy" throughout his life. "Montclair prides itself on being a town of journalists," Kaplan said. "But as long as Yogi was alive, there was only one first citizen of Montclair. … He was as famous as anyone, but he had that approachability, that sense of a normal guy. He was a big part of the community, a civic treasure."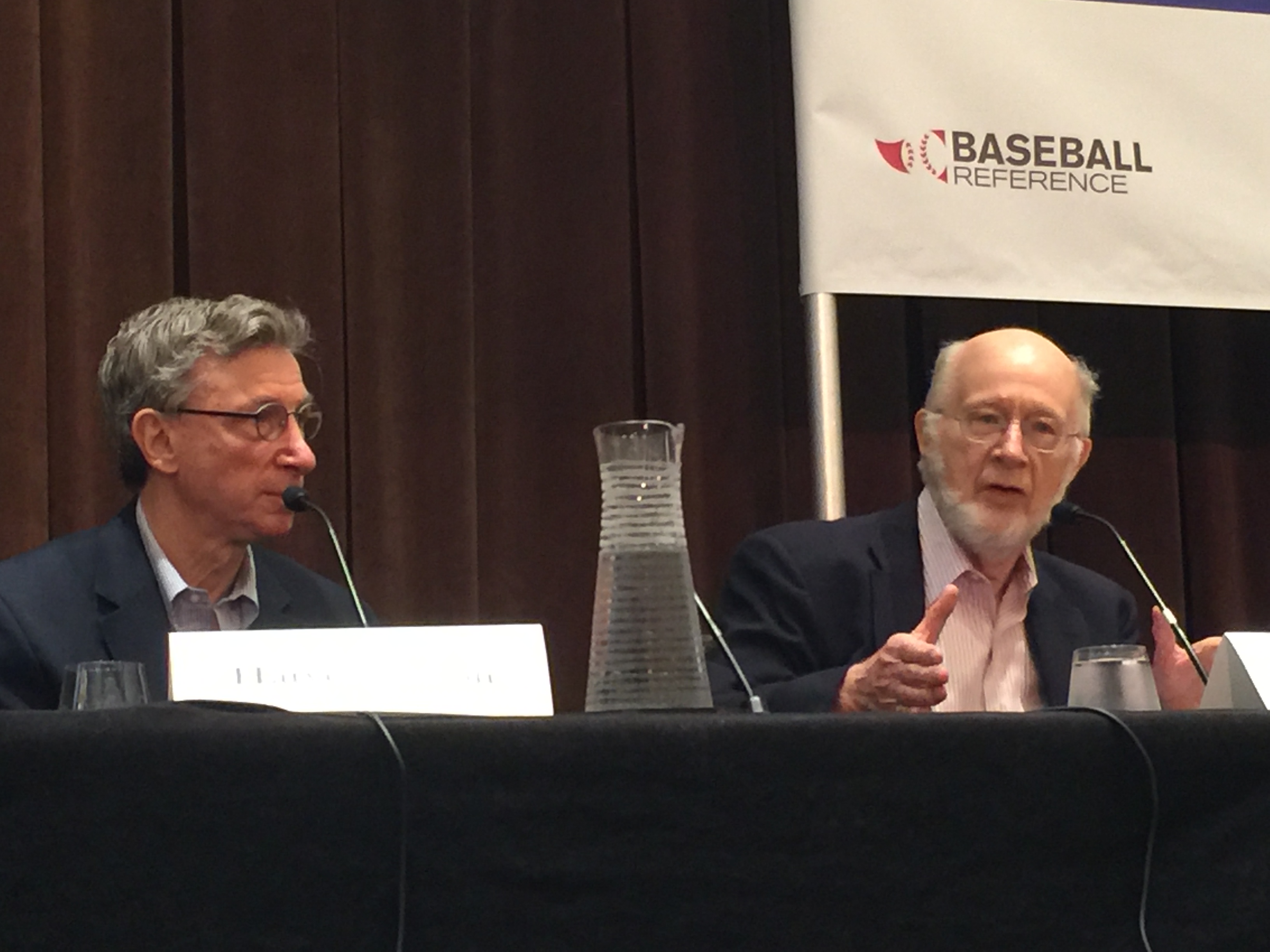 Lindsay Berra said she has grown up all her life hearing Yogi's most famous quips, but said her grandfather wasn't trying to be funny. "He just had a unique way of seeing the world," she said. "I don't think he thought about anything he said; it just came out of his mouth. … But everything he said was so simple that it was smart."
Later, Lindsay delivered the most powerful moment of the day when she was talking about her grandfather's relationship with his wife, Carmen. "My grandmother was such a special person. They were married for 65 years," she said.
"You talk about sharing someone with the world, that's probably harder for a wife," Lindsay continued. "And for my entire life, I watched her share him with all these people who actually, legitimately loved him too. We all got to realize — and it's really a humbling, astonishing, shocking thing to realize — that as much as you love someone that you're related to, there are that many people in the world who love him, too. … I still get choked up, because it's that moving to me."
Vecsey said he doesn't think we'll ever see anyone like Berra again.
"I think it's hard to imagine," he said. "Yogi came up during a time when it was built on trust, on people you recognize. It's going to be very hard for anyone to come along without having scandal, ridicule, gossip … I can't see anyone coming along and having that kind of universal personality that Yogi had."
For more coverage of SABR 47, visit SABR.org/convention.
---
Originally published: July 2, 2017. Last Updated: April 16, 2020.
https://sabr.org/wp-content/uploads/2020/03/research-collection4_350x300.jpg
300
350
admin
/wp-content/uploads/2020/02/sabr_logo.png
admin
2017-07-02 14:27:12
2020-04-16 08:55:03
Mannis: Yogi Berra panel focuses on beloved Yankee's legacy