Matt Williams speaks on managing prospects at SABR AFL Conference
Former All-Star third baseman Matt Williams has the same goal in the Arizona Fall League as the young prospects he manages for the Salt River Rafters: He wants to make it to the major leagues.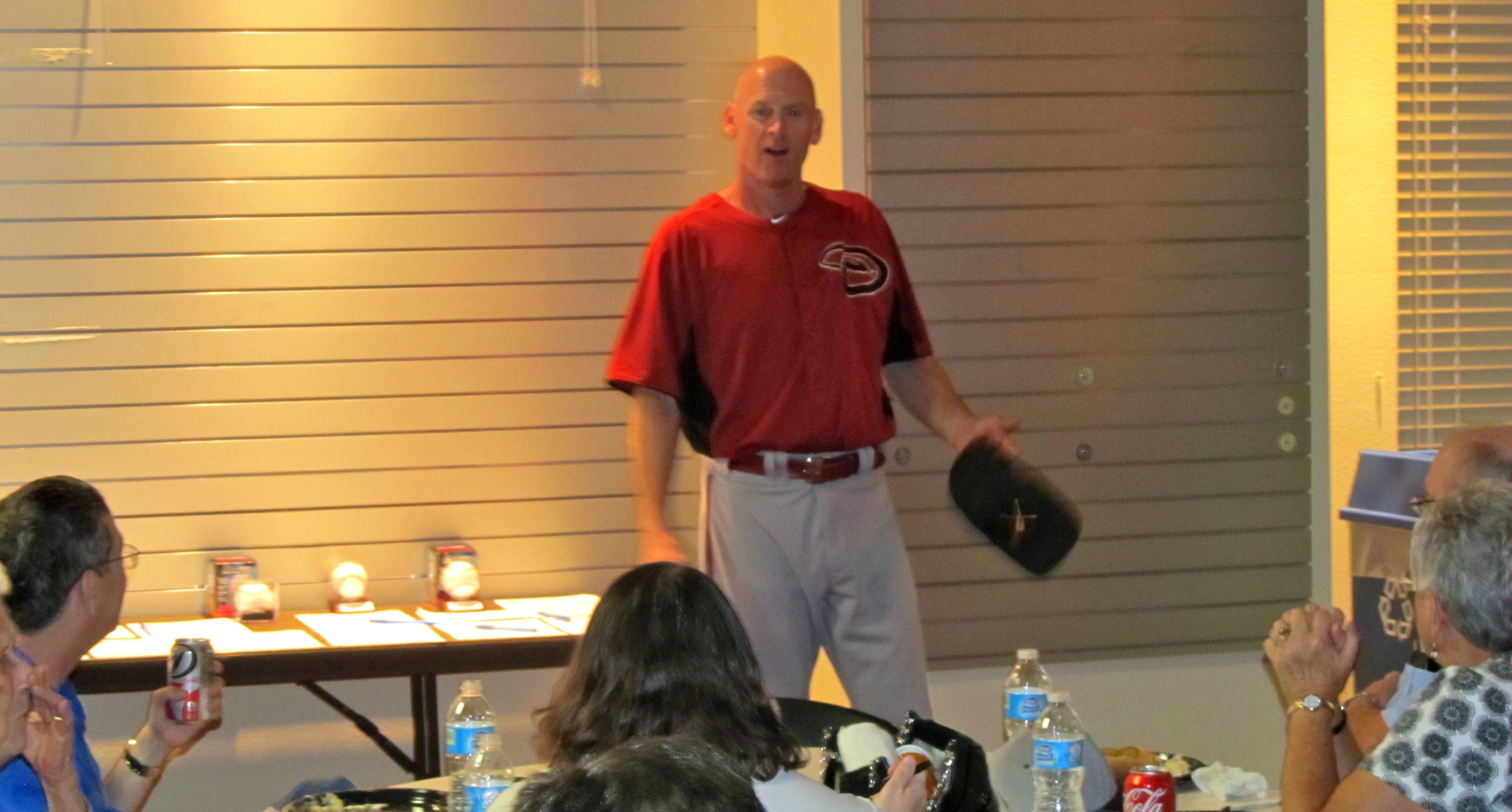 Williams has spoken with the Colorado Rockies and Toronto Blue Jays about their managerial vacancies this offseason, and he's hoping his experience in the AFL will help him land a job in MLB.
"I want to manage. That's why I'm here," Williams told a group of SABR AFL Conference attendees before Friday night's game at Scottsdale Stadium.
Williams, who has spent the last seven seasons in the Arizona Diamondbacks front office and as third-base coach under manager Kirk Gibson, said managing in the AFL isn't an exact replica of what he would face in the majors, but it's still a valuable experience.
"This is a developmental league; you're not really making any situational moves like bringing in a lefty to face a lefty," he said. "Your main goal is to help these players make the major leagues. Winning is a secondary goal. We as a staff want them to have fun and develop their skills."
Williams answered questions from the SABR crowd on a range of subjects, including coaching third base, clubhouse pranks, pitch counts and Barry Bonds, his former teammates with the San Francisco Giants.
"He was one of my favorite teammates to play with," Williams said. "I got to know Barry on a different level than most people. Our sons are the same age. He was my neighbor. We were buddies off the field."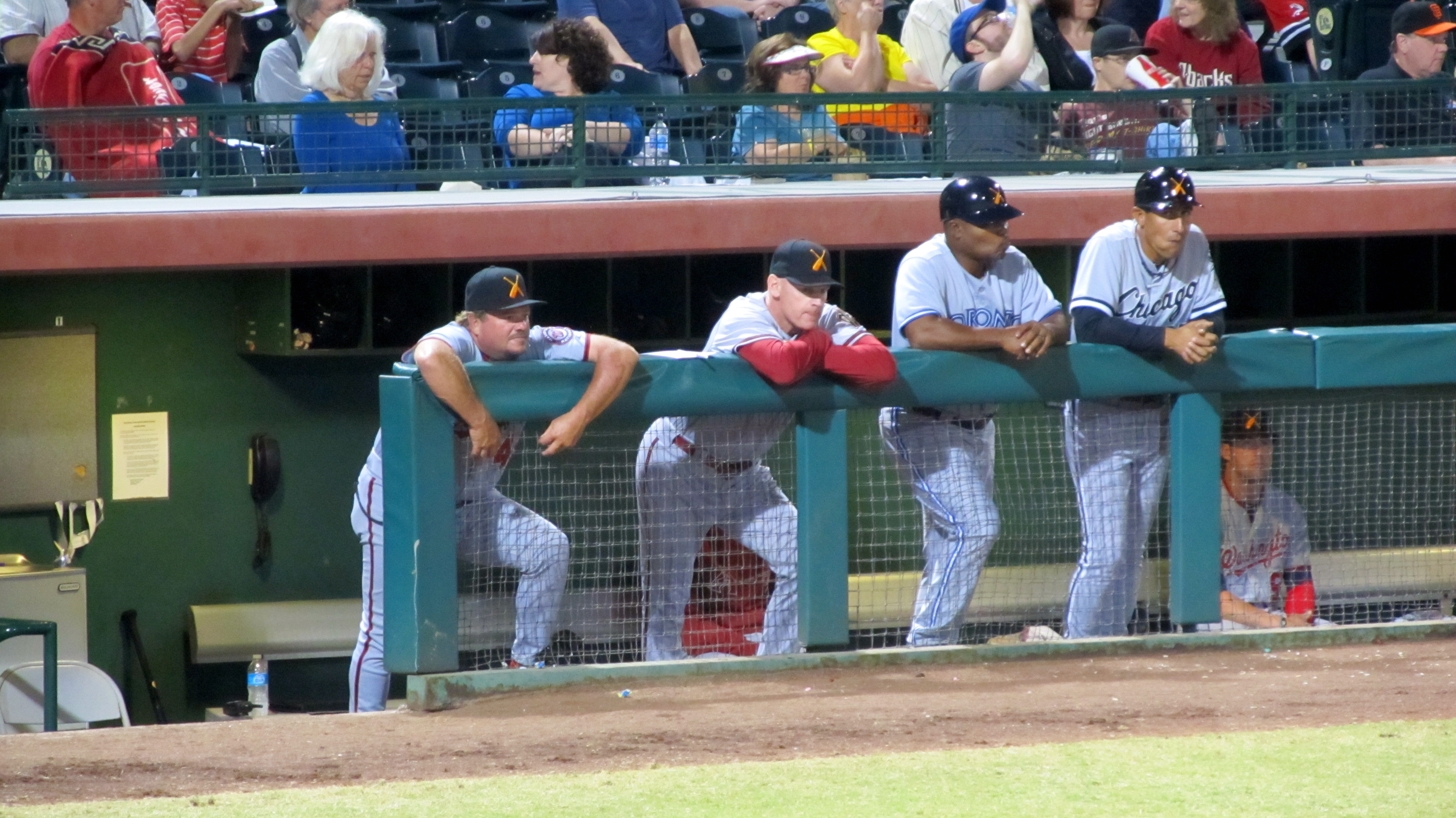 "Bar none, he's the greatest player I've ever seen. You have to remember, from the womb, Barry was supposed to be the next Willie Mays. He had a lot of pressure on him, a lot of expectations, through college and in the majors. And he lived up to it all. But that's a difficult thing for anybody to deal with."
Williams was followed at the SABR meeting by Jason Grey, a scout for the Tampa Bay Rays, who spoke about how scouts view the players in the Arizona Fall League.
"We're not necessarily looking for results — it's more about the process," Grey said. "The league ERA here can be in the 6.00 range, so we know guys are going to hit the ball. But we're watching for how they hit the ball, not whether the ball's going over the fence."
SABR member Roland Hemond, the founder of the Arizona Fall League, was also in attendance until he had to go down to the field to help induct New York Yankees slugger Mark Teixeira into the AFL Hall of Fame during a pregame ceremony. Also recognized at the SABR meeting was 1990 American League Cy Young Award winner Bob Welch, who joined as SABR's newest member earlier in the day and even bought a bat for his son during the SABR silent auction, which benefitted the "Play Ball Experience," a history of the Cactus League housed at the Arizona Historical Society museum in nearby Tempe.
The SABR AFL Conference continues through Saturday, with a Flame Delhi Chapter meeting at 10 a.m., with guest speaker Bernie Pleskoff of MLB.com, at the Holiday Inn Express on Scottsdale Road. All baseball fans are welcome to attend the SABR chapter meeting at no cost. At 5 p.m. Saturday, SABR conference attendees will attend the nationally televised Rising Stars Game at Salt River Fields at Talking Stick.
The Arizona Fall League (mlbfallball.com) is baseball's premier player development league. In the first three years of the conference, attendees were treated to sneak peeks at Mike Trout, Bryce Harper, Buster Posey, Starlin Castro and Stephen Strasburg before they hit the big leagues.
For more details and a complete schedule, visit SABR.org/AFL.
Below, check out some photos from Day 2 at the SABR AFL Conference. Photos from Thursday's events can be seen here.
---
Originally published: November 2, 2012. Last Updated: November 2, 2012.
https://sabr.org/wp-content/uploads/2012/11/IMG_4763-scaled.jpg
1375
2560
jpomrenke
/wp-content/uploads/2020/02/sabr_logo.png
jpomrenke
2012-11-02 23:13:26
2012-11-02 23:13:26
Matt Williams speaks on managing prospects at SABR AFL Conference