Nathaniel Grow, Chuck Kimberly win 2015 Larry Ritter Book Award
For the first time in the award's history, co-winners have been named for the 2015 Larry Ritter Book Award.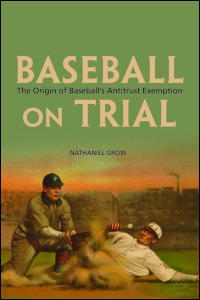 Nathaniel Grow's Baseball on Trial: The Origin of Baseball's Antitrust Exemption (University of Illinois Press) and Chuck Kimberly's The Days of Wee Willie, Old Cy and Baseball War: Scenes from the Dawn of the Deadball Era, 1900-1903 (McFarland & Co.) were deemed worthy of the honor.
The Ritter Award is given by SABR's Deadball Era Research Committee for the best book related to the Deadball Era published in the previous year.
The Larry Ritter Book Award Subcommittee released the following statement:
It is never easy to write a commendable account of baseball's storied history, but it is particularly difficult to write a praiseworthy study of the Deadball Era, which has been heavily mined. Biographies of the era's major players, managers, club owners, and administrators are now available. So, too, are biographies of many of its minor lights. Moreover, we have works on its successful — and even its less successful — clubs, its pennant races, and its business machinations. Stories and anecdotes from the era have been repeated endlessly. Grow and Kimberly have successfully brought fresh voices to the era through their perspectives, materials, and insights, and have met other elements of the Ritter Award criteria. In clear and non-arcane prose, Grow charts the Byzantine-like legal and judicial maneuvering culminating in the landmark 1922 Federal Baseball Club of Baltimore, Inc. v. National League of Professional Baseball Clubs that protected Organized Baseball from the nation's anti-trust laws. For his part, Kimberly brings a new approach, fresh materials, and impressive judgments to his deft coverage of the Deadball Era's first tumultuous years.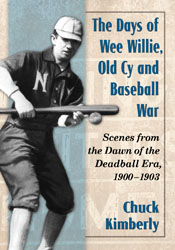 The Larry Ritter Book Award honors Lawrence S. Ritter (1922-2004), whose 1966 The Glory of Their Times: The Story of the Early Days of Baseball Told by the Men Who Played It (1966) established the standard for baseball oral history. The award is granted by SABR's Deadball Era Committee to the author of the best book in the previous year on baseball between 1900 and 1919. The winner must demonstrate original research or analysis, a fresh perspective, compelling thesis, impressive insight, accuracy, and clear, graceful prose. The award was first presented by SABR in 2002.
The Larry Ritter Book Award Committee, chaired by Gail Rowe, consists of Jack Carlson, Mark Dugo, David Fleitz, Craig Lammers, John McMurray, Mark Pattison, Doug Skipper, Tom Simon, and Trey Strecker.
The award will be presented during the Deadball Era Committee's meeting at the SABR 45 convention, June 24-28, 2015, in Chicago.
For more information on the Larry Ritter Award, including a list of previous winners, click here.
---
Originally published: March 18, 2015. Last Updated: March 18, 2015.
https://sabr.org/wp-content/uploads/2015/03/Grow-Nathaniel-Baseball-on-Trial.jpg
300
200
admin
/wp-content/uploads/2020/02/sabr_logo.png
admin
2015-03-18 11:30:51
2015-03-18 11:30:51
Nathaniel Grow, Chuck Kimberly win 2015 Larry Ritter Book Award