Pete Palmer honored with 2018 SABR Analytics Conference Lifetime Achievement Award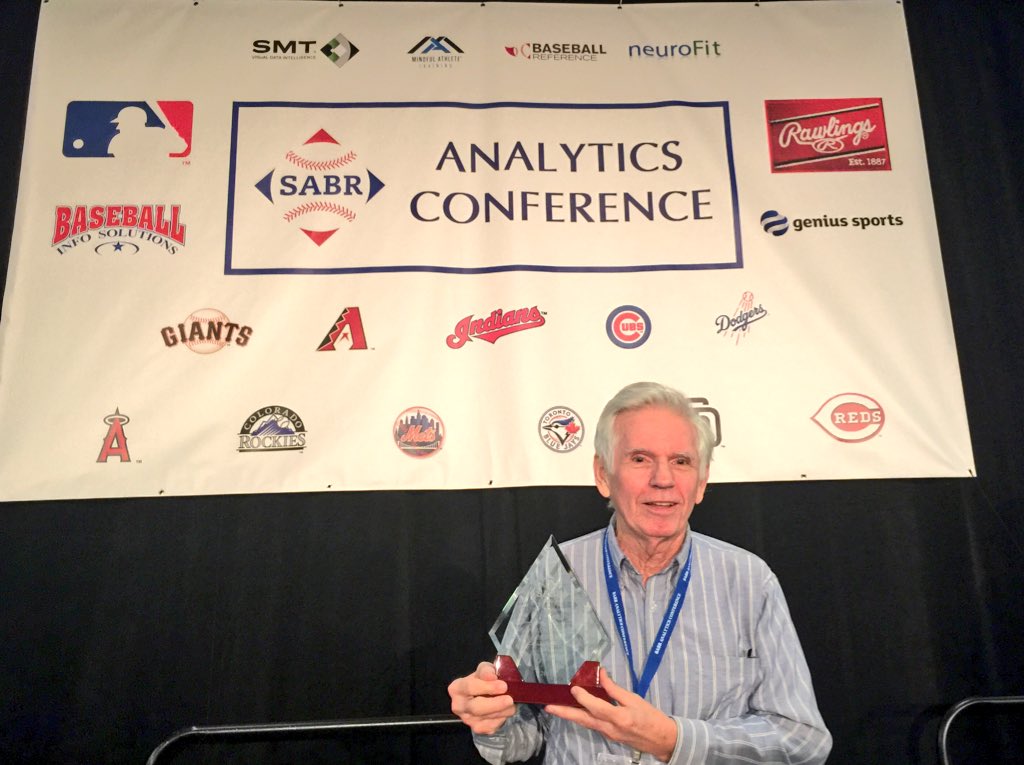 Sabermetric pioneer Pete Palmer was honored with the second SABR Analytics Conference Lifetime Achievement Award on Saturday, March 10, 2018, in Phoenix, Arizona.
John Thorn, Major League Baseball's Official Historian and a collaborator with Palmer on many sports books, presented him with his award during the seventh annual SABR Analytics Conference.
"The work itself is a reward, but it's always nice to be recognized by your peers," Palmer said.
A mathematician and analyst; an encyclopedist and author; a historical sleuth and statistical innovator; a researchers' invaluable guide and friendly collaborator, Pete Palmer has been at the forefront of the new approaches to how we think about the game. He has devised new stats — On Base Plus Slugging, Linear Weights, and more — and retraced the steps of statisticians of yore to correct their tabulations. His contributions to the game have been as particular as correcting Ty Cobb's hit total and as grand as restating and evaluating all the game's historical records through the prism of modern statistical measures. He was the first to recognize the mathematical relationship between runs and wins, and the one most responsible for the introduction of On Base Percentage into common parlance.
Palmer and Thorn's The Hidden Game of Baseball, originally published in 1984, remains a touchstone for sabermetric thought. Palmer's encyclopedic work commenced in the 1970s when he edited the venerable Turkin-Thompson Official Encyclopedia of Baseball, originally issued in 1951. From 1989 through 2001, he and Thorn published seven editions of the groundbreaking encyclopedia Total Baseball. Beginning in 2004 he and Gary Gillette combined to issue The Baseball Encyclopedia, endorsed in subsequent years by ESPN.
Palmer was the recipient of SABR's Bob Davids Award in 2004 and part of the inaugural class for the Henry Chadwick Award in 2010.
For more information on the 2018 SABR Analytics Conference, or to register, visit SABR.org/analytics.
Related links:

---
Originally published: March 10, 2018. Last Updated: July 27, 2020.
https://sabr.org/wp-content/uploads/2020/03/research-collection4_350x300.jpg
300
350
admin
/wp-content/uploads/2020/02/sabr_logo.png
admin
2018-03-10 14:00:00
2020-07-27 15:52:03
Pete Palmer honored with 2018 SABR Analytics Conference Lifetime Achievement Award