Rawlings Gold Glove Award adds new sabermetric component with SABR
PHOENIX — March 8, 2013 — Rawlings Sporting Goods Company, Inc., a subsidiary of Jarden Corporation (NYSE: JAH), announced today during the Society for American Baseball Research's annual SABR Analytics Conference in Phoenix a new collaboration with SABR. This collaboration will add a new sabermetric-based component to the Rawlings Gold Glove Award® and Rawlings Platinum Glove Award™ selection processes. This continues Rawlings' recent amplification and expansion of the Rawlings Gold Glove Award platform that started three years ago.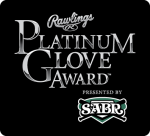 As part of the multi-year collaboration beginning with the 2013 season, SABR will develop an expanded statistical resource guide that will accompany the Rawlings Gold Glove Award ballots sent to major league-level managers and coaches each year. In addition, SABR will immediately establish a new Fielding Research Committee tasked to develop a proprietary new defensive analytic called the SABR Defensive Index™, or SDI™. The SDI will serve as an "apples-to-apples" metric to help determine the best defensive players in baseball exclusively for the Rawlings Gold Glove Award and Rawlings Platinum Glove Award selection processes. The collaboration also installs SABR as the presenting sponsor of the Rawlings Platinum Glove Award.
"The Rawlings Gold Glove Award is one of the most iconic awards in all of sports, and has continued to evolve throughout its storied history," said Kurt Hunzeker, senior director of brand marketing for St. Louis-based Rawlings. "By marrying the 'art of fielding' with the 'science of baseball,' our new collaboration with SABR only cements the Rawlings Gold Glove Award and Rawlings Platinum Glove Award as the industry standards honoring defensive excellence at the highest level of baseball."
---
---
Since its inception in 1957, the Rawlings Gold Glove Award voting process has included national sportswriters, a secret players-only ballot, and the current system where each manager and up to six (6) coaches on his staff vote from a pool of qualified players in their respective league, but not for players on their own team.
Beginning in 2013, the managers/coaches vote will constitute a majority of the Rawlings Gold Glove Award winners' selection tally, with the new SDI comprising the remainder of the overall total. The exact breakdown of the selection criteria will be announced once the SDI is created later this summer.
"SABR has a long history of being at the forefront of the sabermetrics movement," said Vince Gennaro, president of SABR. "We are proud to bring our expertise to bear in the selection of future Rawlings Gold Glove Award winners, and to be a driving force behind the Rawlings Platinum Glove Award."
In 2011, Rawlings incorporated the following components into its Rawlings Gold Glove Award selection process: a new resource guide with advanced metrics and player eligibility parameters, the separation of the three outfield positions to accurately reward the best defenders at each specific outfield position, the announcement of finalists at each position, and the introduction of the Rawlings Platinum Glove Award to honor the best defender in each League among the Rawlings Gold Glove Award winners in each season.
The SDI's ability to accurately compare players from different positions will help determine the updated Rawlings Platinum Glove Award presented by SABR. Fans will continue to have a voice during this process, once the newest class of Rawlings Gold Glove Award winners is announced in November.
St. Louis catcher Yadier Molina and Texas third baseman Adrian Beltre won their respective league's Rawlings Platinum Glove Award in each of the past two seasons.
For more information, please visit Rawlings.com or SABR.org.
About the Rawlings Gold Glove Award®
The Rawlings Gold Glove Award® is a registered trademark owned by Rawlings Sporting Goods Company, Inc. The award is correctly identified as the Rawlings Gold Glove Award. The name should not be shortened, abbreviated or otherwise misused. Proper identification of this service mark using the registration symbol and the Rawlings name is important to protect the integrity of the program and perpetuate this worthy tradition. For more information, please visit www.rawlingsgoldglove.com.
About Rawlings
Rawlings Sporting Goods Company, Inc. is an innovative manufacturer and marketer of sporting goods worldwide. Founded in 1887, Rawlings is an authentic global sports brand, trusted by generations of athletes from the sandlot to the pros. Rawlings' unparalleled quality and expert craftsmanship are the fundamental reasons why more athletes choose Rawlings, and why Rawlings is the Official Batting Helmet and Ball Supplier of Major League Baseball®, the official baseball of Minor League Baseball™ and the NCAA®, and the approved baseball, basketball, football and softball of the National High School Federation®. For more information, please visit www.rawlings.com or by call (314) 819-2800.
About Jarden Corporation
Jarden Corporation is a leading provider of a diverse range of consumer products with a portfolio of over 100 trusted, quality brands sold globally. Jarden operates in three primary business segments through a number of well recognized brands, including: Outdoor Solutions: Abu Garcia®, Aero®, Berkley®, Campingaz® and Coleman®, ExOfficio®, Fenwick®, Gulp!®, K2®, Marker®, Marmot®, Mitchell®, Penn®, Rawlings®, Shakespeare®, Stearns®, Stren®, Trilene®, Völkl® and Zoot®; Consumer Solutions: Bionaire®, Breville®, Crock-Pot®, FoodSaver®, Health o meter®, Holmes®, Mr. Coffee®, Oster®, Patton®, Rival®, Seal-a-Meal®, Sunbeam®, VillaWare® and White Mountain®; and Branded Consumables: Ball®, Bee®, Bernardin®, Bicycle®, Billy Boy®, Crawford®, Diamond®, Dicon®, Fiona®, First Alert®, First Essentials®, Hoyle®, Kerr®, Lehigh®, Lifoam®, Lillo®, Loew Cornell®, Mapa®, NUK®, Pine Mountain®, Quickie®, Spontex® and Tigex®. Headquartered in Rye, N.Y., Jarden ranks #371 on the Fortune 500 and has over 25,000 employees worldwide. For in-depth information about Jarden, please visit www.jarden.com.
About SABR
The Society for American Baseball Research (SABR) is a non-profit organization dedicated to fostering research and disseminating the history and record of baseball. Founded in 1971, SABR has more than 6,500 members worldwide and has established itself as a vibrant baseball community and a premier distributor of ground-breaking baseball information. SABR features 60 chapters and 27 research committees, and produces three annual publications – two editions of The Baseball Research Journal and The National Pastime – in addition to other print and e-books. SABR also hosts two annual events: the National Convention each summer, and the SABR Analytics Conference in March in Phoenix. For more information about SABR, go to SABR.org.
---
Originally published: March 8, 2013. Last Updated: May 12, 2020.
https://sabr.org/wp-content/uploads/2020/03/research-collection4_350x300.jpg
300
350
jpomrenke
/wp-content/uploads/2020/02/sabr_logo.png
jpomrenke
2013-03-08 11:15:00
2020-05-12 08:39:20
Rawlings Gold Glove Award adds new sabermetric component with SABR