Read 2015 Hall of Fame biographies from the SABR BioProject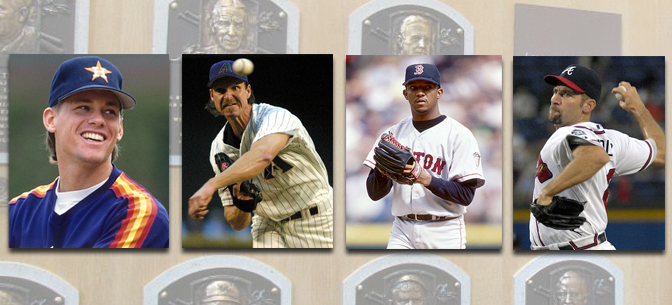 As the Baseball Hall of Fame gears up for Induction Weekend in Cooperstown, you can read SABR Baseball Biography Project articles for the entire 2015 induction class at the links below:
You can find all of our published biographies of Baseball Hall of Fame inductees on this page.
Are you heading to Cooperstown for the induction ceremonies? All baseball fans are welcome to attend our annual Induction Day meeting of SABR's Cliff Kachline Chapter, 6 p.m. on Sunday, July 26 at Tillapaugh's, 28 Pioneer Street in downtown Cooperstown. Guest speakers include Ed and Chris Lucas, "Seeing Home: The Ed Lucas Story;" Bill Deane, "Finding the Hidden-Ball Trick;" Jim Walsh of Baseball Prospectus; and Cooperstown mayor Jeff Katz, author of Split Season 1981. For more information, contact Jeff Katz.
*****
Want to write a Hall of Fame biography for the SABR BioProject?
SABR Director Emily Hawks is launching a new BioProject initiative for biographies of players who are likely to be on the 2016 Hall of Fame ballot later this year. Note that these biographies will be assigned with a MUCH shorter timeline, with the aim of all editing and fact-checking to be complete by the time the Hall of Fame voting "debate season" begins in November. As such, we need completion by October 1, 2015. In addition, we will be checking in more frequently to try to head off bios that are in danger of not being finished. All of these are famous people, so the research should be easier than many of our more obscure bios.
If you are interested in writing a SABR biography for one of these players, please contact Emily Hawks at emilyhawks@gmail.com:
Sammy Sosa
Mark McGwire
Trevor Hoffman
Jeff Bagwell
Edgar Martinez
Larry Walker
Jeff Kent
Mike Mussina
Nomar Garciaparra
Jason Kendall
Jim Edmonds
Find all published SABR biographies at SABR.org/BioProject.
---
Originally published: July 20, 2015. Last Updated: July 20, 2015.
https://sabr.org/wp-content/uploads/2020/03/research-collection4_350x300.jpg
300
350
jpomrenke
/wp-content/uploads/2020/02/sabr_logo.png
jpomrenke
2015-07-20 15:00:53
2015-07-20 15:00:53
Read 2015 Hall of Fame biographies from the SABR BioProject