Read SABR biographies of Baseball Hall of Fame's 2019 class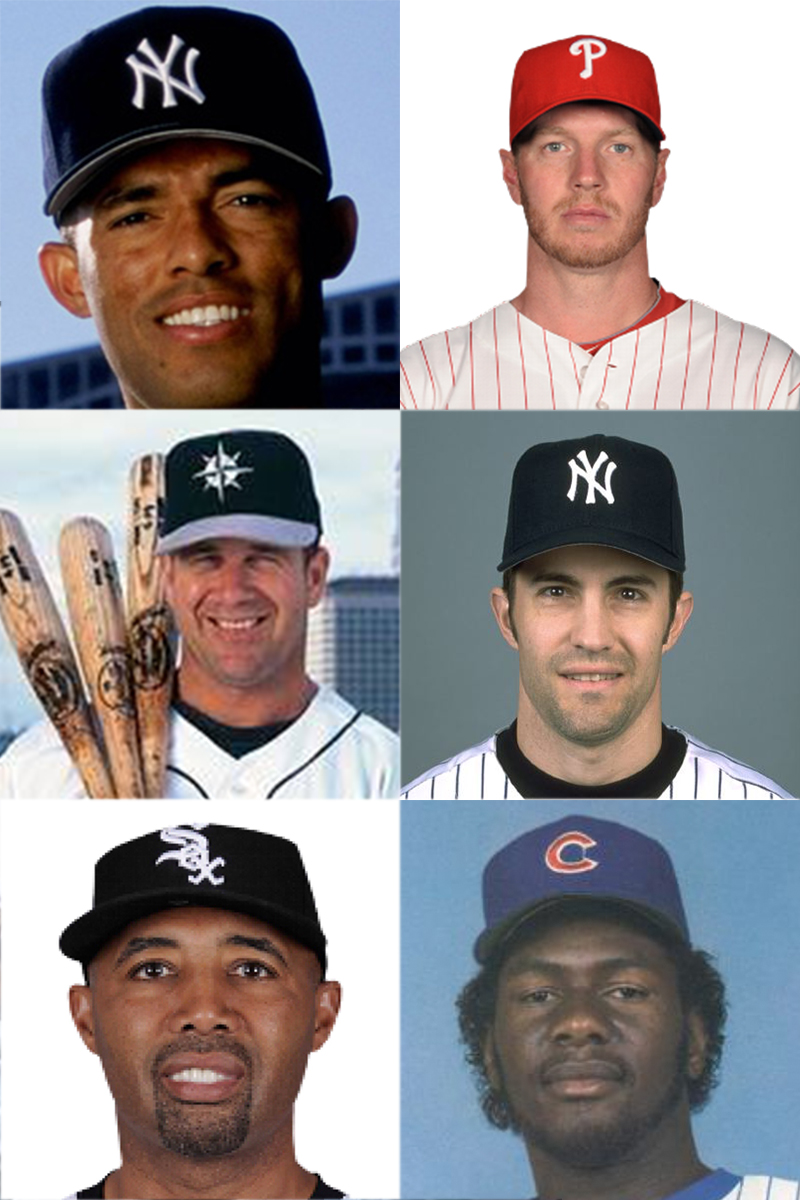 Mariano Rivera, Roy Halladay, Edgar Martinez, and Mike Mussina were elected to the National Baseball Hall of Fame in the Class of 2019.
On Sunday, July 21, they will be inducted into the National Baseball Hall of Fame in Cooperstown, New York, along with former Chicago Cubs and St. Louis Cardinals closer Lee Smith and Chicago White Sox slugger Harold Baines, who were selected for induction to the Hall of Fame by the Today's Game Era Committee.
Rivera, the legendary New York Yankees closer, became the first-ever unanimous selection to the Baseball Hall of Fame, receiving votes on all 425 ballots cast by the Baseball Writers' Association of America. Rivera surpassed the voting record set by Ken Griffey Jr. in 2016, when the Seattle Mariners center fielder received 99.3 percent of the ballots cast. Click here to read Mariano Rivera's SABR biography by Alan Cohen.
Halladay, who won two Cy Young Awards and pitched a perfect game and postseason no-hitter for the Philadelphia Phillies in 2010, received 363 votes (85.4 percent) in his first year on the ballot. Click here to read Roy Halladay's SABR biography by Alan Cohen.
Martinez, the Seattle Mariners slugger who was in his 10th and final year on the ballot, also received 363 votes for 85.4 percent. He won three American League batting titles and played an instrumental role in the Mariners' success in the 1990s and early 2000s. Click here to read Edgar Martinez's SABR biography by Emily Hawks.
Mussina, a reliable workhorse who won 270 games for the Baltimore Orioles and New York Yankees, received 326 votes (76.7 percent) in his sixth year on the ballot. Click here to read Mike Mussina's SABR biography by Ryan Brecker.
The 2019 Hall of Fame Induction Weekend will take place July 19-22 in Cooperstown, New York. SABR member Jayson Stark, the recipient of the J.G. Taylor Spink Award, will also be honored that weekend with Ford C. Frick Award winner Al Helfer.
The other players to receive more than half of the ballots cast were pitchers Curt Schilling, (60.9 percent) and Roger Clemens (59.5) and outfielders Barry Bonds (59.1) and Larry Walker (54.6).
Find all published SABR biographies for Baseball Hall of Fame inductees — including members of the Class of 2019 — by clicking here.
Join us on Induction Day! All baseball fans visiting Cooperstown this weekend are invited to join SABR's Cliff Kachline Chapter for its annual Induction Day meeting, starting at 6:00 p.m. on Sunday, July 21 at Tillapaugh's, just a block south of the Hall of Fame at 28 Pioneer Street. Our guest speakers are expected to include: Jane Leavy, author of The Big Fella: Babe Ruth and the World He Created; Erik Sherman, co-author with Art Shamsky of After the Miracle: The Lasting Brotherhood of the '69 Mets; Jay Jaffe, author of The Cooperstown Casebook and senior writer at FanGraphs; and Jeff Katz, former Mayor of Cooperstown and current President of Friends of Doubleday. Click here to learn more. For more information, contact chapter chair Jeff Katz.
---
Originally published: July 12, 2019. Last Updated: July 12, 2019.
https://h2j7w4j4.stackpathcdn.com/wp-content/uploads/2020/03/research-collection4_350x300.jpg
300
350
admin
/wp-content/uploads/2020/02/sabr_logo.png
admin
2019-07-12 16:41:35
2019-07-12 16:41:35
Read SABR biographies of Baseball Hall of Fame's 2019 class