Retroactive All-Star Game Project: Fun with numbers, 1916-25

By Mike Lynch
With 13 retroactive All-Star games in the books over nine years (remember that 1916 and 1917 were three-game series), I thought it would be fun to take a look at some of the outstanding and not-so-outstanding performances so far in the SABR Retroactive All-Star Game Project.
If you're looking for a hitter who has dominated the game's elite pitchers, look no further than Oregon native Ken Williams, who REALLY needs a nickname. He wasn't just a member of the 30/30 club, the dude was the president from 1922 to 1957 when Willie Mays became the first player to turn the trick twice. Prior to 1956 when Mays joined the club, Williams was all by his lonesome.
Mays earned the sobriquet "Say Hey Kid," one of the greatest nicknames of all time. Ken Williams was called Ken Williams. But among All-Stars from 1916-1925 he's called "Sir."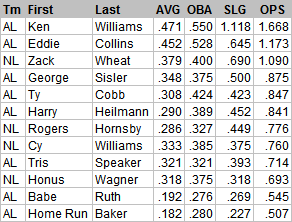 It's interesting to note that three of the greatest sluggers in baseball history anchor the bottom of the list. Wagner is getting on base, though; Ruth and Baker are merely shells of their actual selves.
Highlights and outstanding players include:
Rogers Hornsby and Harry Heilmann are the only players to appear in all 13 games, and only Hornsby has started in all 13, including starts at three different positions.
George Sisler has started 12 times in 12 games and might have matched Hornsby's 13 starts if he hadn't missed the entire 1923 season with a severe sinus infection.
Hornsby leads all players with 52 plate appearances. Sisler is second with 48. No one else has more than 36.
Sisler leads all batters with 16 hits, seven of which are doubles, also the record for two-baggers so far.
Hornsby has three triples to lead all hitters. No one else has more than one.
Ken Williams has three of the American League's six homers. No other player in either league has more than one.
Sisler leads all batters with 10 RBIs.
Ty Cobb leads all hitters in runs with 10 and is averaging a run a game. Among others who have appeared in at least five games only Ross Youngs is averaging a run a game.
Among players with at least two stolen bases only Honus Wagner and Heinie Groh haven't been caught stealing.
Six batters have been hit with a pitch, but Jake Daubert is the only National Leaguer to get plunked. Ty Cobb has been hit twice but no brawls have ensued (yet).
George Sisler has yet to fan in 48 plate appearances.
Pie Traynor is the only hitter to homer in his first All-Star Game at-bat. He blasted a 507-foot shot off Urban Shocker in his first trip to the plate in 1923.
Here's a list of bottom feeders through 1925.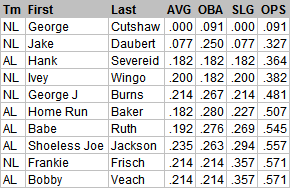 Babe Ruth has struck out in almost 38% of his plate appearances and his 11 whiffs are the most among hitters by far.
Among players with at least one hit, Jake Daubert is last in AVG at .077.
Despite six slugging titles during his 21-year career, Honus Wagner has no extra-base hits among his seven safeties.
Cy Williams drove in over 1,000 runs in his career but has only one RBI in 26 All-Star plate appearances.
Among players with at least 25 All-Star Game plate appearances, Frank "Home Run" Baker is the only player with less than four runs scored, finding home plate only once in seven games.
Zack Wheat has drawn only one walk in 30 plate appearances for a walk rate of 3.3%.
George Joseph Burns has been caught stealing three times to lead all players, which isn't surprising considering his stolen base percentage in years that include caught stealing data was only 52.7%. He also led the National League in CS in 1913 with 35.
Only Tris Speaker and Harry Heilmann have grounded into more than one double play. Heilmann was known as "Slug." Go figure.
Let's take a look at the pitchers.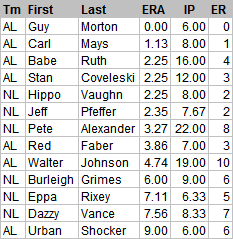 Carl Mays leads all pitchers with two wins.
Babe Ruth is the only pitcher with 10 strikeouts. The runners up have eight.
Among pitchers with at least six innings, Hippo Vaughn leads the way in K/9 at 9.0.
Bert Gallia, Jing Johnson and "Spittin' Bill" Doak are the only pitchers with more strikeouts than innings pitched.
Among pitchers with at least six innings, Stan Coveleski leads in BB/9 at 0.75. Close behind is Pete Alexander at 0.82.
Speaking of Alexander he leads all pitchers with nine All-Star appearances and three starts. Walter Johnson also has three starts in six appearances.
Among pitchers who haven't issued a walk, Lefty Tyler leads with four strikeouts.
Among pitchers who have issued a walk, Hippo Vaughn and Stan Coveleski lead in K/BB ratio at 8.0.
Vaughn also leads in GB/FB ratio at 6.5.
Let's look at the tail-enders.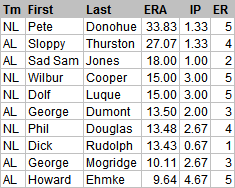 Among healthy pitchers who were nominated to an All-Star team, only Joe Oeschger failed to make an appearance.
Among pitchers with at least six innings, Urban Shocker has the highest ERA at 9.00.
Wilbur Cooper allowed nine hits in only three innings, but all nine were singles.
Sloppy Thurston allowed two homers in only an inning and a third. Dazzy Vance and Urban Shocker have also allowed two home runs, but in 8 1/3 and 6 innings, respectively.
Despite throwing only 4 1/3 innings, Lefty Tyler leads all pitchers with two hit batsmen.
Howard Ehmke is the easiest pitcher to run on, allowing three steals in three attempts.
Among pitchers with at least one inning pitched, Dolf Luque has been the least efficient, tossing 28.7 pitches per frame.
Among pitchers with at least one strikeout, Carl Mays leads in strikeout futility with a K/9 of 1.13.
Among pitchers with at least six innings, Dazzy Vance has the highest BB/9 at 6.5.
Among pitchers with at least one walk and one strikeout, Wilbur Cooper has the worst K/BB ratio at 0.33.
To learn more about the SABR Retroactive All-Star Game Project, click here.
This article was originally published at Seamheads.com.
---
Originally published: January 31, 2014. Last Updated: January 31, 2014.
https://sabr.org/wp-content/uploads/2020/03/research-collection4_350x300.jpg
300
350
jpomrenke
/wp-content/uploads/2020/02/sabr_logo.png
jpomrenke
2014-01-31 18:32:37
2014-01-31 18:32:37
Retroactive All-Star Game Project: Fun with numbers, 1916-25