Rogers Hornsby Chapter holds 56th consecutive monthly meeting
For the 56th consecutive month since its founding in 2006, members of the Austin, Texas-based Rogers Hornsby Chapter met to talk baseball — thereby "tying" Joe DiMaggio's famous hitting streak. The meeting was held July 19 at the IronWorks BBQ in downtown Austin.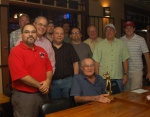 In addition, chapter founder Bill Gilbert was presented with the Rajah Award for significant achievements with the Hornsby Chapter. A number of members chipped in and gave input on the design of the trophy, named after Hornsby's nickname.
An active member of the Larry Dierker Chapter in Houston, Bill moved to Central Texas and, using the SABR member directory, he invited other SABR members in the area for a meeting in December 2003. In January 2006, members signed a petition for chapter recognition and the Rogers Hornsby Chapter was born.
As chapter commissioner, Bill encouraged regular meetings, founded the annual winter meetings at Texas State University that allowed for special guests and research presentations and organized occasional trips to watch Round Rock Express games. Though he stepped down as chapter commissioner last year, he has remained an active and vital part of the Hornsby Chapter.
The plaque on the trophy reads: "Bill Gilbert is hereby presented the inaugural Rajah Award for lifetime achievement." The SABR logo and the date of the winter meeting in 2011 are also on the plaque. Members intended to present the award at the winter meeting, but when Bill was unable to attend, the presentation was postponed until the July meeting.
At the meeting, 14 members and guests enjoyed barbeque and discussed a wide-range of baseball topics such as Ichiro Suzuki's off-year and the historically bad season of the Houston Astros, which is one of just three franchises that has not lost 100 games in a season. Most agreed that the Astros appear on track to fall out of that club this season (the other two are the Colorado Rockies and the Los Angeles Angels of Anaheim).
In honor and memory of Joe DiMaggio, Bill Gilbert recounted a time when he and his son saw Joltin' Joe at the airport in Dallas. Coincidently, Bill was reading Roger Kahn's book, Joe & Marilyn: A Memory of Love, which recounts DiMaggio's relationship with Marilyn Monroe. Bill encouraged his son to ask DiMaggio for his autograph. DiMaggio agreed, but when presented with this book, he declined to sign it.
Bill Gilbert brought a trivia quiz about home run and pitching leaders. Dan Walsh, fresh from a Hawaiian vacation, scored the most points with 21. You can take your stab at the quiz by clicking here.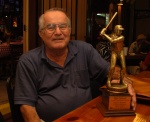 One member brought late-breaking news that Houston Astros second baseman Jeff Keppinger had been traded to the San Francisco Giants for two minor league pitchers. Those of us who are Astros fans also noticed that the trade allowed for the call-up of second baseman Jose Altuve, who was most recently with the Corpus Christi Hooks and played in the 2011 All-Star Futures Game last week in Phoenix. Altuve made his major league debut on July 20.
In addition, Dan Walsh and Gilbert Martinez recounted some of their experiences at SABR 41 in Long Beach, California, earlier in the month. A native of Long Beach, Walsh especially enjoyed hearing former Dodgers first baseman Wes Parker speak. Walsh and Martinez both thought that super-agent Scott Boras gave a very interesting and insightful keynote address. Martinez brought back some of the extra items from the conference goody bag to share with members at the meeting, including programs for the Angels and the Dodgers, a book entitled How Bill James Changed Our View of the Game of Baseball, and a catalog of sports books published by McFarland, among other items.
Meeting No. 57
Join us for the historic August meeting of the Hornsby Chapter on Monday, August 8 at the Dell Diamond in Round Rock, Texas, as the Express take on the Tacoma Rainiers. Game time is 7:05 p.m. As an added bonus, it is $1 hot dog and soft drink night!
This meeting will mark the 57th consecutive monthly meeting of the Hornsby Chapter. We will mark the occasion by gathering for a photo before the game at approximately 6:45 p.m.
Please contact Jan Larson by Friday, August 5 if you would like to purchase advance tickets.
Learn more about the Rogers Hornsby Chapter by visiting http://chapters.sabr.org/hornsby.
— Jan Larson
---
Originally published: July 22, 2011. Last Updated: July 22, 2011.
https://sabr.org/wp-content/uploads/2020/03/research-collection4_350x300.jpg
300
350
jpomrenke
/wp-content/uploads/2020/02/sabr_logo.png
jpomrenke
2011-07-22 12:41:53
2011-07-22 12:41:53
Rogers Hornsby Chapter holds 56th consecutive monthly meeting