Listen to our informative panel discussions from SABR 42 in Minneapolis, June 27-July 1, 2012. Click on the links below to hear them: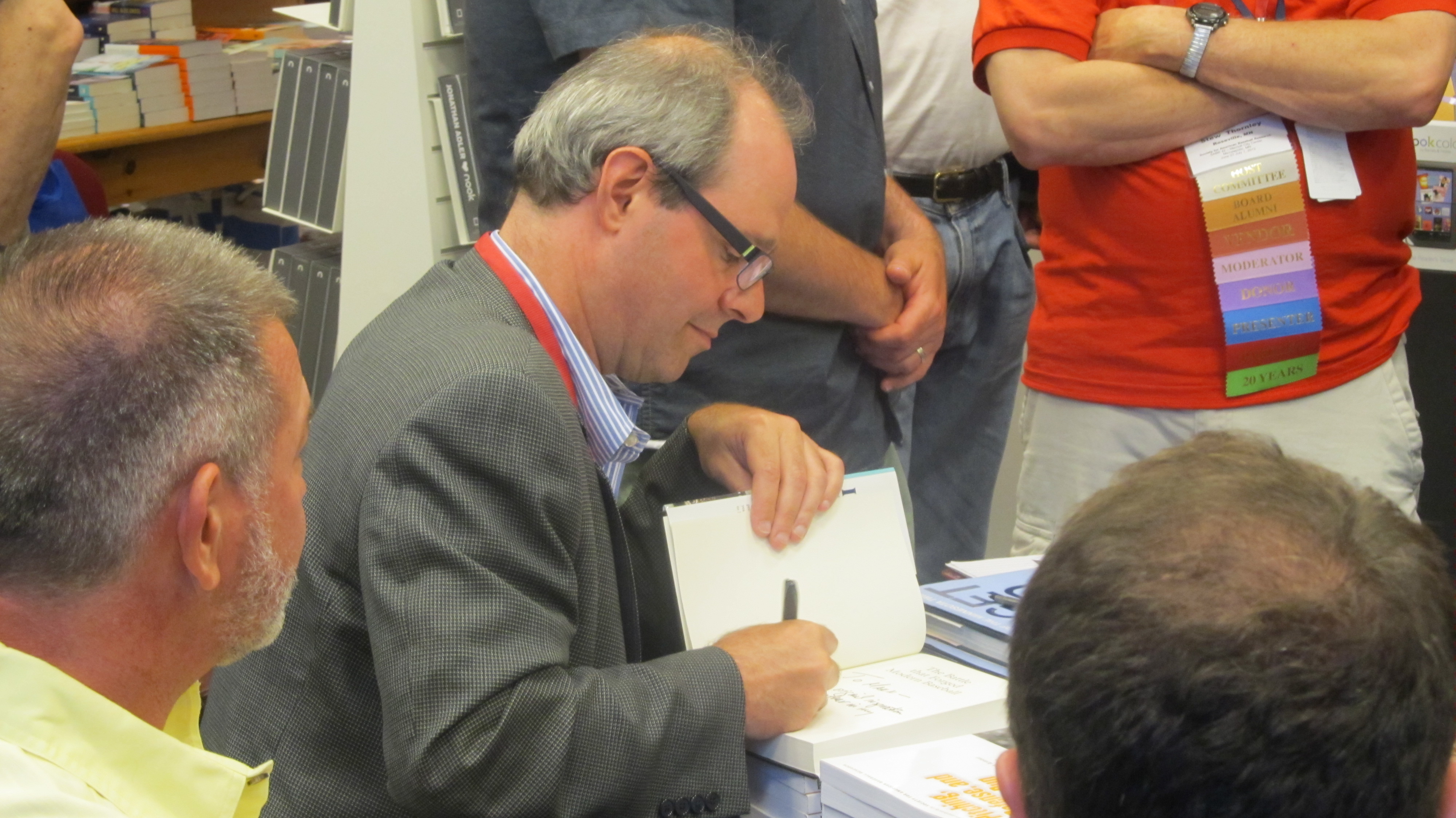 SABR Authors Panel
6:30-8:30 p.m., Wednesday, June 27
Barnes & Noble, 801 Nicollet Mall, Minneapolis
(Note: Audio is not available for this panel.)
Join us at the Barnes & Noble on 8th Street for a SABR authors panel and book signing featuring: Mark Armour, Pitching, Defense, and Three-Run Homers: The 1970 Baltimore Orioles; Rob Fitts, Banzai Babe Ruth: Baseball, Espionage, and Assassination during the 1934 Tour of Japan; Daniel R. Levitt, The Battle that Forged Modern Baseball: The Federal League Challenge and Its Legacy; John Thorn, Baseball in the Garden of Eden: The Secret History of the Early Game; Steve Treder, The Hardball Times. Moderator: Rob Taylor, Sports Editor and Interim Editor-in-Chief, University of Nebraska Press.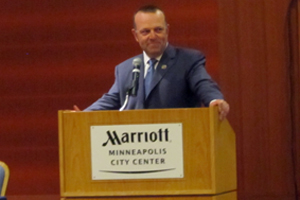 Opening Remarks: Dave St. Peter
9:30-10:30 a.m., Thursday, June 28
Ballroom 1-2
Listen to Dave St. Peter's opening remarks here.
Dave St. Peter has worked in the Minnesota Twins organization since 1990 and has been the team president since November 2002. He leads the team's strategic planning process and business departments. He was involved in the approval, design, and construction of Target Field, which opened in 2010 and was named the 2011 Sports Facility of the Year by Sports Business Journal/Sports Business Daily. A native of North Dakota, Dave serves on the board of the Minnesota Twins Community Fund, the Ronald McDonald House of the Twin Cities, and Meet Minneapolis.
Introduction by Brenda Himrich, president of the Halsey Hall Chapter. Brenda jumped on the baseball fan wagon when the Twins won the World Series in 1987 and hasn't fallen off yet. Though a recent fan, she has memories of seeing Harmon Killebrew hit a grand slam and Kirby Puckett hit for the cycle. The significance of these events was lost on her until she joined SABR in the 1990s. The years of being a member has enhanced her appreciation of baseball by adding historical depth and knowledge. As president of Halsey Hall Chapter of SABR, Brenda is proud to welcome all to Minnesota and SABR 42.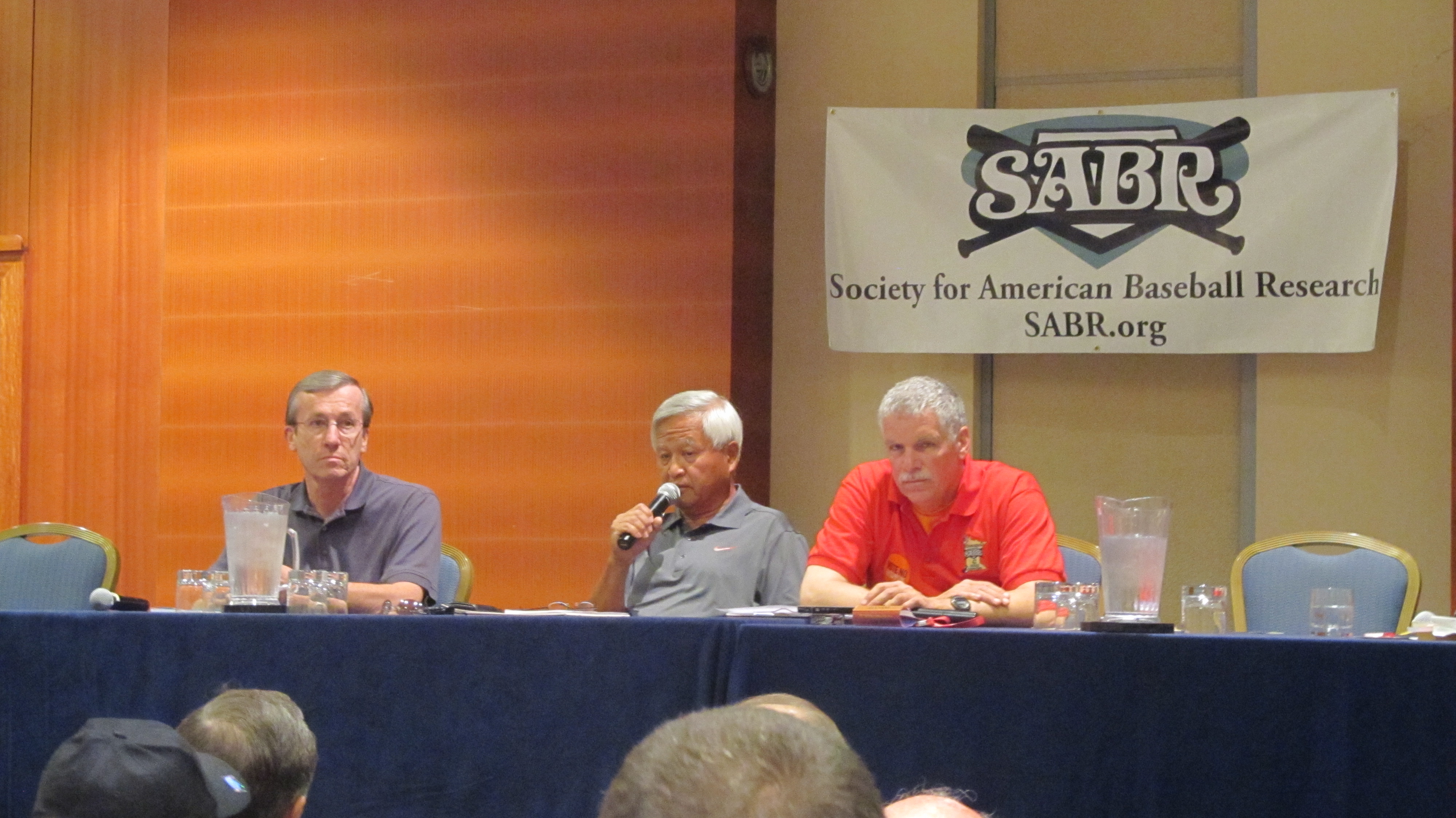 Official Scorers Panel
1:00-2:15 p.m., Thursday, June 28
Ballroom 1-2
Our panel of official scorers for major league teams discussed rules and scoring issues that come up during the course of a game, including appeals, reversed calls and other disputes. Listen to the complete panel discussion here. Speakers included:
Stew Thornley, who joined SABR in 1979 and got his first shot at official scoring as an add-on job while doing public-address announcing in the early 1980s. He became a Major League Baseball official scorer for Minnesota Twins home games in 2007 and has been doing datacasting for Twins home games for Total Sports/MLB.com since 1998. He has written many books about Minnesota sports history, and his first book, On to Nicollet: The Glory and Fame of the Minneapolis Millers, received the Macmillan-SABR Baseball Research Award in 1988. He is related by marriage to the SABR Halsey Hall Chapter president, Brenda Himrich.
David Vincent, a long-time member of SABR who received the organization's highest honor, the Bob Davids Award, in 1999. David is the founding secretary of Retrosheet, which collects play-by-play accounts of every game in major league history. He has served as an official scorer in four minor leagues (including 21 seasons in the Carolina League) and has been the official scorer for Major League Baseball since it returned to Washington, DC, in 2005. He is known around baseball as "The Sultan of Swat Stats" for his expertise in the history of the home run. He is the author of many books and articles on home runs and umpires.
Gregg Wong, a sportswriter for the St. Paul Pioneer Press from 1969 to 2002. Gregg was the official scorer for several Minnesota Twins game in 1988, and he and Stew Thornley took over as official scorers for the Twins when longtime scorer Tom Mee retired in 2007. A 1969 graduate of the University of Minnesota, Wong was the official scorer and public-address announcer for the Minnesota Gophers in 1968 and 1969, wrote for the school newspaper, and worked in the sports information office. Gregg's last year in newspapers was in 2002, and he concluded it by covering the playoff series between the Twins and Angels. That year he also covered the NCAA hockey championship, won by the Gophers, and all four majors in men's golf.
Moderator: Kevin Hennessy. Kevin is a lifelong baseball fan and a member of SABR's Halsey Hall Chapter since 1997. Kevin has served on the chapter's Board of Directors for seven of his 15 years, and has contributed presentations and articles to chapter meetings and publications on a regular basis. Kevin has served as an official scorer for the St. Paul Saints beginning in 2008 and for Twins games beginning in 2009. He continues to score baseball games for STATS, Inc., as he has since 1990. He has also had stints with Gary Gillette's Baseball Workshop, Total Sports, and Minnesota Public Radio.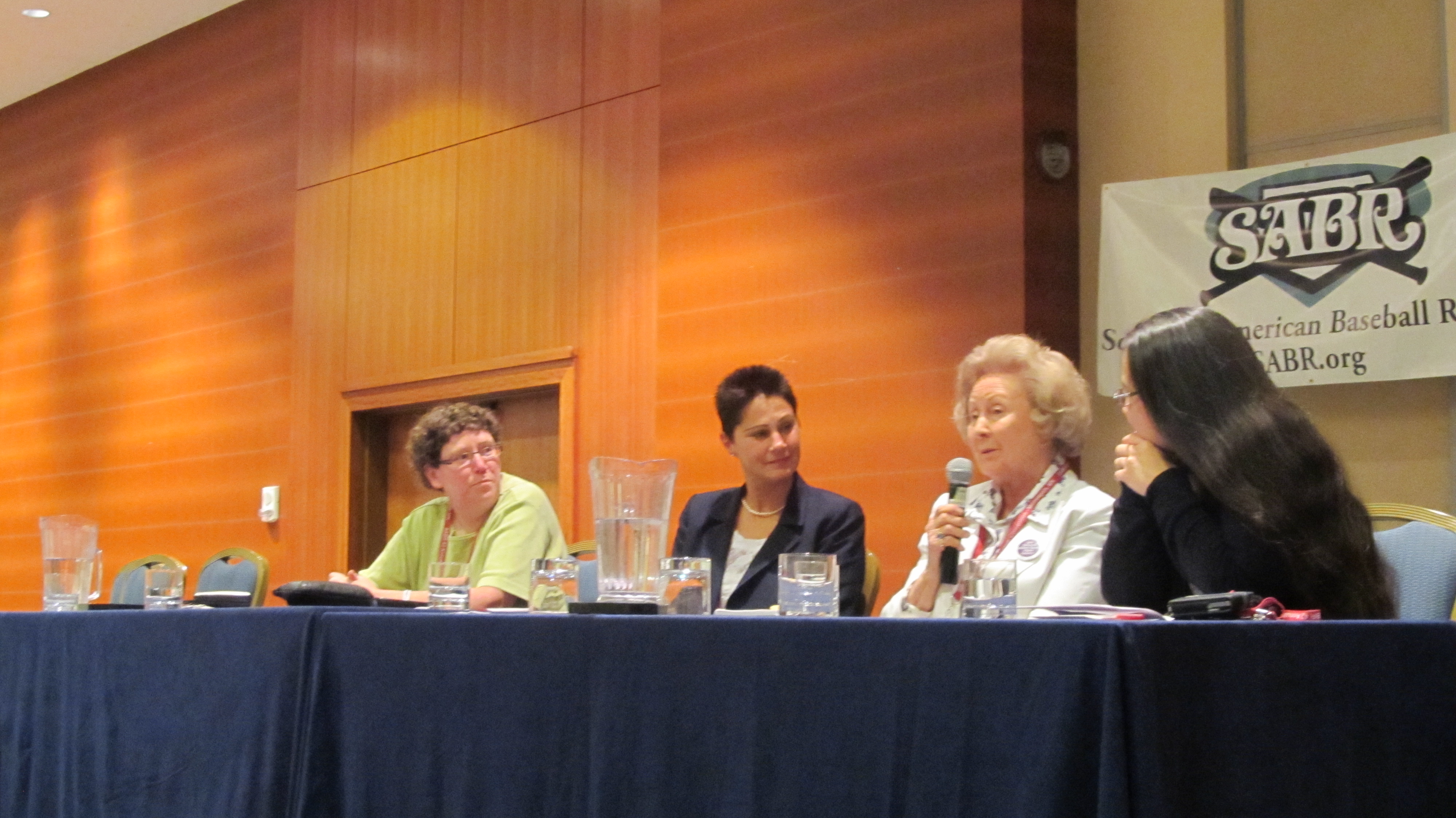 Women in Baseball Panel
4:45-6:15 p.m., Thursday, June 28
Ballroom 1-2
Our panel of authors and experts discussed the evolution of women in baseball throughout the game's history and their future in the sport. Listen to the complete Women in Baseball Panel here. Speakers included:
Laura Day, who has served as Executive Vice President of Business Development for the Minnesota Twins since 2006. She oversees the team's revenue generation, including ticket sales and corporate partnerships, and played a key role in the Twins' transition from the Metrodome to Target Field in 2010. Prior to joining the Twins, she worked at the Minneapolis Convention and Visitor's Association and served as vice president of sales for Victory Sports One. She was one of the first employees of the Minnesota Wild hockey team, helping to launch the Xcel Energy Center as vice president of corporate partnerships from 1999 to 2002. Laura got her start in sports working for the Twins from 1991 to 1999, where he held a variety of posts, including vice president of sales and marketing; director of corporate marketing; and promotions manager.
Leslie Heaphy, a member of SABR since 1989 and chair of SABR's Women in Baseball Committee since 1995. She was elected to the SABR Board of Directors in 2010. Leslie is an associate professor of history at Kent State University at Stark and publishes in the area of the Negro Leagues and women's baseball. In 2008, she became the founding editor of the journal Black Ball, published by McFarland Publishing. She lives in Kent, Ohio.
Dorothy Seymour Mills, a pioneer among baseball historians. With her late husband, Dr. Harold Seymour, she co-authored the classic three-book series called Baseball, published by Oxford University Press. In 2010, the couple were selected as part of the inaugural class of recipients for SABR's Henry Chadwick Award, which honors the game's greatest researchers, historians, statisticians, analysts and archivists. She also authored A Woman's Work: Writing Baseball History with Harold Seymour (McFarland & Co., 2004), which revealed her contributions to the Baseball series — after not receiving credit for her work for many decades, Dorothy was finally listed as the co-author when OUP re-released the books in 2010. Her most recent books are Chasing Baseball: Our Obsession With Its History, Numbers, People and Places and Drawing Card: A Baseball Novel.
Cecilia Tan, SABR's Publications Editor since 2011. Cecilia has been involved in baseball in one way or another since she fell in love with the 1976 New York Yankees. She writes the oldest baseball blog on the Internet, "Why I Like Baseball", and played second base/right field for the Pawtucket Slaterettes, the oldest continuously operating all-female baseball league in the country. Early in her baseball writing career, she was a web writer for the New York Yankees. She currently serves as Publications Editor for SABR and this past winter was a co-editor of the Baseball Prospectus Annual.
Moderator: Ann Carroll, three-time Emmy Award-winning host/reporter for Fox Sports North. Since 2006, she has been the host/producer and reporter for the "Vikings Weekly" magazine TV show. She has also worked as a sports anchor and sideline reporter at TV stations in Duluth, Minnesota; Minneapolis, Minnesota; Kansas City, Missouri; and St. Louis, Missouri, covering Major League Baseball, the National Football League, the National Hockey League, college football and basketball, and other sports. She is a graduate of St. Cloud State University and a native of Edina, Minnesota.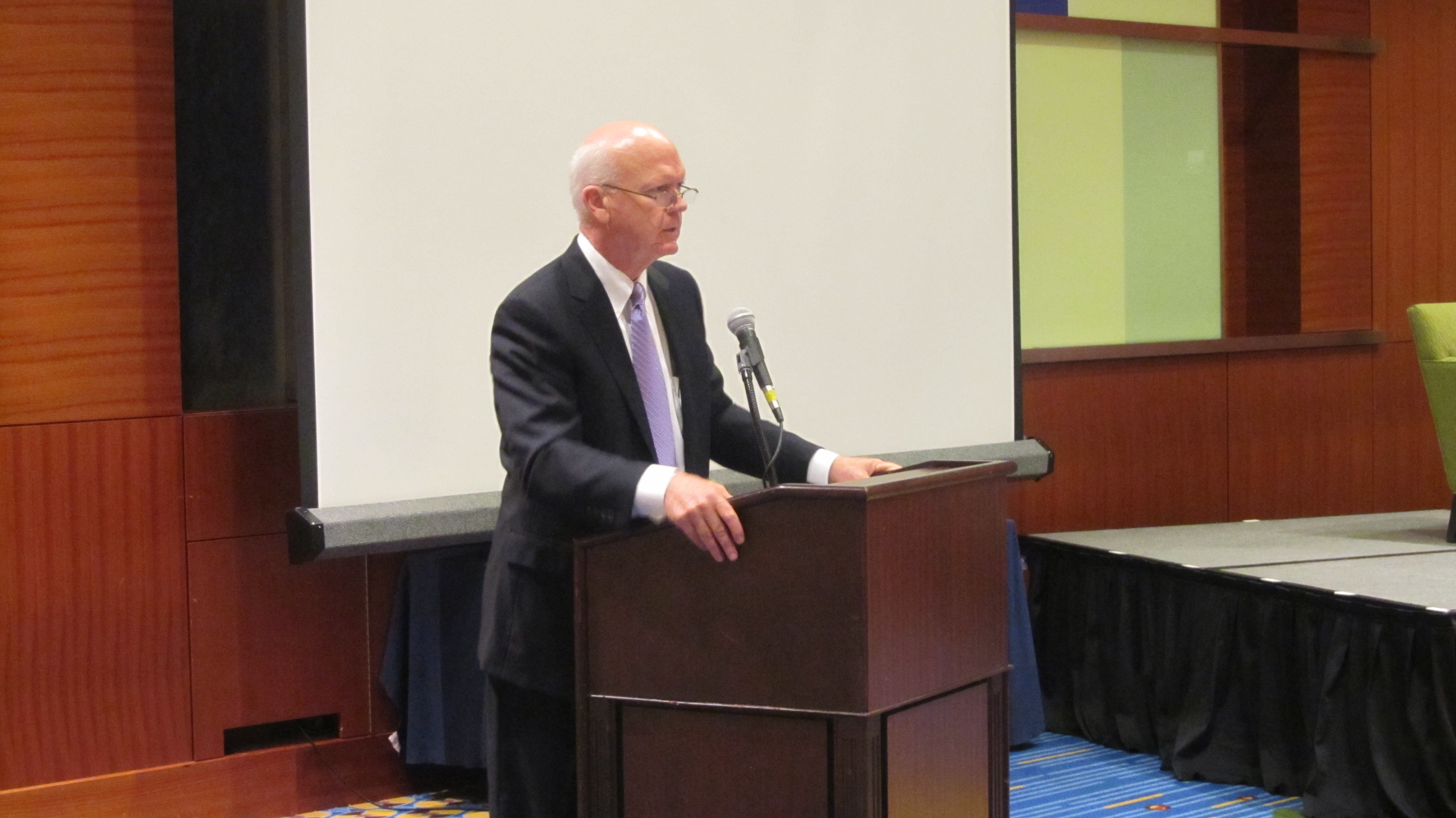 General Managers Panel
9:15-10:45 a.m., Friday, June 29
Ballroom 3-4
Listen to the General Managers Panel here.
Our featured speaker is Terry Ryan, who became general manager of the Minnesota Twins in 1994, stepping down from the position in 2007, and returning in 2011 as Executive Vice President, General Manager. He was named Executive of the Year by The Sporting News in 2002 and 2006, and Major League Executive of the Year by Baseball America in 2004. Under his leadership, the Twins were named Organization of the Year in 2002 and 2004 by Baseball America and in 2002 by USA Today and Sportsticker. Terry joined the Twins organization in 1974 and pitched in their system for four years.
Moderator: Daniel R. Levitt, author of The Battle that Forged Modern Baseball: The Federal League Challenge and Its Legacy and Ed Barrow: The Bulldog Who Built the Yankees First Dynasty. He co-authored (with Mark Armour) the book Paths to Glory: How Great Baseball Teams Got That Way, which won the Sporting News-SABR Baseball Research Award. He is also the editor of this year's The National Pastime: Baseball in the North Star State.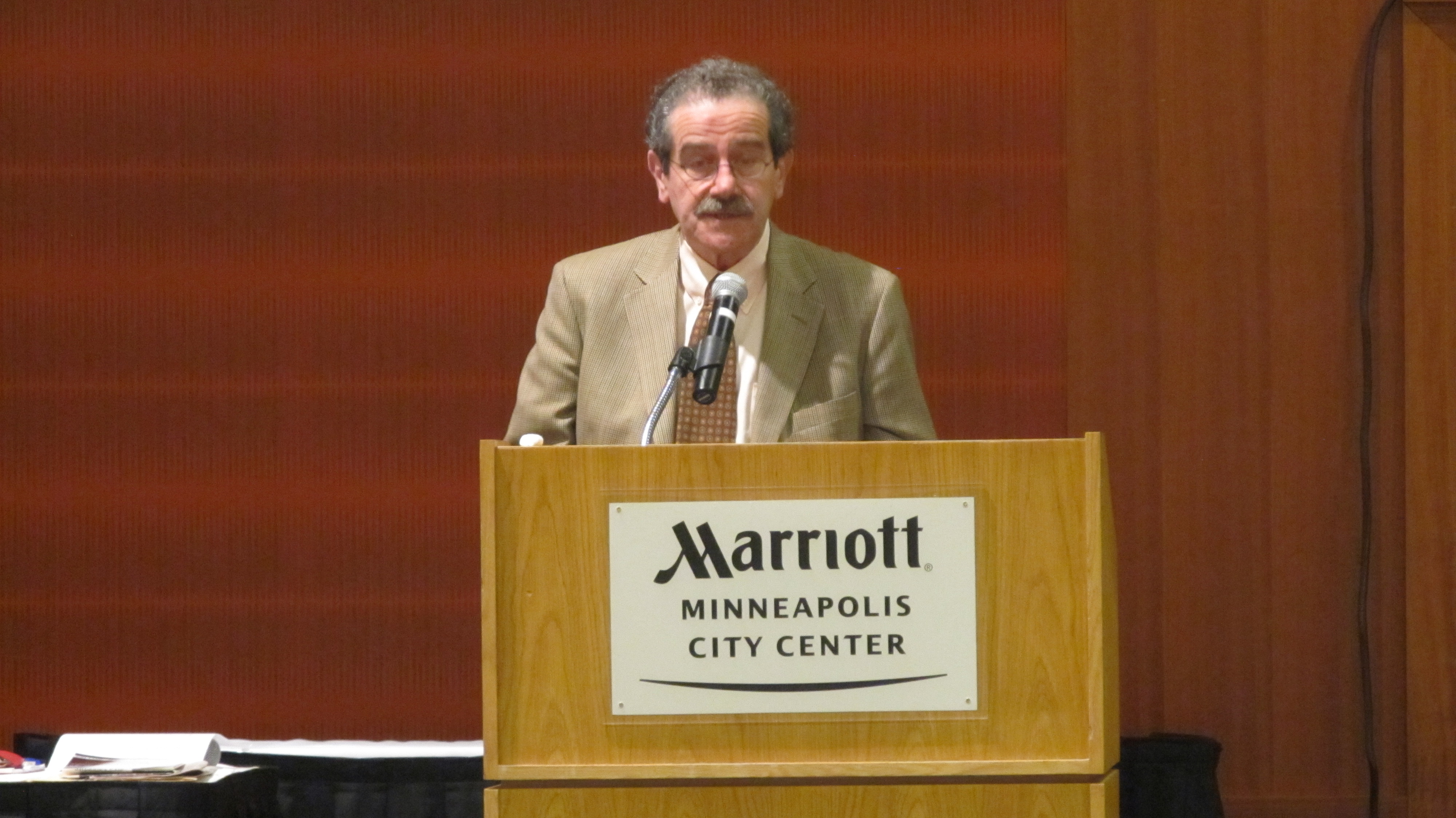 SABR Awards Luncheon
12:30-2:30 p.m., Friday, June 29
Ballroom 1-2
Listen to John Thorn's SABR 42 keynote speech here, with introduction by Stew Thornley
Keynote speaker: John Thorn
Master of Ceremonies: Stew Thornley
John Thorn is the Official Historian of Major League Baseball. He was named to the post by Commissioner Bud Selig in March 2011, succeeding the late Jerome Holtzman. A longtime SABR member who was the recipient of the Society's highest honor, the Bob Davids Award, in 2006, Thorn is the author and editor of numerous books. His works include Baseball in the Garden of Eden: The Secret History of the Early Game, published in 2011 by Simon & Schuster; Treasures of the Baseball Hall of Fame; the Total Baseball encyclopedia series; The Glory Days: New York Baseball 1947-1957; The Armchair Book of Baseball; and The Hidden Game of Baseball. He is the founding editor of McFarland's Base Ball: A Journal of the Early Game and creator of SABR's The National Pastime. He has served as the senior creative consultant for Ken Burns' Baseball series and appears regularly as a television commentator on MLB Network, ESPN, PBS and The History Channel. He is a renowned expert on the early origins of baseball; in 2004, he revealed the existence of a Pittsfield, Massachusetts, statute prohibiting the play of baseball in 1791. He has written essays and articles for many publications, including The Sporting News, the New York Times, the Boston Globe, American Heritage and VOICES, the publication of the New York Folklore Society.
Awards presented or announced at the luncheon include the Lee Allen Award, the Roland Hemond Award, the SABR Baseball Research Awards, the McFarland-SABR Baseball Research Awards, and the Henry Chadwick Awards. The Awards portion of the luncheon concludes with the awarding of the Bob Davids Award, SABR's highest honor.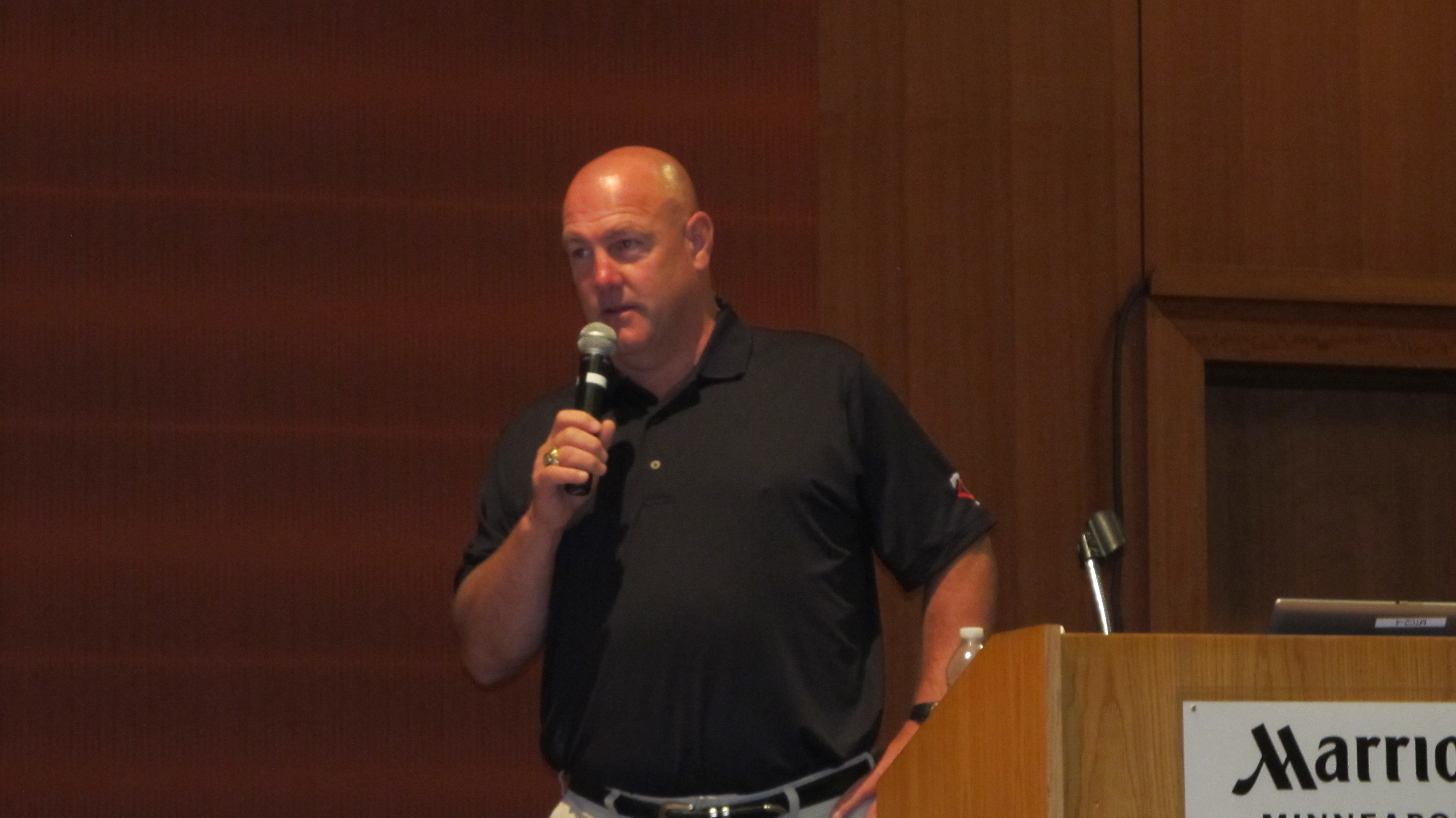 Players Panel
9:30-11:00 a.m., Saturday, June 30
Ballroom 1-2
Our traditional Players Panel included the following speakers who discussed their careers and lives in baseball. Listen to the SABR 42 Players Panel here. Speakers included:
Tim Laudner, a catcher for the Twins for nine years, including the starting catcher on the Twins' 1987 World Series-winning team and an American League All-Star in 1988. Tim is a local lad, who was born in Iowa but grew up in Brooklyn Center, a Minneapolis suburb. He pitched in high school and took the Park Center Pirates to the state tournament before switching to the outfield and catcher in college at Missouri. He came up with the Twins late in the 1981 season and homered in his first game (and his second game). He played with the Twins through 1989 before retiring during spring training in 1990.
Bob "Rocky" Johnson, 11-year veteran infielder with seven MLB teams, 1960-70. Rocky grew up in the Minneapolis suburb of Edina. Rocky once had six straight pinch hits, led his league in pinch hits three times, and finished his career with a pinch-hitting batting average of .272 and an overall batting average of .272. He wonders how rare that is, and he thinks someone from our group will probably be able to tell him.
Bill Davis, one of the top two-sport athletes to come out of the Twin Cities. Bill starred at the University of Minnesota in both baseball and basketball in the early 1960s. After graduation Davis began his professional baseball career by signing with the Cleveland Indians. Davis played parts of three seasons in the majors from 1965-69, including a stint with the expansion San Diego Padres in 1969. After seven years of professional baseball, Davis settled back home in Richfield, Minnesota, and built a successful career as a commercial real estate finance executive.
Moderator: Frank Quilici. Frank was a popular member of the Twins for many years and a versatile infielder from 1965 to 1970. In the World Series against the Dodgers in his rookie season, he had two hits in one inning in the opening game. Frank coached the Twins in 1971 and 1972 although he played one game in 1971, an exhibition game against the Giants at Met Stadium in which Giants coach Ozzie Virgil also played. In July 1972 he became the Twins manager, and, in his first game as skipper, Harmon Killebrew hit a two-run homer to beat a team from New York. After managing the Twins through 1975, Frank became a broadcaster, working on the radio with Herb Carneal calling Twins games.
Note: Due to a scheduling conflict, Roy Smalley III and Ron Coomer were unavailable for the Players Panel.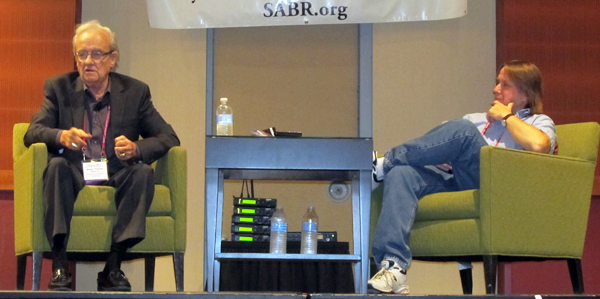 One on One: Roland Hemond
1:30-2:30 p.m., Saturday, June 30
Ballroom 1-2
Listen to Roland Hemond's one-on-one with David Laurila and watch video highlights of the interview here.
Longtime SABR member Roland Hemond sits down for an exclusive one-on-one session in which he'll talk about his life in baseball and answer questions from the audience. Hemond received the Buck O'Neil Lifetime Achievement Award during 2011 Induction Weekend at the National Baseball Hall of Fame in Cooperstown, New York. A three-time winner of MLB's Executive of the Year award, Hemond has been a tireless advocate for SABR over the years and is a familiar face at our national convention. He has also lent his name to an award given annually by SABR's Scouts Research Committee, which recognizes the baseball executive who has demonstrated a lifetime commitment to professional baseball scouts and scouting, and player development history.
Moderator: David Laurila. David grew up in Michigan's Upper Peninsula and now writes about baseball from his home in Cambridge, Massachusetts. He authors the Q&A series at FanGraphs.com and is a regular contributor to several publications, including Red Sox Magazine and New England Baseball Journal. A co-chair of SABR's Boston Chapter, he has contributed to the SABR Baseball Biography Project.
What else do we have going on? Click here for a schedule of research presentations at SABR 42.
For more coverage of SABR 42, visit SABR.org/convention.
---
Originally published: May 24, 2012. Last Updated: April 16, 2020.
https://sabr.org/wp-content/uploads/2020/03/research-collection4_350x300.jpg
300
350
jpomrenke
/wp-content/uploads/2020/02/sabr_logo.png
jpomrenke
2012-05-24 19:08:17
2020-04-16 15:13:57
SABR 42: Featured panels