SABR 43: Featured speakers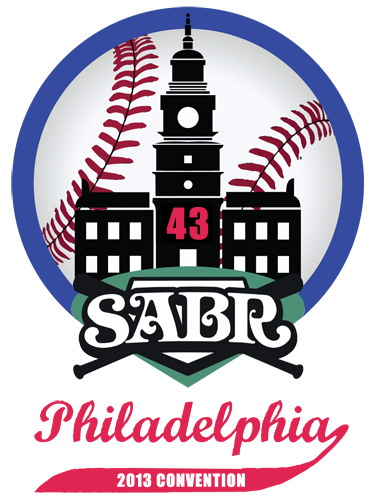 Here were the speakers for our featured panels at the SABR 43 national convention, July 31-August 4, 2013, at the Philadelphia Marriott Downtown in Philadelphia, Pennsylvania.
Full coverage can be found at SABR.org/convention/2013.
Video and/or audio of all the panels is available online. Click on a link below to watch/listen.
Keynote speaker: Larry Bowa
Friday, August 2
12:00-2:00 p.m., Salon H/I/J
Larry Bowa, an MLB Network analyst who has spent 40 years in Major League Baseball as a player, manager and coach. Bowa played 12 seasons with the Phillies (1970-1981), winning two Gold Glove awards and appearing in five All-Star Games. He led the National League in fielding percentage six times and was a key member of the Phillies' 1980 World Series championship team. He finished his playing career with the Cubs (1982-1985) and Mets (1985), having scored 987 runs and stolen 318 bases. He went on to manage the Padres (1987-1988) and Phillies (2001-2004), winning the 2001 Manager of the Year Award. Bowa also coached for the Angels (1997-99), Mariners (2000), Yankees (2006-07) and Dodgers (2007-10.) He also served as bench coach for Team USA in the 2013 World Baseball Classic.
The moderator for this session was Barry M. Bloom, a national reporter for MLB.com since 2002 and has more than 35 years of experience covering sports. He covered baseball and hockey for five years at Bloomberg News and also spent 16 years as a writer at the San Diego Union-Tribune.
Opening remarks: David Montgomery
Thursday, August 1
9:30-11:00 a.m., Salon E
Our featured speaker, David Montgomery, has been the Philadelphia Phillies' General Partner, President and CEO since 1997. He began his tenure with the organization in 1971, when he joined the sales office selling season and group tickets. He advanced to positions as marketing director and then director of sales before becoming executive vice president after the 1981 season. He was elevated to chief operating officer in 1992 and acquired an ownership interest in the team two years later. Under his leadership, the Phillies have constructed two new state-of-the-art facilities, Citizens Bank Park in Philadelphia and their spring training home, Bright House Networks Field, in Clearwater, Florida. He serves as vice-chair of the Board of Directors for Major League Baseball Enterprises and is a member of MLB's Executive Council. In addition, he serves on the board of MLB Network. Montgomery is also a member of MLB's Schedule Committee and Labor Policy Committee as well as the Commissioner's Special Committee for On-Field Matters.
The moderator for this session was Scott Palmer, Director of Public Affairs for the Philadelphia Phillies. Introduction by Seamus Kearney and Dick Rosen, chairs of the Connie Mack Chapter's SABR 43 committee.
Phillies Player Panel
Thursday, August 1
12:30-1:45 p.m., Salon E
Gary "Sarge" Matthews, All-Star center fielder and 1973 National League Rookie of the Year. He played for the Phillies from 1981-83 and hit .429 with three home runs in the 1983 NLCS to earn Most Valuable Player honors. The following year, he led the NL in on-base percentage (.410) for the division-winning Chicago Cubs. He was a veteran of 16 seasons in the major leagues, beginning with the San Francisco Giants in 1972 and including stints with the Atlanta Braves and Seattle Mariners, finishing his career with more than 2,000 hits. He is also the father of major leaguer Gary Matthews Jr. and is in his seventh year as a Phillies TV broadcaster. 
Dickie Noles, an 11-year major league veteran who was a member of the Phillies' 1980 World Series championship team. A right-handed pitcher from Charlotte, North Carolina, he spent a majority of his career with the Chicago Cubs and also played with the Texas Rangers, Cleveland Indians, Baltimore Orioles and Detroit Tigers. In retirement, he has served the Phillies as an employee assistance counselor.
Brad Lidge, a two-time All-Star closer who retired in 2012 after 11 major league seasons with the Houston Astros, Philadelphia Phillies and Washington Nationals. He closed out the 2008 World Series-clinching victory for the Phillies in Game 5 over the Tampa Bay Rays and saved seven games during the Phillies' postseason run. He was also named NL Comeback Player of the Year in 2008, when he finished fourth in the Cy Young Award voting. He was a part of three pennant winners, with the Astros in 2005 and the Phillies in 2008-09. He recorded four 30-save seasons and finished his career with 225 saves.
Moderator: Dan Baker, Philadelphia Phillies public address announcer. Now in his 42nd year with the Phillies, Dan is the longest-serving public address announcer in Major League Baseball. He has served as the PA voice for five World Series, two All-Star Games and three NFC Championship Games for the Philadelphia Eagles. A graduate of Rowan University, he is a member of the Big 5 Hall of Fame and the Philadelphia Sports Hall of Fame.
Women in Baseball: A Diverse Perspective
Thursday, August 1
4:30-5:45 p.m., Salon E
Women have played our national pastime as children and adults probably as long as their male counterparts. The development of softball has largely obscured the rich history and current involvement of women in the hardball world. This discussion will bring into focus the role of women in baseball, past and present, through the real life, and varied experiences of our panel members.
Perry Barber is one of very few women to have umpired major league spring training games in the United States, and is the only woman as of 2013 to umpire major league exhibitions in both the United States and Japan. She assembled the first (and so far, only) four-woman crew to umpire a major league spring training game in 2008, and when she's not umpiring in the Cape Cod League, working international tournaments in Taiwan and Hong Kong, or spreading the gospel of umpiring to the next generation of male and female umpires, she travels the world speaking to diverse audiences and writing about the rewards of umpiring for her blog, "Dishing It… and Taking It, Too," while working on an upcoming book about her unusual and far-flung career. She is also an accomplished singer/songwriter, having opened concerts for the likes of Bruce Springsteen, Hall and Oates, and David Brenner, as well as a former Jeopardy! champion.
Kristin Mills Caldwell started playing baseball with the boys at age 5 and then Little League through age 15. She also played Babe Ruth Baseball in high school and her All-Star team won the Delaware state championship. In high school, she played three years of varsity baseball, and one of her proudest baseball accomplishments is winning the Delaware state championship in the 11th grade. She went on to play college basketball for four years at the University of Delaware. In 2004, she and her sister Bonnie tried out and made the first USA Baseball Women's National Team. Kristin pitched and beat beat Japan 3-0 in the gold-medal game. She played again on the USA team in 2008 and 2012, helping the USA earn bronze and silver medals, respectively. Currently, she is an assistant coach for the baseball team at Caravel Academy in Delaware, a position she has held for nine years.
Susan Ingersoll Papaneri is Director of Baseball Administration for the Philadelphia Phillies. Susan started with the Phillies in 1977, handling game-day duties. In 1980, she was hired as a secretary in the minor leagues/scouting department and has remained with baseball administration ever since. In 1987, Susan was appointed as executive assistant to the general manager and held that title under three different GMs: Tony Siegle, Lee Thomas and Ed Wade. She was promoted to her current position in April 2001. In her role, Susan handles day-to-day troubleshooting with all major and minor league players and staff members, including paychecks, insurance issues, bonuses and moving allowances. She is also instrumental in the formulation and preparation of all contracts on both the major and minor league levels. Additionally, as rules administrator, Susan must be thoroughly familiar with all aspects of the regulations governing both the major and minor leagues. She has also served on the advisory committee for eBis (electronic baseball information system) for Major League Baseball. Susan and her husband, John, reside in Mt. Laurel, New Jersey.
Sarah Sands Ferguson, of Orangeville, Pennsylvania, played and competed side-by-side in every sport with boys since her early childhood. By the age of 6, she had made up her mind to be a professional baseball player, a desire that no doubt was fueled by her father, Doyle Sand, a devoted baseball fan taking her to see endless baseball games. Her story from batgirl for local men's teams to her professional career as a member of the Rockford Peaches of the All American Girls Professional Baseball League is a heartwarming account of living one's dream.
Moderator Robin Wallace was inducted into the National Women's Baseball Hall of Fame in 2002. Today, she is in private law practice in Boston, specializing in family law, guardianship and civil litigation. She has served as Director of Operations for Baseball for All, Inc.; Executive Director of the North American Women's Baseball League; and General Manager of the Nashua Pride, contributing to the Pride's 2007 Can-Am League championship. She has also coached high school baseball and softball. Robin was a charter member of the USA Baseball's Women's National Team, which won the gold in the first Women's World Cup of Baseball in Edmonton, Alberta in 2004 and that same year was a Silver Medalist at the Women's Baseball World Series in Uozo, Japan. She was the MVP and winning pitcher in Game 4 of the World Cup versus Taipei. She is a graduate of Tulane University and the University of Alabama School of Law
Baseball Scouting Panel
Friday, August 2
9:00-10:00 a.m., Salon E
Ian Levin, Manager of Baseball Analytics for the New York Mets. From 2007 to 2012, he served as Amateur Scouting Coordinator for the Mets, and he oversaw logistics, scheduling and player analysis for the organization's scouting department. 
Tom Tippett is Director of Baseball Information Services for the Boston Red Sox. He began consulting with the Red Sox Baseball Operations department in 2003 and has since assisted in a variety of technology and baseball research projects. He was the Founder and President of Diamond Mind, Inc. and developed its baseball simulation software.  
Roland Hemond received the Buck O'Neil Lifetime Achievement Award from the National Baseball Hall of Fame in 2011. A three-time winner of MLB's Executive of the Year award, Hemond has been a tireless advocate for SABR over the years and is a familiar face at our national convention. He has also lent his name to an award given annually by SABR's Scouts Research Committee, which recognizes the ba

seball executive who has demonstrated a lifetime commitment to professional baseball scouts and scouting, and player development history.

 

Moderator: Barry Bloom has been a national reporter for MLB.com since 2002 and has more than 35 years of experience covering sports. He covered baseball and hockey for five years at Bloomberg News and also spent 16 years as a writer at the San Diego Union-Tribune.
"Imagining Baseball" Panel
Friday, August 2
10:00-11:00 a.m., Salon E
A panel to discuss the game as it is played between the ears — by a novelist, or a fantasy baseball player, a board-game expert, or an obsessed fan. For those who love baseball, the game is never over.
The novelist is Eric Rolfe Greenberg, author of The Celebrant, first winner of the Casey Award and listed third among the century's best baseball novels by Sports Illustrated. A New Yorker from birth, he attended the University of Wisconsin, served in the U.S. Navy (1965-67), and enrolled in New York University's School of the Arts after his Navy hitch. He was a publicist and marketer for Columbia Pictures and 21st Century Communications, and for nearly 20 years was the American Management Association's Director of Management Studies.
The fantasy player and Original Rotisserian is Steve Wulf, a senior writer for ESPN The Magazine and ESPN.com. When he began his sports writing career at the Evening Sun in Norwich, New York, Willie Mays was an outfielder for the New York Mets.
The board-game expert is Dr. Mark W. Cooper. The author of Baseball Games: Home Versions of the National Pastime, he was the subject of an exhibition at the Baseball Hall of Fame. A medical doctor, Mark has played and coached baseball all his life and continues to devote one week a year to the fantasy camps of the Cincinnati Reds.
Representing the obsessed fans of SABR is moderator John Thorn, the Official Historian of MLB. His many baseball books over the past three decades also include Total Baseball, Treasures of the Baseball Hall of Fame, The Game for All America, and Our Game, a history of the game which also supplies the title for his twice-weekly blog at MLB.com. In 2011 Simon & Schuster published his major work, Baseball in the Garden of Eden: A Secret History of the Early Game. Thorn is editor of BASE BALL: A Journal of the Early Game, a scholarly annual. He appears irregularly in the Boston Globe, New York Times, New York Times Book Review, and Wall Street Journal. He lives in Catskill, New York.
50th Anniversary of Eight Men Out Panel
Friday, August 2
11:00 a.m.-12:00 p.m., Salon E
SABR's Black Sox Scandal Research Committee hosted a panel discussion to commemorate the 50th anniversary of Eight Men Out. Panelists included:
Patricia Anderson is the niece and surrogate daughter of Buck and Helen Weaver. Patricia and her sister, the late Bette Scanlon, were raised by the Weavers in Chicago for 16 years after their father passed away in 1931. Now 86, Patricia lives in Branson, Missouri, and is devoted to clearing her beloved uncle's name. Patricia helped David Fletcher launch the ClearBuck.com campaign at the 2003 MLB All-Star Game at U.S. Cellular Field in Chicago.
Bill Lamb is the author of the groundbreaking book, "Black Sox in the Courtroom: The Grand Jury, Criminal Trial and Civil Litigation," published by McFarland in the spring of 2013. His book is the first comprehensive account of the various legal proceedings involved in the Black Sox Scandal. Bill is a retired New Jersey prosecutor who spent more than three decades in the courtroom. He lives in Meredith, New Hampshire.
Dr. David Fletcher is founder and president of the Chicago Baseball Museum. A native Chicagoan, David is an occupational medicine specialist and co-founder of SafeWorks Illinois, a private medical practice which he operates in downstate Illinois. In 2005, he was the recipient of the Hilda Award from the Baseball Reliquary, honoring baseball fans and their importance to the game.
Moderator Jacob Pomrenke is SABR's Web Content Editor/Producer. He has been a SABR member since 1998 and is the chairman and newsletter editor for the Black Sox Scandal Research Committee. He moderated a panel discussion on Shoeless Joe Jackson at the 2010 SABR National Convention, has appeared on an MLB Network special on the Black Sox Scandal, and is also a member of the Baseball Records, Deadball Era and BioProject committees. He writes regular columns on baseball history at TheNationalPastimeMuseum.com.
Philadelphia Baseball History Panel
Friday, August 2
3:30-5:00 p.m., Salon E

This discussion will touch on the many highlights, teams, baseball venues and personalities that have made Philadelphia one of baseball's most historically rich cities from 1830s town ball up through today's modern version of the game.
Dr. Jerry Casway is the Dean of Social Sciences Division at Howard Community College in Columbia, Maryland. He has written Ed Delahanty in the Emerald Age of Baseball and is seeking a publisher for his latest manuscript, The 'Olde' Ball Game: The Cultural and Ethnicity of Nineteenth- Century Baseball. Casway has written many articles on the 19th-century game and has a special interest in Philadelphia and its founding influences. He regularly speaks at the 19th-century baseball symposium in Cooperstown and has contributed four chapters to the new SABR publication, Inventing Baseball, The 100 Greatest Games of the Nineteenth Century. Currently, he is working on a history of Philadelphia baseball from 1832 to the building of Shibe Park in 1909.
Richard Hershberger is a paralegal in Maryland. He has written numerous articles on early baseball, concentrating on its origins and its organizational history. He is a member of the SABR 19th Century and Origins committees, and was this year's Special Presenter at the Frederick Ivor-Campbell 19th Century Base Ball Conference at the Baseball Hall of Fame.
David Jordan, for twelve years president/chairman of the Philadelphia Athletics Historical Society, is a retired lawyer who has published books on the Philadelphia A's, Phillies, Hal Newhouser, Pete Rose and classic ballparks.
Norman Macht hopes to complete the third and final volume of his Connie Mack biography before reaching the age at which Mr. Mack retired. He is considering calling it "My 66 Years in Researching Connie Mack." His book Connie Mack and the Early Years of Baseball won the 2008 Larry Ritter Book Award and was a finalist for the Seymour Medal that year. His book Connie Mack: The Turbulent and Triumphant Years, 1915-1931 was a finalist for the 2013 Seymour Medal.
Rich Westcott is a former newspaper and magazine editor and writer, and is the author of 23 books, including the recently published Philadelphia's Top 50 Baseball Players. Considered the leading authority on Phillies and Philadelphia baseball history, his books include eight on the Phillies, three on Philadelphia's old ballparks, and a history of Philadelphia sports in the 20th century. Among his other books are collections of interviews with former baseball players, plus books on no-hitters, 300-game winners, home run hitters, Mickey Vernon and Eddie Gottlieb. He is the immediate past president of the Philadelphia Sports Writers' Association.
Moderator John Thorn is the Official Historian of Major League Baseball. His many baseball books over the past three decades also include Total Baseball, Treasures of the Baseball Hall of Fame, The Game for All America, and Our Game, a history of the game which also supplies the title for his twice-weekly blog at MLB.com. In 2011 Simon & Schuster published his major work, Baseball in the Garden of Eden: A Secret History of the Early Game. Thorn is editor of BASE BALL: A Journal of the Early Game, a scholarly annual. He appears irregularly in the Boston Globe, New York Times, New York Times Book Review, and Wall Street Journal. He lives in Catskill, New York.
Media Panel
Saturday, August 3
9:30-11:00 a.m., Salon E 
One of the most compelling discussions at SABR 43 was the Media Panel, where we covered the new media landscape, covering off-the-field issues such as performance-enhancing drugs and medical issues, the lack of African-Americans in baseball, and much more. Panelists included:

Jayson Stark, a senior baseball writer for ESPN.com since 2000. His regular contributions include the newsy Rumblings and Grumblings column, his eclectic "Three Strikes" blog and his tilted look inside baseball's numbers and quirks, the Useless Information Department. Before arriving at ESPN, Stark worked for the Philadelphia Inquirer for 21 years. He was twice named Pennsylvania's sportswriter of the year by the National Sportscasters and Sportswriters Association. He is the author of two books, The Stark Truth: The Most Overrated and Underrated Players in Baseball History and Worth The Wait: Tales of the 2008 Phillies.
Paul Hagen of MLB.com and 2013 recipient of the J.G. Taylor Spink Award by the Baseball Writers Association of America. He will formally receive the award on July 27, 2013 at the annual Baseball Hall of Fame Awards Presentations. He began his career in 1974 working in San Bernardino, California, where he covered the Los Angeles Dodgers for three years. Hagen also worked in the Dallas-Fort Worth area for ten years covering the Texas Rangers. He then worked for 25 years in Philadelphia covering the Philadelphia Phillies for the Philadelphia Daily News, starting in 1987. He now works for MLB.com, as a national reporter focusing on the Phillies.
Donald Hunt, staff writer for the Philadelphia Tribune, the city's oldest black newspaper, and a correspondent for ESPN.com. He is co-author of Chaney: Playing for a Legend, written with former temple stars Aaron McKie and Eddie Jones. He has written four other books: The Philadelphia Big 5, Great Names in Black College Sports, Antoine Walker and Top 10 Football Legends. In 2011, he was named Journalist of the Year by the National Association of Black Journalists Sports Task Force. He was recently honored by the Penn Relays as the 2012 recipient of the Jesse Abramson Award given to an active member of the media who has consistently demonstrated a devotion to the Penn Relays.
Leonte Landino, a Venezuelan journalist for ESPN Deportes who has covered baseball in the U.S. and Latin America since 1996. He has extensive experience in the media as a commentator and producer, and as a writer for many print and electronic publications. He has worked for Aguilas del Zulia of the Venezuelan League and the Tampa Bay Rays. He currently produces all baseball properties for the ESPN Deportes Spanish-language network and continues to display his work on ESPNdeportes.com. Landino has done extensive research with SABR on the life of Luis Castro and contributed a biography of Hall of Fame Luis Aparicio for the book Go-Go to Glory: The 1959 Chicago White Sox.
Moderator: Alan Schwarz, National Correspondent for the New York Times and author of The Numbers Game: Baseball's Lifelong Fascination with Statistics. Alan was a feature writer and columnist for Baseball America, ESPN and many other publications from 1991 through 2006. He joined the New York Times the following year and has written more than 100 articles on the seriousness of sports-related concussion that made him a finalist for the Pulitzer Prize for Public Service. He lives in New York.
Statistical Analysis Panel
Saturday, August 3
2:00-3:330 p.m., Salon E
The use of statistical analysis in baseball continues to grow. In the area of player evaluation, MLB teams are working to blend statistical analysis with scouting, in order to develop better insights into player selection, evaluation and even in-game decisions. This panel will discuss the evolution of statistical analysis, from the early days to the use of contemporary analytics, which draw on the recent proliferation of data and advances in technology.
Steve Mann, who in 1988 became the first full-time statistician in three decades to be hired by a major league team, the Houston Astros. Steve holds degrees from the University of Pennsylvania and Temple. He is the author of Baseball Superstats 1989, an early sabermetrics evaluation of predictive information for the 1989 season.
Bill Petti, a staff writer at FanGraphs and regular correspondent on MLB Network's "Clubhouse Confidential. He has previously written for Beyond the Box Score and Amazin' Avenue. His work has been featured in and cited by leading outlets, such as ESPN, MLB Network, the New York Times, CBSSports.com, Grantland.com and Baseball Nation.
Dick Cramer, a sabermetrics pioneer and co-founder of SABR's Statistical Analysis Committee. Back in the 1970s, the only baseball analytics activity was letters between Dick and Pete Palmer, highlighted by Dick's challenge to the existence of "clutch performance." In 1981, Dick co-founded STATS, LLC and then built its technology, working closely with future GMs Doug Melvin and Dan Evans, as detailed in the books Moneyball and The Numbers Game. Today, Dick actively contributes to Retrosheet and was a panelist at the inaugural SABR Analytics Conference in 2012. In 1974, Dick also co-organized SABR's first Philadelphia regional chapter meeting, including its first (and too-challenging) trivia contest, on Phillies second basemen.
SABR President Vince Gennaro, the author of Diamond Dollars: The Economics of Winning in Baseball and a consultant to Major League Baseball teams. He appears regularly on MLB Network's "Clubhouse Confidential," the first show of its kind on baseball analytics. He also teaches in the Graduate Sports Business Management programs at Columbia University and Manhattanville College.
Moderator Brian Kenny is

host of MLB Network's critically acclaimed "Clubhouse Confidential," where he incorporates sabermetrics into the day's baseball news. A 25-year national TV and radio veteran, Brian joined MLB Network from ESPN, where he was a "SportsCenter" anchor, host of the Brian Kenny Show on ESPN Radio and an Emmy Award-winning anchor for "Baseball Tonight."
For more information on SABR 43, visit SABR.org/convention/2013.
---
Originally published: May 2, 2013. Last Updated: August 11, 2021.
https://h2j7w4j4.stackpathcdn.com/wp-content/uploads/2020/03/research-collection4_350x300.jpg
300
350
jpomrenke
/wp-content/uploads/2020/02/sabr_logo.png
jpomrenke
2013-05-02 14:44:37
2021-08-11 01:19:15
SABR 43: Featured speakers