SABR 43: Watch/listen to the Baseball Scouting Panel
The SABR 43 Baseball Scouting Panel on Friday, August 2, 2013, discussed how analytics has changed the way front offices evaluate players and make transactions, including a detailed discussion of last week's trading deadline. The panel included Ian Levin, Manager of Baseball Analytics for the New York Mets; Tom Tippett, Director of Baseball Information Services for the Boston Red Sox; and Roland Hemond, Buck O'Neil Lifetime Achievement Award recipient and A three-time MLB Executive of the Year. The panel was moderated by Barry Bloom, national reporter for MLB.com.
---
---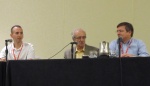 Here are some highlights:
ON THE RED SOX TRADING FOR JAKE PEAVY LAST WEEK
Tippett: "These things, as you can probably imagine, take time and involve a lot of people and a lot of different types of thinking. … A few weeks ago, we took stock of where we were midseason and tried to identify what our biggest needs were and what our biggest risks were. … So Ben Cherington, our GM, called a meeting about a month before the trade deadline of his top 10 or 12 people and we just kicked around some things. Then he asked me and Bill James, independently, to do our own analysis of the team and risk factors going forward. He wanted us not to collaborate so we wouldn't bias each other from that conversation. And emerging from that was the belief that adding starting pitching depth — and not just a back-of-the-rotation starter but a premium starter — is something that would have a lot of value for the team."
ON THE EFFECT OF THE BIOGENESIS SCANDAL ON THE 2013 TRADE DEADLINE
Tippett: "It was a very, very weird trade deadline this year. Every single player we talked about giving up or acquiring … it wasn't openly talked about all that much, but in the back of all of our minds was, 'What's going to happen later this week?' … It was a very strange force in the process this year."
ON USING ANALYTICS IN THE FRONT OFFICE
Hemond: "I enjoy the analytical part. I wish I would have had that much information when I was a GM. You used to be able to close a trade in five minutes over cocktails. Now there's a lot more to study. … I used to tell Tony La Russa [with the White Sox], 'Don't manage for me, don't manage for the fans, don't manage for Harry Caray or whoever.' The wolves were really out for Tony and myself. But then we got hot and won by 20 games. … Tony was very smart, and he said, 'I'll welcome any information the computers can give me.' And he did very well for 30 years and is probably going to the Hall of Fame."
ON TRADING PROSPECTS FOR VETERANS
Levin: "I think if you asked the Giants now if they would make the same deal, knowing what Zack Wheeler has become, they certainly might do the same thing because they had the need for a player (Carlos Beltran) that might take them back to the World Series. … I think you can only make a decision at the time you're in it at that moment. The process is more important than the outcome."
For more coverage of SABR 43, visit SABR.org/convention.
Watch or listen to the panel by clicking play below:

---
Originally published: August 8, 2013. Last Updated: July 27, 2020.
https://h2j7w4j4.stackpathcdn.com/wp-content/uploads/2020/03/research-collection4_350x300.jpg
300
350
jpomrenke
/wp-content/uploads/2020/02/sabr_logo.png
jpomrenke
2013-08-08 15:02:14
2020-07-27 16:51:54
SABR 43: Watch/listen to the Baseball Scouting Panel