SABR 43: Watch/listen to the "Imagining Baseball" Panel
At SABR 43 on Friday, August 2, 2013, we convened the "Imagining Baseball" panel to discuss the game as it is played between the ears — by a novelist, or a fantasy baseball player, a board-game expert, or an obsessed fan. For those who love baseball, the game is never over. The novelist is Eric Rolfe Greenberg, author of The Celebrant; the fantasy player and Original Rotisserian is Steve Wulf, a senior writer for ESPN The Magazine and ESPN.com; the board-game expert is Dr. Mark W. Cooper, author of Baseball Games: Home Versions of the National Pastime; representing the obsessed fans of SABR is moderator John Thorn, the Official Historian of MLB.
---
---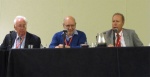 Here are some highlights:
ON IMAGINATION IN BASEBALL
Greenberg: "I'm convinced that I saw Honus Wagner play shortstop. And I mean that literally; I don't mean that as a flight of fancy for a fiction writer. I know for sure I saw Frank 'Home Run' Baker at an old-timer's game at Yankee Stadium. … This being the Society for American Baseball Research, I know someone is going to go out and check the Yankee archives to see if Honus Wagner was invited to one of these games. And if you find out … please don't tell me. Because I'd prefer not to know. It makes a better story this way. That's what imagination does, is make for better stories, more extended stories, perhaps even truer stories. … We have to use imagination in baseball to fill in all the action in our own minds. … You hear about the end of Joe DiMaggio's hitting streak in 1941 on two great plays by Ken Keltner at third base for the Indians. And yet remarkably, there is not a single picture of those plays. Imagine what would happen today. So we only have Keltner's plays in imagination. … We need imagination to fully appreciate what goes on."
ON CHILDHOOD BASEBALL MEMORIES
Cooper: "We all remember the first time we saw that green at the ballpark. What can we all do to make it so the next generation can appreciate our national pastime? I took it upon myself to coach my son and his friends, and we can be drinking having a beer now, but they'll remember that experience now. With this game we all love, I think it's incumbent upon us to pass the baton and that's what I've tried to do my whole life."
ON THE LEGEND OF BABE RUTH
Wulf: "I've been covering baseball for a long time and there's one story that has stuck with me. I was in the Yankees clubhouse … and Pete Sheehy came in and we started having a very nice conversation. And I finally got up the nerve to say, 'Pete, you knew Babe Ruth; what was he really like?' And Pete looked around the room and then looked at me, and quietly said, 'He never flushed the toilet!' … But the postscript to this is a year or so later, my brother was renovating a house in Sudbury, Massachusetts, and it was Babe Ruth's old house in Sudbury. And he called me up and said, 'Do you want the bathtub or the toilet?' So that's why I now own Babe Ruth's bathtub."
ON CHOOSING BASEBALL HEROES
Greenberg: "My hero growing up was Pee Wee Reese. My brother could reduce me to tears instantly by telling me that Pee Wee had been traded to Cincinnati. When I was quite young, I asked Reese for an autograph outside Ebbets Field. And he picked me up in his arms, and wrote the autograph. … We identify with these people. They come to us in a variety of ways. … One of the most fun things about researching and writing The Celebrant was finding all the ways we consumed baseball, even 100 years ago. Baseball was unavoidable, and out of all of this, you chose those characters who had a particular appeal to you. … We receive, in America, baseball through the ground, like Osiris being renewed in his energies from the earth. The harder question is, how do we avoid it, not how do we pick it up?"
For more coverage of SABR 43, visit SABR.org/convention.
Watch or listen to the panel by clicking play below:
---
Originally published: August 8, 2013. Last Updated: July 27, 2020.
https://h2j7w4j4.stackpathcdn.com/wp-content/uploads/2020/03/research-collection4_350x300.jpg
300
350
jpomrenke
/wp-content/uploads/2020/02/sabr_logo.png
jpomrenke
2013-08-08 15:52:36
2020-07-27 16:51:54
SABR 43: Watch/listen to the "Imagining Baseball" Panel