SABR 43: Watch/listen to the Media Panel
One of the most compelling discussions at SABR 43 was the Media Panel on Saturday, August 3, 2013, in Philadelphia. Moderated by the New York Times' Alan Schwarz, the panelists included Jayson Stark of ESPN, Leonte Landino of ESPN Deportes, 2013 Spink Award recipient Paul Hagen of MLB.com and Donald Hunt of the Philadelphia Tribune.
---
---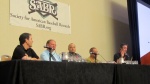 Here are some highlights:
ON THE DECLINE OF AFRICAN-AMERICANS IN BASEBALL
Hunt: "With the Phillies being one of the last teams to have African-American players, there's always been an underlying feeling in the community … that they haven't really reached out and been active in terms of drafting, trading for or acquiring (black) players. But you see now Jimmy Rollins and Ryan Howard as the face of the organization. So it's something that had to be brought to light. But it's good to see it evolve a little bit. I still think with the lack of blacks playing baseball, it needs to get better."
ON THE GLOBALIZATION OF BASEBALL
Landino: "You could say now that baseball teams are no longer regional teams. For instance, the Phillies aren't just the team from Philadelphia. They're all world-class sports organizations with tons of money. So whatever position a front office takes may impact fans around the world. Especially in Latin America, which is the biggest baseball market after the United States. … So we're covering those stories for fans across the world, too. We're reaching fans in the Dominican Republic, in Venezuela, because those stories of (players') success are inspiring for fans across the world."
ON COVERING OFF-THE-FIELD ISSUES
Stark: "You know, I'm not in this (business) to cover labor law. That is not what I dreamed of doing when I grew up. It's incredible now, the kind of stories that we wind up covering, it seems like every few weeks I have to say to somebody, 'I forgot to graduate from law school this week!' Or medical school, that's a big one. … If you're following the BioGenesis story, and how could you ignore it, we have at ESPN an entire investigative team — (SABR member) T.J. Quinn being the most prominent. … So we're finally catching on."
ON THE INDEPENDENCE OF MLB.COM WRITERS
Hagen: "We are going to try to be right. If I see it, I like to think I'd be able to write it. I'm sure it would have to be approved, but I think that's true at all journalistic enterprises. There's editors everywhere, and writers don't get to just throw things out there without running it by their editors. … We certainly don't devote the resources to uncovering things like ESPN does or like the New York papers seem to be doing, but I don't know very many other papers that are either. I don't think we shy away from things. The only thing I've been told is 'Write it straight down the middle.' They don't want editorializing. And that's OK. I write it straight down the middle."
ON THE 24/7 NEWS CYCLE
Stark: "It's a very different world than I spent the first 20 years of my career in. But it is the world. … The biggest issue with living in a world with Twitter to type your 140 characters and hit 'send' without thinking about it, editing it or reporting it. … And that's the biggest fear we have in the media world is you tweet something out, and it turns into a crisis. … We spend hours talking about social media, and the ways to use it and ways not to use it. But in the end, I think it really benefits us."
For more coverage of SABR 43, visit SABR.org/convention.
Watch or listen to the panel by clicking play below:
---
Originally published: August 13, 2013. Last Updated: July 27, 2020.
https://h2j7w4j4.stackpathcdn.com/wp-content/uploads/2020/03/research-collection4_350x300.jpg
300
350
jpomrenke
/wp-content/uploads/2020/02/sabr_logo.png
jpomrenke
2013-08-13 13:29:29
2020-07-27 16:51:53
SABR 43: Watch/listen to the Media Panel