SABR 43: Watch/listen to the Philadelphia Baseball History Panel
Philadelphia is one of baseball's most historically rich cities — from "town ball" in the 1830s up through the 2008 World Series champion Phillies. At SABR 43, our Philadelphia Baseball History Panel consisted of historians Jerry Casway, Richard Hershberger, David Jordan, Norman Macht and Rich Westcott, with moderator John Thorn.
---
---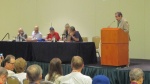 Here are some highlights:
ON THE ENDURING APPEAL OF THE 1894 PHILLIES OUTFIELD
Casway: "Pitching had been dominating the 10-team National League, and hitting went down and attendance went down. So in an attempt to jumpstart things, baseball officials moved the pitcher's box from 55 feet to its present distance of 60 feet, 6 inches. … The Phillies were the great beneficiary of this. The Phillies' team batting average in 1894 is still a record (.350.) They had their three great stars, Ed Delahanty, Sam Thompson and Billy Hamilton, all of whom are in the Hall of Fame, hitting above .400. And the utility outfielder, Tuck Turner, hit over .400 as well. … When you compare great outfields, regardless of circumstances, you have to consider these three because they all hit .400. … And here's something else: The Phillies came this close to signing Honus Wagner. Can you imagine that lineup?"
ON THE 19TH-CENTURY ATHLETICS OF PHILADELPHIA
Hershberger: "Athletics is the old name for a club in Philadelphia. When the Phillies were founded in 1882-83, they took that name because the Athletics name was already taken by the American Association Athletics, who themselves were reviving an old name by a great club in the 1860s and 1870s. … During the Civil War years, they started gathering all the best players in Philadelphia and nearby, like Al Reach, who we can say with absolute certainty was the first player who was a professional. That was illegal at the time under the governing body, so it was all done under the table. … The Athletics were the only club outside of New York who could compete with the best in New York. Their great rivals were the Atlantics of Brooklyn. They were drawing 20,000 for a game. It was a mob scene. … But the Athletics never quite won a championship, which should start a pattern familiar to Philadelphia baseball fans today. … But when the first professional league was formed, the National Association, the Athletics did finally win and it was only slightly tainted."
ON HALL OF FAMER RUBE WADDELL
Westcott: "Rube Waddell had pitched for Connie Mack in Milwaukee in the minor leagues, so Connie figured he could handle him when he came to Philadelphia in 1902. Rube pitched very well for him, and he did for many years. … Rube Waddell, of course, did not pitch in the 1905 World Series. The story had always been that he had gotten into a wrestling match with fellow pitcher Andy Coakley. Whether or not he was injured, he did not pitch. The next year, Connie Mack cut his salary in half and after a couple of years, he got tired of handling him and sent him on to the St. Louis Browns. … But Connie had quite a few other great pitchers, like Eddie Plank and Chief Bender, and that's how the A's started out as a very successful team in the American League's early years."
ON THE END OF THE A'S DYNASTY IN 1914
Macht: "The blowing up of the team after the World Series was … a mischaracterization of what happened. … Between the end of the 1914 and 1915 seasons, Connie Mack sold one player. That was Eddie Collins. … Eddie did not want to leave Philadelphia. Connie told him, "If you don't want to go to the White Sox or anywhere else, I won't sell you." But when Connie found out how much money Comiskey was willing to pay him, he said, 'You'd be crazy not to take it.' And he took it. … Chief Bender and Eddie Plank, as far as Mack was concerned, was finished. They had been with him from the start, 13-14 years. They were over the hill, and Mack was right about that. He was ready to let them go. … He knew that the Federal League was dickering with them, and he offered them to any team in the American League for very little. He got no offers. So they jumped to the Federal League and Mack let them go. … But they had the rest of the team and some writers picked them to win the Amerlcan League in 1915. Then Home Run Baker held out and he wanted his 3-year contract revised, and Mack would not do it. That was a blow that couldn't be replaced. And the young pitchers did not come through. … It was July before he sold his next players, Jack Barry and Bob Shawkey. At that point, Mack started to rebuild."
ON THE GREATEST PHILADELPHIA TEAM IN HISTORY
Jordan: "The 1911 A's were a fine team. They had the great pitching of Chief Bender, Eddie Plank and Jack Coombs. They had the $100,000 Infield. Today that would get you a utility player but in 1911, that was considered beyond price. They defeated the Giants in the World Series, and Frank Baker hit a couple of famous home runs. … However, in my opinion the 1929 Athletics were the greatest baseball team of all time. The A's in 1929 finished 18 games ahead of the Yankees, who still had most of their players from the 1927 team. Grove, Earnshaw, Rommel on the pitching staff. Cochrane behind the plate. Foxx, Simmons. It's tough to match them. And I would put them up against anybody."
For more coverage of SABR 43, visit SABR.org/convention.
Watch or listen to the panel by clicking play below:
---
Originally published: August 12, 2013. Last Updated: July 27, 2020.
https://h2j7w4j4.stackpathcdn.com/wp-content/uploads/2020/03/research-collection4_350x300.jpg
300
350
jpomrenke
/wp-content/uploads/2020/02/sabr_logo.png
jpomrenke
2013-08-12 18:02:41
2020-07-27 16:51:53
SABR 43: Watch/listen to the Philadelphia Baseball History Panel