SABR 43: Watch/listen to Phillies CEO David Montgomery's opening remarks
David Montgomery has been the Philadelphia Phillies' General Partner, President and CEO since 1997. He began his tenure with the organization in 1971, when he joined the sales office selling season and group tickets. He was a featured speaker at SABR 43 on Thursday, August 1, 2013, at the Philadelphia Marriott Downtown.
---
---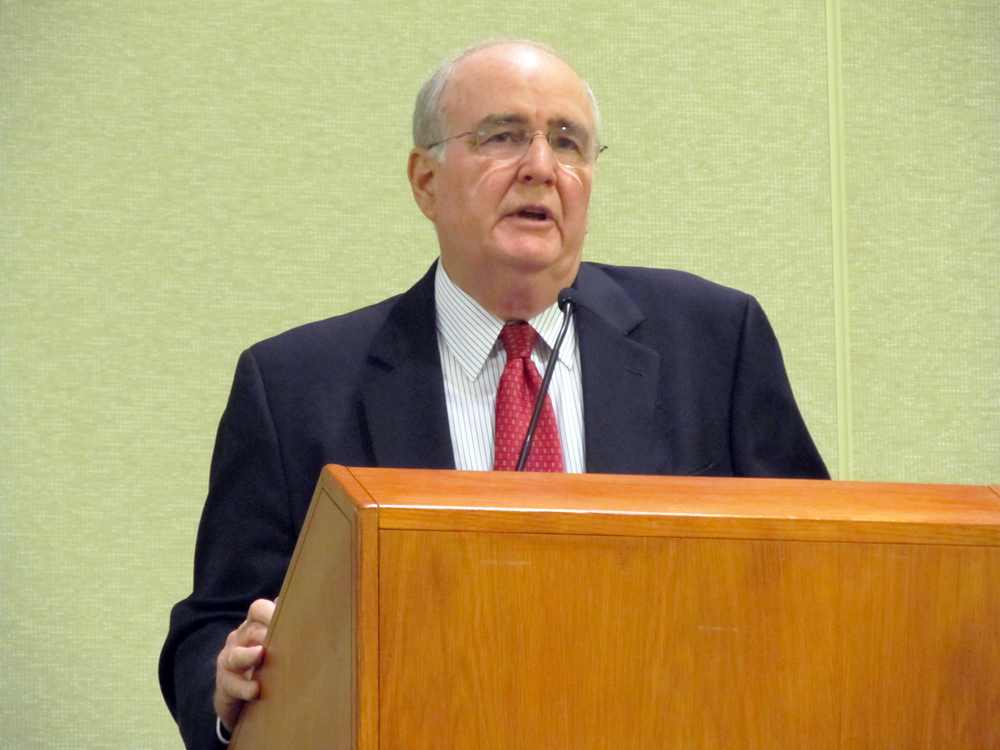 Here are some highlights:
ON BEING A LIFELONG PHILLIES FAN
Some people called the 1950s the golden age of baseball. … I was lucky enough in those Connie Mack (Stadium) years to be a fan. I lived near Connie Mack in Rockford section of Philadelphia, a 20-minute ride to the ballpark. … So many of those details just stick in your memory bank.
I had the pleasure — no, I guess I should say I had the opportunity — to watch the cycles of baseball over the years. … I was there when Chico Ruiz stole home, setting us on a 10-game losing streak in that sad September of 1964. … I've seen the opposition no-hit the Phillies two times. I was in left field when Sandy Koufax no-hit the Phillies [also in 1964]. Then in 1969, I saw Bill Stoneman no-hit the Phillies. Fortunately in recent years, we've had the opportunity to do the no-hitting!
ON THE SPORTS COMPLEX IN SOUTH PHILADELPHIA
We really decided around 1991 that we wanted to get more active in managing Veterans Stadium. Then we happened to wander down to Baltimore and changed our minds. We saw Camden Yards being built and knew we were going to need a new stadium. … It turned out to be a long journey. When we asked our fans, they encouraged us to stay in the sports complex (in South Philly.)
I think it's one of the things that makes Philadelphia unique, that all four major sports are playing … in the city, so we're generating revenue and reaping the tax benefits of that. We're all in a three- or four-block area. And if one team is doing well, the fan comes in February to see a hockey game or a basketball game, and hopefully they'll come back and see us in the summer.
ON PHILLIES FAN SUPPORT
They talk about the golden age of baseball. But in 1969, the next to last year at Connie Mack (Stadium), we drew 519,000 fans. We're actually doing better than that right now at Lehigh Valley, in Triple-A. We only drew 3 million one year at Veterans Stadium, and that was the 1993 championship season.
In comparison to the golden age, the numbers are dramatically different today. This will probably be the seventh consecutive year we draw over 3 million fans at Citizens Bank Park. It's just tremendous.
ON SPRING TRAINING
Spring training has become so important to all of our franchises. Where the Phillies trained from year to year used to bounce all over the place. The big league club was training in Clearwater, but the Triple-A club was training somewhere else and the Double-A club was somewhere else.
One of the things that has happened … is if you make nice facilities, the players are more willing to come there and work out. The time players spend in the clubhouse has grown exponentially. We often see them for not one or two, but sometimes three meals a day. The whole idea of game preparation has changed. We're much more into nutrition. It's not the Philly cheesesteaks that we're offering to players night in and night out. That's just to visitors! … Scouting reports, batting cages, video … it's all so much more improved.
For more coverage of SABR 43, visit SABR.org/convention.
Watch or listen to David Montgomery's opening remarks at SABR 43 by clicking play below:
---
Originally published: August 1, 2013. Last Updated: July 27, 2020.
https://h2j7w4j4.stackpathcdn.com/wp-content/uploads/2013/08/SABR43-David-Montgomery.jpg
750
1000
admin
/wp-content/uploads/2020/02/sabr_logo.png
admin
2013-08-01 08:20:54
2020-07-27 16:51:54
SABR 43: Watch/listen to Phillies CEO David Montgomery's opening remarks