SABR 43: Watch/listen to the Phillies Player Panel with Brad Lidge, Gary Matthews, Dickie Noles
Philadelphia fans might have a reputation for booing players, officials and even Santa Claus, but if you win a championship with the Phillies they'll never forget you. Former Phillies Brad Lidge, Dickie Noles and Gary "Sarge" Matthews, along with moderator Dan Baker, expressed their appreciation for the passion of fans here during the SABR 43 Phillies Player Panel on Thursday, August 1, 2013, at the Philadelphia Marriott Downtown.
---
---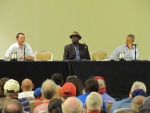 Here are some highlights:
ON PLAYING IN PHILADELPHIA
Matthews: "Being here in Philadelphia, they're different fans than they are around the country. Their passion is a little different, because after getting used to winning, they always demanded excellence. And especially from whatever players that would be so-called 'super' players. There was a guy in Veterans Stadium that used to boo Mike [Schmidt] unmercifully, even before he got the pine tar on the bat. And Mike could hear it and would never really look over, but he would always say, if he didn't have any hits on the road, 'Man, I'm getting ready to hear those boos from this guy.'"
ON CONVERTING 48 CONSECUTIVE SAVES DURING THE 2008 SEASON
Lidge: "They would bring it up every day. 'Wouldn't it be a crime to go this far perfect and then blow it in the World Series?' A reporter asked me that question just about every single day. I'd basically say, 'Yeah, that would be a crime, but I'm not really thinking about that right now.' The streak or the situation never really occurred to me or crossed my mind after I started warming up. But we've got a lot of nerves before we start warming up. We're pacing down there and everything else, so everything crosses your mind at that point. Once that switch is flipped and we get on the mound … if you get into a zone and a rhythm, all of a sudden your body starts taking over."
ON THROWING INSIDE TO GEORGE BRETT IN 1980
Noles: "It took him 30 years for him to ask me if I really threw at him. And I said, 'Yeah!' Of course, it took him two bottles of wine for him to get up the courage to ask me. Then he walked over and said, 'Did you really throw at me?' And I said, 'Yeah!' And he went, 'Yes, I love it.' And five minutes later, he said, 'You're going to be glad I didn't get a hit.' That's the most important thing: When you knock somebody down, you'd better not give him a good pitch to hit."
For more coverage of SABR 43, visit SABR.org/convention.
Watch or listen to the panel by clicking play below:
---
Originally published: August 7, 2013. Last Updated: July 27, 2020.
https://h2j7w4j4.stackpathcdn.com/wp-content/uploads/2020/03/research-collection4_350x300.jpg
300
350
jpomrenke
/wp-content/uploads/2020/02/sabr_logo.png
jpomrenke
2013-08-07 15:02:44
2020-07-27 16:51:54
SABR 43: Watch/listen to the Phillies Player Panel with Brad Lidge, Gary Matthews, Dickie Noles