SABR 43: Watch/listen to the Women in Baseball Panel
We were honored to have a distinguished Women in Baseball Panel at SABR 43 on Thursday, August 1, 2013, with Phillies executive Susan Ingersoll Papaneri, U.S. National Women's Baseball Team members Robin Wallace (moderator) and Kristin Mills Caldwell, All-American Girls Professional Baseball League alumnus Sarah "Salty" Ferguson and pro umpire Perry Barber.
---
---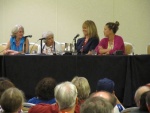 Here are some highlights:
ON THE ALL-AMERICAN GIRLS PROFESSIONAL BASEBALL LEAGUE
Ferguson: "My father took me to games and I (developed) a great love for baseball. My dream was to be a professional baseball player. Whenever anyone asked me what I wanted to do, I said, 'I want to play professional baseball,' not even knowing that such a thing existed. I was a high school senior … and I knew a scout for the All-American league. I threw about five pitches for him, and he turned around and started walking toward my dad and I. He walked up and said, 'I'm sending her to the Rockford Peaches.' … And my dream came true and I don't think my feet hit the ground from that point on."

ON WORKING IN MAJOR LEAGUE BASEBALL
Papaneri: "I was tired of working with scientists and Ph.D's at the University of Pennsylvania … and started working as a gofer in the minor league department for the Phillies. And I've stayed there for 30-plus years, and grew with the job, and brought my own tastes to it. … Dealing with the players, there's over 300 of them in our organization, and my job is to keep track of all of them, whether they like it or not. We deal with their visa issues, getting them in and out of the country. I know their wives, their moms, their dads, their kids."

ON FIGHTING FOR MORE WOMEN TO BECOME UMPIRES

Barber: "When I started umpiring, it was not a political statement. It was something I did solely out of the desire to find something fun to do (in baseball.) But as I have progressed through the decades, I have become politicized because of the complete stagnation … of drawing women into the pipeline. The umpire schools are the only avenue for women to become professional students and eventually professional umpires. … It helps tremendously to have a mentor. Mine was Arthur Richman for the New York Mets, who took an interest in me and hired me to work intrasquad games for the Mets in 1985. Back then, there was one woman working as an umpire in pro ball. And guess what? Now there are zero. The numbers have actually regressed."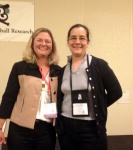 ON THE WOMEN'S BASEBALL WORLD CUP
Caldwell: "My biggest career highlight was pitching in the final in 2004 in Edmonton, beating Japan for the gold medal. Knowing that our success would have something to do with the future of women's baseball in the U.S. … The Japanese are some of the best baseball fans around. They don't care if you're a man or a woman. It was pretty inspiring to play there (in 2012) in front of thousands of people. … It would be nice for girls to have more opportunities to stay with baseball if that's what they wanted to do."
Wallace: "I can attest to the fact that (2004) was an incredible baseball experience. For a month and a half, we could feel like we were professional baseball players."
ON MAKING BASEBALL MORE WELCOME TO WOMEN
Barber: "Being a part of Baseball For All is really inspirational. It creates opportunities for girls, and boys, to play baseball in a safe, productive environment. … Joining forces, networking, finding other women in other arenas of baseball, working on a multi-pronged approach to changing the paradigm so that women are drawn in to every area of baseball. We're not a threat, really. You don't have to fear us. We're not going to take over and feminize the landscape and make baseball unappealing. … I'm also working with Justin Klemm, the director of minor league umpiring, and for the first time since I started umpiring 33 years ago, someone in minor league baseball has reached out and said flat-out, 'It's way past time to make this happen. Let's work together to make this happen.' So I really think in the next year or two, you're going to see women go to the umpires' schools."
For more coverage of SABR 43, visit SABR.org/convention.
Watch or listen to the panel by clicking play below:
---
Originally published: August 7, 2013. Last Updated: July 27, 2020.
https://sabr.org/wp-content/uploads/2020/03/research-collection4_350x300.jpg
300
350
jpomrenke
/wp-content/uploads/2020/02/sabr_logo.png
jpomrenke
2013-08-07 16:55:49
2020-07-27 16:51:54
SABR 43: Watch/listen to the Women in Baseball Panel