SABR 44: Watch/listen to the 1980 Houston Astros Panel
At SABR 44 on August 1, 2014, the 1980 Houston Astros Panel discussed the Astros' memorable 1980 National League West championship team, the first in Houston major league history to make the postseason.
Our panelists included: Enos Cabell, Jose Cruz, coach Deacon Jones, General Manager Tal Smith, and moderator Kenny Hand.
---
---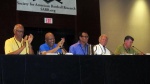 Here are some highlights:
ON BUILDING THE ASTROS INTO A CONTENDER
Smith: "It was a club that presented a challenge. They had some fine young talent. But they had some players … who had probably reached the peak of their career. We had to depart with a lot of players who had played well for the Astros for a number of years. … [The players we did bring in], they weren't great stars, but they were real solid ballplayers who contributed in a number of ways."
ON PLAYING FOR MANAGER BILL VIRDON
Cabell: "If you hit the ball, sometimes you ran to first and sometimes you didn't. … When Tal and Bill came, it became stressed that you run. If you didn't run to first base, Bill would have you come out at 8 o'clock the next morning, dressed in your uniform, and Bill would make you run. Nobody wanted to get up early and go run for an hour. … It was a changing of the [culture.] The whole system had to be changed. … Then, if you messed up, the other 24 guys would be pissed off. It wasn't that way in the early years. … Even the pitchers ran. Nolan Ryan, J.R. Richard, all those pitchers, they ran [hard] to first base. Do you see that now? They stole bases, too! We couldn't score, so the pitchers would take it upon themselves. That's how we became who we were."
ON HIS APPROACH TO HITTING
Cruz: "I never tried to pull the ball. I tried to go the opposite way most of the time, especially with two strikes. … I used to lead the team with 75, 80 RBIs. We didn't score that many runs. That's the game we used to play. There was a lot of good pitching [in the National League.] Tom Seaver, Gaylord Perry, Nolan Ryan … but at least Nolan Ryan was on my side."
ON THE ONE-GAME PLAYOFF AGAINST THE DODGERS
Cabell: "We lost every game by one run [to end the regular season]. It wasn't like we weren't playing well, they just did something to beat us. But we just felt like we could not lose to them [in the playoff.] … We said there's no way they can beat us four in a row. … A whole bunch of stuff led up to that. Cheo [Cruz] danced on the table buck-naked …"
Cruz: "The reason was, we lost three in a row, so I said, 'Listen, guys, I'm going to dance on the table with no clothes, but we gotta win the game. And after we won the game, I had to [do it.] … I had to do whatever it takes for us to win."
Jones: "It was on the table with the spread. All the food was on the table!"
Jones: "These guys [the Astros] were nuts. Before the game, all these guys were screaming at [the Dodgers], 'We're going to kick your ass,' all that stuff. We're smiling, loose as a goose. That's the kind of club we were."
Smith: "These guys weren't going to lose. They believed in each other. They had diverse personalities, and it was difficult for Bill Virdon to manage. … But the conviction these guys had, they were winners, each and every one of them."
For more coverage of SABR 44, visit SABR.org/convention.
---
Originally published: August 13, 2014. Last Updated: July 27, 2020.
https://h2j7w4j4.stackpathcdn.com/wp-content/uploads/2020/03/research-collection4_350x300.jpg
300
350
jpomrenke
/wp-content/uploads/2020/02/sabr_logo.png
jpomrenke
2014-08-13 13:19:08
2020-07-27 16:49:39
SABR 44: Watch/listen to the 1980 Houston Astros Panel