SABR 44: Watch/listen to the Astros Player Panel from Minute Maid Park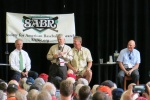 At SABR 44 on August 2, 2014, our Astros Player Panel at Minute Maid Park discussed their lives and careers in baseball. This panel was part of our special SABR 44 ballpark session, which the Houston Astros hosted in the Union Station terminal at Minute Maid Park.
The panelists included: Alan Ashby, Astros' catcher for 11 seasons and now a TV analyst for CSN Houston; Art Howe, one of a handful of people to play for and manage the Houston Astros; and Larry Dierker, an Astros icon who has played for, managed, and broadcast for the team. Moderator: Bill Brown, Astros broadcaster for 28 seasons, Texas Sportscaster of the Year, and Texas Sports Hall of Fame inductee.
---
---
Here are some highlights:
ON FIRST IMPRESSIONS OF THE ASTROS
Howe: "At first, I really didn't want to be here because the two years I spend in Pittsburgh, we won our division. And I was coming to a team that had lost 105 games. When I was with the Pirates, they talked about baseball and what it took to win. And in our clubhouse, they were talking about hunting and fishing and I thought, 'I don't know if I want to be a part of this.' But in time, the organization got better and better, and I was really fortunate to be a part of that growing process."
Ashby: "We played the Atlanta Braves on my first homestand, and I think the Braves played four games and left town with four hits. Ken Forsch threw a no-hitter, and that was the first of the three that I would catch. It was a phenomenal day. And then in 1981, Nolan Ryan threw his fifth. And I had grown up in L.A. watching two of Sandy Koufax's no-hitters, and he was one of my idols. So there I am, latching on to the coattails of Nolan Ryan. And then I caught Mike Scott's improbable no-hitter on clinching day in 1986. So that was just great stuff."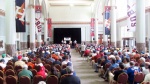 ON PITCHING A NO-HITTER IN 1976
Dierker: "It happened when I least expected it. … About the sixth inning, I started to feel this adrenaline kick. In the seventh inning, I threw mostly fastballs. And in the eighth and ninth inning, my 18-year-old fastball came back to me. I was throwing hard. … I don't know if other pitchers used their normal repertoires [in no-hitters], but that's what I remember most is that I could finally throw hard again."
ON HIS PORTRAYAL IN "MONEYBALL"
Howe: "I obviously didn't like the movie. I lived it. Anyone who ever played for me or with me knows that I'm easy-going, always smiling, having a good time. I don't like Phillip Seymour Hoffman smiled once in the movie. … Obviously, I didn't agree with everything Billy [Beane] did, but we certainly didn't have that type of relationship. My wife was really upset, to this day. But they never asked me for my input, not one bit. … I did read an article in Esquire and Hoffman said … he would apologize to me."
Dierker: "One thing you always hear is, don't let the truth stand in the way of a good story."
For more coverage of SABR 44, visit SABR.org/convention.
---
Originally published: August 14, 2014. Last Updated: July 27, 2020.
https://sabr.org/wp-content/uploads/2020/03/research-collection4_350x300.jpg
300
350
jpomrenke
/wp-content/uploads/2020/02/sabr_logo.png
jpomrenke
2014-08-14 18:52:19
2020-07-27 16:49:39
SABR 44: Watch/listen to the Astros Player Panel from Minute Maid Park