SABR 44: Watch/Listen to the Houston Colt .45s Panel
At SABR 44, our Houston Colt .45s Panel discussed the colorful era of the Colt .45s, Houston's first major league baseball team, established in 1962.
The panelists included: Bob Aspromonte, who scored the first run in Houston major league history; Mickey Herskowitz, prolific author and sports writer who covered the Colt .45s in their first season; Hal Smith, who hit the first home run in Houston major league history; Carl Warwick, a native Texan who played two seasons with the Colt .45s; Jimmy Wynn, the "Toy Cannon," an early Colt .45s star and Astros power hitter for 11 seasons. The moderator was Greg Lucas, Astros broadcaster from 1995 to 2012.

---
---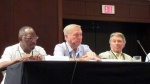 Here are some highlights:
ON PLAYING AT COLT STADIUM
Aspromonte: "It seemed like every day those first few years, it rained about 2 or 3 o'clock in the afternoon, and that grass would be wet. By the time the game started, the mosquitos would be everywhere. You'd look down and you'd be covered. … You noticed everybody running out of the dugout pretty quick to get away from the mosquitos."
Wynn: "By the seventh inning, the grounds crew would come out to clean the field and I used to run out to center field, and all of a sudden the big mosquitos would come out and dive-bomb you. They'd eyeball certain fans and pick them up and take them to their nest. I thought, 'What in the world, this is a baseball game, not a dive bombing.'"
Smith: "It was different. I had played on losing teams and I had played on a winning team (1960 Pirates.) Then to get traded down to Houston … it turned out to be a fantastic year for me, although it was so hot that it was tough to catch every day. I'll never forget the first doubleheader I caught, on July 4. It was 104 degrees and they carried 87 people out of the stands. I lost 13 or 14 pounds that day."
ON SPRING TRAINING IN APACHE JUNCTION, ARIZONA:
Herskowitz: "Apache Junction was the strangest place any baseball team had ever held spring training. … It was out there in the desert, 19 miles from Mesa, and that was the nearest anything. There was a Stuckey's convenience store/filling station. There was Red Gardner's saloon, which is where everyone did their serious training. There was a supermarket. And that was it. You couldn't get into any trouble unless it came to you. Watching them change out the soft drink machine on Tuesday night was one of the highlights; the players would all gather around and wait to get the fresh 7-Ups and Coca-Colas."
Aspromonte: "We go to spring training and I thought at first I'd be going rabbit hunting down there. Turk Farrell would walk from the motel we stayed in to the training camp, across this big field, with a six-shooter on his side. And he would shoot at rabbits or birds or anything that moved. We'd hear him coming."
Warwick: "I haven't been back in many years, but I read somewhere where the population in Apache Junction has tripled to 15,000. When we were there, the population was 5,000 and the cattle population was 15,000."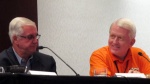 ON THE COLTS' SUCCESS DURING THE FIRST YEAR
Warwick: "We kind of surprised a lot of people. We knocked out the Dodgers from (first place) that year (winning two of three on Sept. 25-27 in Los Angeles), which nobody thought could ever happen. That was the best series I can remember from my two years here."
Aspromonte: "We also had some established superstars, to really work with the young players. That was a massive plus, especially coming up from the minor leagues. To have that kind of help along the way was outstanding."
Warwick: "We were the first major league team in Houston, but you could not believe the enthusiasm of the fans at the ballpark. Even when it was 110 degrees out there and we were five runs behind, they were still pulling for us. The fans just took us in like we were something unusual. You made friends all over town. It was a great experience."
For more coverage of the SABR 44 convention, visit SABR.org/convention.
---
Originally published: August 5, 2014. Last Updated: July 27, 2020.
https://sabr.org/wp-content/uploads/2020/03/research-collection4_350x300.jpg
300
350
jpomrenke
/wp-content/uploads/2020/02/sabr_logo.png
jpomrenke
2014-08-05 17:23:41
2020-07-27 16:49:39
SABR 44: Watch/Listen to the Houston Colt .45s Panel