SABR 44: Watch/listen to Larry Dierker's keynote speech
Former Houston Astros star Larry Dierker delivered the keynote speech at the SABR 44 Awards Luncheon on Friday, August 1, 2014.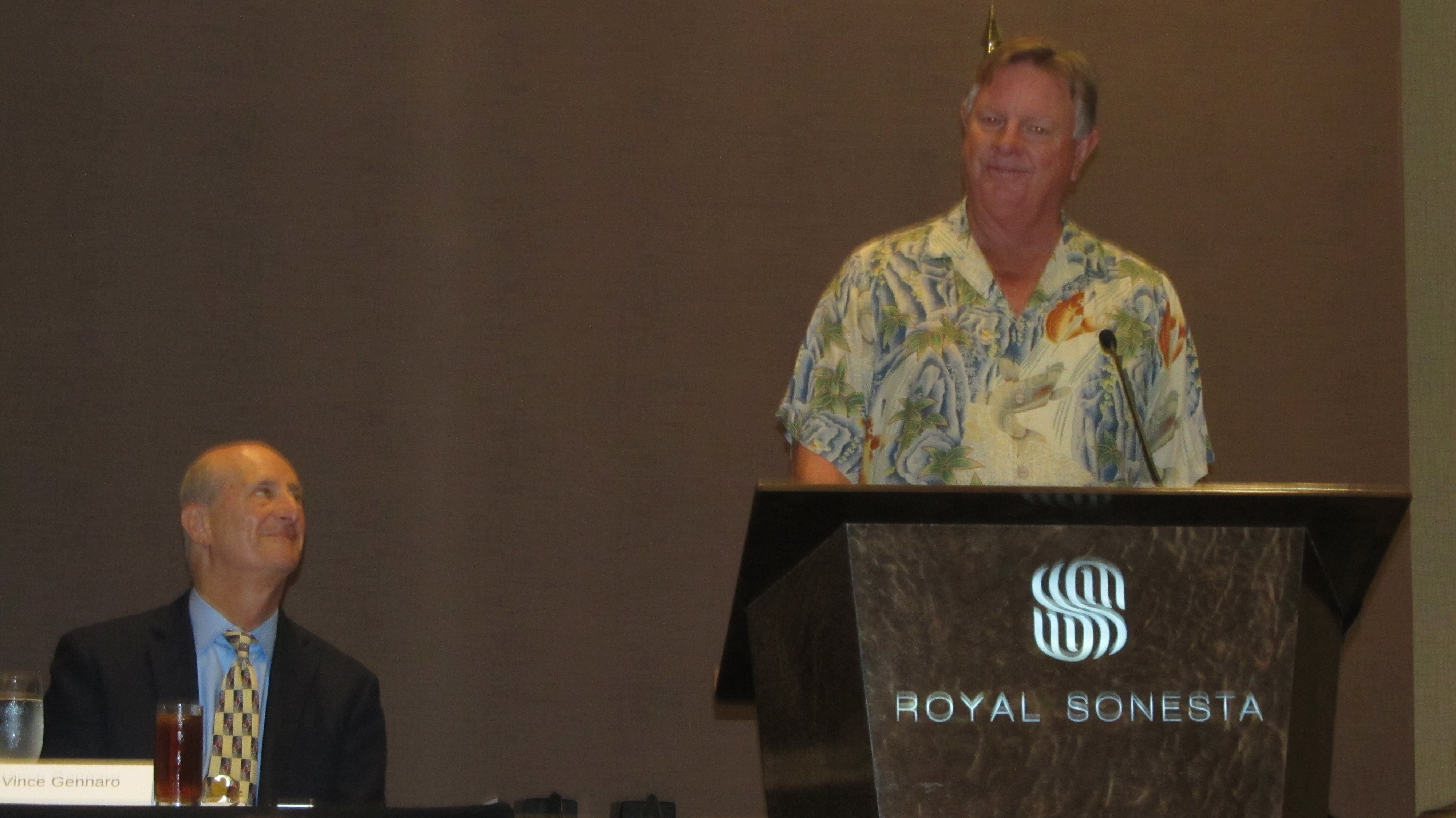 Dierker is an icon in Houston baseball, starring as an Astros pitcher, broadcaster and manager. He broke into the big leagues on his 18th birthday in 1964 for the Colt .45s and struck out Willie Mays in his first inning pitched. In 1969, he became the first 20-game winner in Astros history, posting a 2.33 ERA, 20 complete games and 232 strikeouts in 305 innings. He was a National League All-Star in 1969 and 1971, and threw a no-hitter against the Montreal Expos in 1976.
From 1979-96, Larry worked as a popular TV and radio broadcaster for the Astros until he moved from the booth to the dugout as the manager of the team beginning in 1997. Under his leadership, the Astros won four division championships in five seasons and he was named NL Manager of the Year in 1998. He currently serves as a community outreach executive with the Astros. The Houston SABR chapter is named in his honor.
---
---
Here are some highlights:
ON THE DIFFICULTY OF PLAYING BASEBALL
"Baseball is a really, really hard sport to play. It's a lot harder than it looks. I have often said that the difficulty of the game of baseball increases directly with your proximity to the ball. If you're watching on TV, there's nothing to it. If you're up in the upper deck, it doesn't look that hard. [But] the guys in the dugout know how it is."
ON THE OLD MULTIPURPOSE STADIUMS
"There was a time about 30 or 40 years ago when the lords of baseball, probably looking at the Astrodome, thought the way to go was to build a big build with a concentric field with Astroturf so that everything would be standard and would conform. Within 20 years, they realized that modern baseball wasn't necessarily better baseball. Wrigley Field and Fenway Park were still the most popular fields and they were 80 years old. So one by one, the Astrodome, Cincinnati, Philadelphia, Baltimore, they all switched from … multipurpose stadiums to ballparks with natural grass, which is the way it should be."
ON THE PACE OF THE GAME
"No matter how it long it takes to play, I still love the game. … When I started broadcasting, the commercial break between innings was 60 seconds. But now the breaks are two or two-and-a-half minutes long. … As a broadcaster, I was amused from time to time when one of our cameras would pick up somebody in the stands reading a book. But I want to tell you, when I watch games at home, I read a book now."
ON THE REPLAY SYSTEM
"I am no fan of the replay system. It only shows that the umpire miss a fair number of really close games. It probably adds 10 minutes to each game. By my reckoning, all those missed calls would even out over 162 games. Of course, it's hard for things to even out in a short period. And I do think the replay system would be good in postseason because one or two calls could change the whole series."
ON A PROPOSED MODIFICATION TO THE DH RULE
"It's time to modify the designated hitter rule and get both leagues on the same page. … You're cheering, but you know it's not going to happen. I have a compromise that I think would be better. It would allow the great hitters to play a couple more years after they're no longer good fielders. It would put the managers in a strategic bind as early as the second or third inning. … The simple rule would be that a manager can pinch-hit for his pitcher any time he wants to and the pitcher does not have to be removed from the game. But the player who pinch-hits for him cannot come back into the game. Think about that for a while. … I think it would be better. You wouldn't be getting rid of these great hitters, but you just couldn't use him four times."
For more coverage of SABR 44, visit SABR.org/convention.
---
Originally published: August 2, 2014. Last Updated: July 27, 2020.
https://sabr.org/wp-content/uploads/2014/08/IMG_8415-scaled.jpg
1439
2560
jpomrenke
/wp-content/uploads/2020/02/sabr_logo.png
jpomrenke
2014-08-02 01:50:15
2020-07-27 16:49:39
SABR 44: Watch/listen to Larry Dierker's keynote speech