SABR 44: Watch/listen to the Media Panel
At SABR 44 on August 1, 2014, in Houston, Texas, our Media Panel discussed media coverage of the Houston Astros and other on-field and off-field issues that affect the game.
The panelists included: Bill Brown, in his 28th season as a Houston Astros broadcaster; Evan Drellich, who covers the Astros for the Houston Chronicle; Alyson Footer, national correspondent for MLB.com; Buck Martinez, play-by-play announcer for the Toronto Blue Jays and a former major league catcher and manager; and moderator Brett Dolan, who has nearly 20 years of experience as a play-by-play announcer, including seven years on the Astros radio broadcast team.
---
---
Here are some highlights: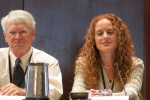 ON SOCIAL MEDIA'S EFFECT ON REPORTERS
Footer: "There's no timeframe [deadline] anymore, there's no getting up and rushing to see what's in the paper to see what your competitors have. It's all-consuming, and it can really break you down, because you don't feel like you can get ever off your phone and checking Twitter, MLB news, MLB Trade Rumors. And it can really mess with you — it's a wonderful tool and it's great for consumers, but it's rough for people bringing you the news."
Drellich: "Twitter's terrible in a lot of regards. … It's really changed any beat writer's job. Everything happens on Twitter. There isn't a single baseball story that doesn't break on Twitter. … For right now, that's where baseball news happens, universally."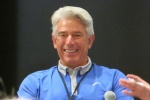 ON THE CHALLENGES IN TV BROADCASTING
Brown: "I saw we had a TV rating of 0.0 for Wednesday's game, so maybe I'm not the guy to answer this question. … But it has changed a lot. With Cincinnati back in the 1970s, we televised three home games a year. They were a very conservative organization. But we're all checking Twitter now, even between innings, to make sure we don't miss anything. It keeps everyone honest."
Martinez: "I'm a play-by-play guy now, I was formerly an analyst. My role has changed dramatically. Now I am the 'what' guy and the analyst is the 'why' guy. So I tell you what just happened and what this guy has done this year and what he's hitting and where he comes from. And my partner, Pat Tabler, tells you why he got that base hit, how come he was thrown out at third base."
Martinez: "I call this the 'dirt theory': The farther away from the dirt you get, the easier the game becomes. When you're standing on the dirt, it's a hard game. The coaches go sit out in the dugout and they're a little bit farther from the dirt, it becomes easier. The fans are behind the dugout and they're farther away from the dirt, then the game's a piece of cake. Well, the broadcasters are so far away from the dirt, they think anyone can play. So I always remind myself of the 'dirt theory,' that this game is very fast and very hard, and there's very few people who can play it."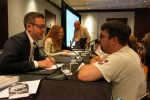 ON DEALING WITH SUPERSTAR PLAYERS
Footer: "In Houston, it was a little different, because Jeff Bagwell and Craig Biggio were available to the media every day, if they went 0-for-4 or won the game or whatever. Players were afraid to really upset Bagwell, and he was the kind of guy who fit in with everyone, so nobody wanted to disappoint him. Lance Berkman was a fantastic quote, and he loved telling the truth. It made the front office crazy sometimes. Billy Wagner was another one, and it got him run out of town. … The only really odd guy was Jeff Kent. He had this persona, where he loved to be difficult and he loved for people to not really like him. But it was kind of all an act. … He was the greatest competitor I've ever been around … but he was also a really nice guy. I told him, 'If you don't watch it, I'm going to out you as a nice guy.' And he laughed. I had a decent relationship with him, but that was as far as you could get with him."
Dolan: "I'd heard all these horror stories about Jeff Kent. But they brought him back for the 50th anniversary season (in 2012) and we're a little unsure about what he's going to bring to the table. But within five minutes of him being on the radio with us, if I was a TV executive, I would have hired him on the spot. He could not have been more engaging, more honest, he was fantastic. And here was a guy who made a career out of not talking to people."
Martinez: "Barry Bonds is one that jumps out with me. I had the fortune of working at ESPN, and Barry was hurt in San Francisco with a bad back. I was sitting in the dugout and he came down and sat next to me. And if he wanted to talk, there's not a better storyteller or someone who can break down baseball any better than Barry Bonds. … This particular day, we talked for 40 minutes about why he choked up on the bat. He said his dad would send these bats [when he was a kid] that were too big for him to swing, so that's where he learned to choke up on the bat. So the next day, I related some of these great stories on the air. And he walked up to me and said, 'I didn't expect you to actually talk about those stories' and walked right by me like he never knew me before."
For more coverage of SABR 44, visit SABR.org/convention.
---
Originally published: August 13, 2014. Last Updated: July 27, 2020.
https://sabr.org/wp-content/uploads/2020/03/research-collection4_350x300.jpg
300
350
jpomrenke
/wp-content/uploads/2020/02/sabr_logo.png
jpomrenke
2014-08-13 16:05:11
2020-07-27 16:49:39
SABR 44: Watch/listen to the Media Panel