SABR 44: Watch/listen to the Women in Baseball Panel
Women have played our national pastime as children and adults probably as long as their male counterparts. The development of softball has largely obscured the rich history and current involvement of women in the hardball world. At SABR 44 in Houston, our Women in Baseball Panel discussed the evolving role of women in baseball, past and present, through the real life, and varied experiences of our panel members.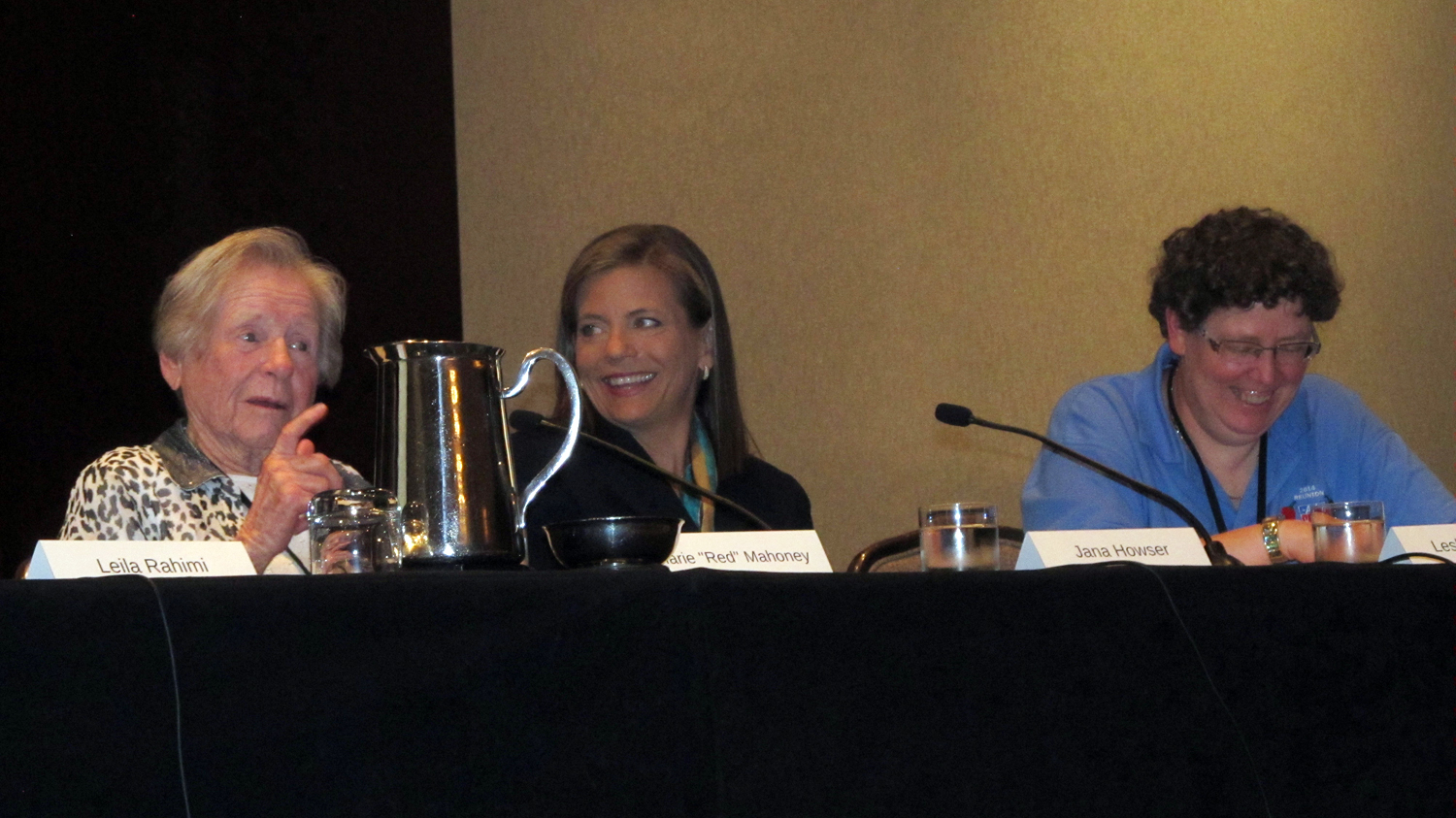 Our panelists included: Alyson Footer, national correspondent for MLB.com; Jana Howser, Executive Vice President for Development for the College Baseball Hall of Fame; Marie "Red" Mahoney, the only native Houstonian to play in the All-American Girls Professional Baseball League; and Leila Rahimi, anchor and reporter for Comcast SportsNet Houston.
The moderator was Leslie Heaphy, co-chair of SABR's Women in Baseball Research Committee, Negro Leagues historian, and SABR Director. Heaphy won the Bob Davids Award, SABR's highest honor, earlier in the day.
---
---
Here are some highlights:
ON THE DIFFERENCES BETWEEN BASEBALL AND SOFTBALL
Mahoney: "Softball was great; that was my love coming up as a youngster. But baseball is a different game. You don't really appreciate baseball until you play it. Softball is just pitchers. Baseball, you gotta really be on the ball. … And I think that's what a lot of people really enjoy about baseball. It's pitching and hitting and running and stealing … the strategy, all those signals. … You have to be in it mentally. And it was fun. That was the best part of my life, those two years with the All-American girls."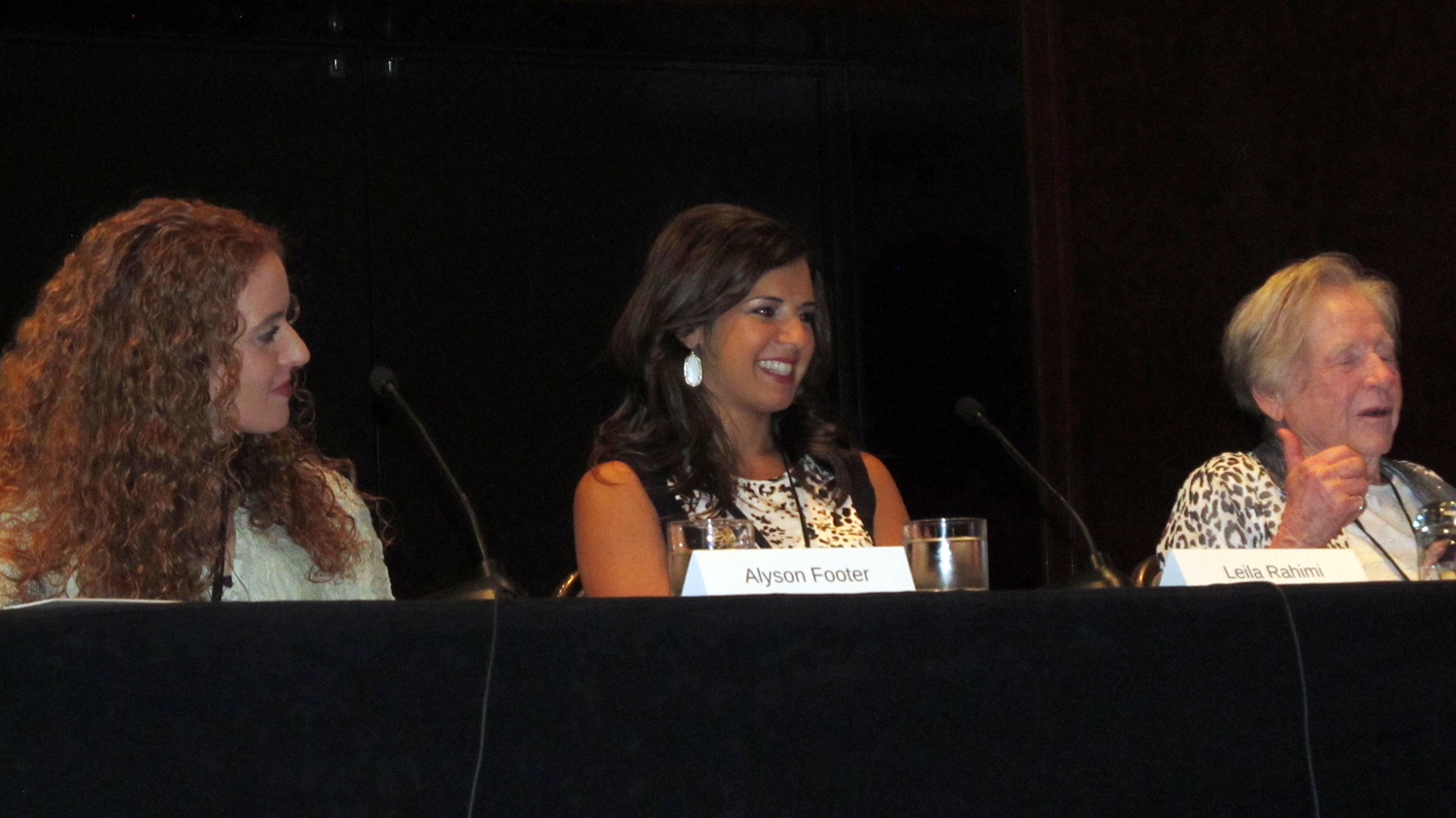 ON PLAYING IN THE AAGPBL
Mahoney: "Here I am from down here in Houston, where it's warm. … Down here, we used to say, 'It'll be a cold day up in July before I do that.' You do not say that up there. In July in Racine, Wisconsin, I had the heaviest army blanket around me and I was still freezing. And they wanted me to stay up there all year. If I'm so cold in July, what would I do in January? So I didn't stay."
ON GROWING UP WITH A MAJOR LEAGUE DAD
Howser: "The relationships that he [Dick Howser] developed at all levels of baseball were really what meant so much to him. People ask me, 'Gosh, do you know how many games you went to growing up?' And I really have no idea. There was never a time when we didn't want to go any time we could. Even if was just for a few innings on a school night, we'd go. I can distinctly remember thinking, you can see when people are enjoying what they're doing. Going back as early as I can remember, that's part of the experience for me. I just love the game."
ON COVERING BASEBALL AS A WOMAN
Footer: "When I watched the ESPN documentary Let Them Wear Towels [on female sportswriting pioneers of the 1970s and '80s], I didn't really know it was that bad, how they had been treated. I didn't know some of the things we found out — that they were physically picked up and thrown out of clubhouses, that Dave Kingman dumped buckets of water over a young reporter's head in the clubhouse, and just on and on. … Part of it drove me to tears. I couldn't imagine being in the same situation. … But I have had no problems in my career, besides people thinking I'm stupid or not capable of doing my job. Certainly, there was never anything like what they had to go through. I can hold my own. … Usually, someone just tries to get into a trivia contest with me — and they lose."
Rahimi: "I think it's shocking and disturbing to watch that film, given what we do, knowing how people were treated for simply trying to do their job. You can't explain to your readers why you don't have the information — the answer can't be, 'I'm a woman.' That's unacceptable. Claire Smith said, 'The younger players were more accepting.' … And you'll find that even in today's clubhouses. The younger players are more laid-back. … But to see people accept people, and just acknowledge that you're doing the same job as everyone else. … When we're treated like everyone else, that's the acceptance and that's where I just say, 'Thank you.'"
For more coverage of SABR 44, visit SABR.org/convention.
---
Originally published: August 6, 2014. Last Updated: July 27, 2020.
https://h2j7w4j4.stackpathcdn.com/wp-content/uploads/2014/08/IMG_8543.jpg
843
1500
jpomrenke
/wp-content/uploads/2020/02/sabr_logo.png
jpomrenke
2014-08-06 14:30:46
2020-07-27 16:49:39
SABR 44: Watch/listen to the Women in Baseball Panel