SABR 45: Listen to Ernie Banks/Minnie Minoso Tribute, presented by Phil Rogers
The SABR 45 Awards Banquet on Friday, June 26, 2015, at the Palmer House Hilton included a special tribute to Chicago baseball icons Ernie Banks and Minnie Minoso, presented by MLB.com national columnist Phil Rogers.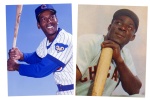 Banks — the Hall of Fame shortstop known as "Mr. Cub" — and Minoso — who broke the color barrier for Chicago's baseball teams when he debuted with the White Sox — both died this past offseason. They were revered in the Windy City and around baseball for their prodigious talent on the field and their honored service as ambassadors of the game off the field.
Rogers is a national columnist for MLB.com. He has covered baseball for more than three decades, including as a reporter and columnist for the Chicago Tribune from 1997 to 2013. He has written three books on baseball, Ernie Banks: Mr. Cub and the Summer of '69 (2011), Say It's So: The Chicago White Sox's Magical Season (2006), and The Impossible Takes a Little Longer: The Texas Rangers From Pretenders to Contenders (1990). He spent 13 years as a reporter for his hometown Dallas Times Herald and Dallas Morning News. Previously, he worked for the Shreveport Journal, Albuquerque Journal, and Florida Times-Union.
Here are some highlights: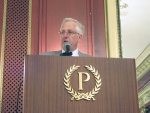 ON BANKS' DOMINANCE IN A POWERHOUSE NATIONAL LEAGUE
"Ernie Banks was a great player in one of the greatest eras ever, as he played in the post-integration National League. I'd argue he hit against the greatest collection of pitchers ever assembled in one league, with a rotating cast of Cy Young candidates including Spahn, Roberts, Koufax, Drysdale, Carlton, Gibson, Marichal, and Tom Seaver. The stars scattered around the field weren't too bad, either. In Ernie's back-to-back MVP seasons, 1958 and '59, the runners-up were Willie Mays and Henry Aaron the first time, Eddie Mathews and Aaron the second year. … Do we really appreciate how great Ernie was as an ultra-athletic shortstop who had the kind of easy power that has rarely been seen from a middle infielder?"

ON BANKS AND DEALING WITH RACISM
"Documentarian Ken Burns knew Banks well enough that he received more than a few unsolicited phone calls from Ernie. But like the rest of us, Burns could not crack the code. He believes Banks kept his most personal thoughts to himself for a couple of reasons: to preserve his image, but also because he may have been unable to accurately verbalize all he endured. Burns compared his interviews with baseball's barrier-breaking pioneers with those he did with World War II survivors, saying there's a part of the experience that you just don't come home and talk about."
ON THE MYSTERY OF MINNIE MINOSO'S AGE
"Nobody knew exactly how old Minoso was, possibly including himself, when he passed away in March. He was either 89 or 92, possibly even 95 if you believe what fellow Cuban Orlando Cepeda once told (White Sox owner) Jerry Reinsdorf. But everyone could agree on two things: He was a sweetheart of a man and he had lived one of the most remarkable baseball lives ever. Reinsdorf once told me, 'Minoso radiates happiness,' and wouldn't we all like to do that?"
ON MINOSO'S HALL OF FAME OMISSION
"I've been a Hall of Fame voter since the mid-'90s, but don't ask me to explain where the line is drawn on who gets in and who is left out. You might as well ask me to explain an internal combustion engine. Minnie has been considered and rejected by Hall of Fame voters or committees more than 20 times, most recently in December. … It is an injustice that Minoso is not in the Hall of Fame. His career cannot be measured by the raw numbers in the Baseball Encyclopedia and on websites. His major-league totals only scratch the surface. … Then there's his role as a pioneer, a trailblazer to the Latin American players who have thrilled us throughout my lifetime. Orlando Cepeda called him the Jackie Robinson for all Latinos. 'He was everyone's hero,' Cepeda had said. 'I wanted to be Minoso. Clemente wanted to be Minoso.'"
For more coverage of SABR 45, visit SABR.org/convention.
---
Originally published: July 6, 2015. Last Updated: July 27, 2020.
https://sabr.org/wp-content/uploads/2020/03/research-collection4_350x300.jpg
300
350
jpomrenke
/wp-content/uploads/2020/02/sabr_logo.png
jpomrenke
2015-07-06 16:50:10
2020-07-27 16:48:41
SABR 45: Listen to Ernie Banks/Minnie Minoso Tribute, presented by Phil Rogers