SABR 45: Listen to Broadcasters Panel with Len Kasper, Ron Coomer, Jim Deshaies
At the SABR 45 Broadcasters Panel on Thursday, June 25, 2015, at the Palmer House Hilton, Chicago Cubs announcers Len Kasper, Jim Deshaies, and Ron Coomer discussed their careers and experiences in baseball.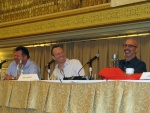 Kasper is in his eighth season as the Cubs TV play-by-play voice. Deshaies spent 16 seasons as a major-league pitcher and is in his third season as a TV analyst with the Cubs. Coomer is a former American League All-Star who is in his second season as a radio analyst with the Cubs. The panel was moderated by Curt Smith, a longtime SABR member and prolific author who has written numerous books on baseball broadcasting history.
Here are some more highlights:
ON THE CUBS' CHANGE IN CULTURE
Coomer: "You don't win championships … without great leadership. I think Joe Maddon from Day 1 when he walked into the Cubby Bear and started talking about what expected from the Chicago Cubs. The 'Lovable Losers' thing has gone out the window. … There's an accountability factor that we haven't had in Chicago in quite some time."
Kasper: "Even in the bad years, when the Cubs have a one-run lead in the ninth inning and the closer is on to notch the save, the crowd will stand and cheer and it feels like a World Series game. Well, in the good years, like this year, when the count gets two strikes and two outs, the crowd gets on its feet and that happens in the fourth or fifth inning. … The atmosphere here has really changed quite a bit and you're noticing earlier and earlier in a ballgame, in those high-leverage moments, that the fans are really getting into it. That's when you can really tell that the Cubs have something special going on."
ON HOW BROADCASTERS USE SOCIAL MEDIA
Deshaies: "I think we all use it a little bit differently. Len's very active on Twitter and he has his Twitter feed up during the game. I use it … just to get good information if you follow a lot of baseball people, like writers and other broadcasters around the game. So in the course of a broadcast, especially if it's a bad game, you might be banging your head against the wall and … you can find something to talk about sometimes. 'Oh, hey, so-and-so has a no-hitter going on in Washington tonight.' For me, that's where it's most valuable, to keep up with what's going on."
ON CHICAGO'S HISTORY OF EMBRACING ITS BASEBALL BROADCASTERS
Kasper: "I think this city not only allows, but almost requires, you to be yourself. It's a profession, but a lot of the names you mentioned (Jack Brickhouse, Harry Caray, et al), they were very much that person on and off the air. … We all emulated or studied the great broadcasters when we got into this business; I wanted to be Ernie Harwell. … But for a broadcaster, there's nothing better than being allowed to be yourself. … And when you look at the history of Chicago broadcasting … and I would go to the South Side with Hawk Harrelson, too. Hawk is Hawk all the time. Whether you like him or not, Hawk is Hawk. And I think this city embraces that."
Coomer: "Jack Brickhouse is the reason why I'm sitting here as a broadcaster. I never knew I'd be able to hit a slider and a 95 mph fastball. But I knew when I listened to Cubs baseball on WGN, that going to Wrigley and watching the games, that's what I wanted to do. It just so happened that guys like Jimmy (Deshaies) and I were able to do something that … 99 percent of people in the world can't do. I wanted to be a broadcaster, I wanted to be at Wrigley Field."
ON BEING A ROOKIE UNDER FIREBRAND MANAGER BILLY MARTIN
Deshaies: "I'd been up (with the Yankees) briefly in 1984 when Yogi was managing … and then I get called up in September of '85. Typically, and I was new to all this, but when a player gets called up to the big leagues, the manager will come up to him and say, 'Glad to have you; here's how we're gonna use you, etc." I got nothing! I never even crossed paths with Billy. He didn't even have my name on the lineup card. … I figured Billy has no idea who I am. And a couple days later, there's an article in the New York papers and they're talking to Billy about his chances in the pennant race and upgrading pitching, and he says, "Yeah, we're really doing great things here. Across town, they got Gooden who's 19 and he's the best pitcher in baseball. And they stuck me with Armstrong and Deshaies." And I thought, 'He knows I'm here! That's great!'
For more coverage of SABR 45, visit SABR.org/convention.
---
Originally published: June 25, 2015. Last Updated: July 27, 2020.
https://sabr.org/wp-content/uploads/2020/03/research-collection4_350x300.jpg
300
350
jpomrenke
/wp-content/uploads/2020/02/sabr_logo.png
jpomrenke
2015-06-25 23:49:12
2020-07-27 16:48:42
SABR 45: Listen to Broadcasters Panel with Len Kasper, Ron Coomer, Jim Deshaies