SABR 45: Talkin' baseball with Steve Wynn of The Baseball Project
MAY 28, 2015 — This summer, the passionate and knowledgeable members of SABR will learn they share a kindred spirit with members of The Baseball Project. The band's upcoming concert at the SABR 45 convention on Thursday, June 25, 2015, at the Palmer House Hilton in Chicago seems to be a perfect match of artist and audience.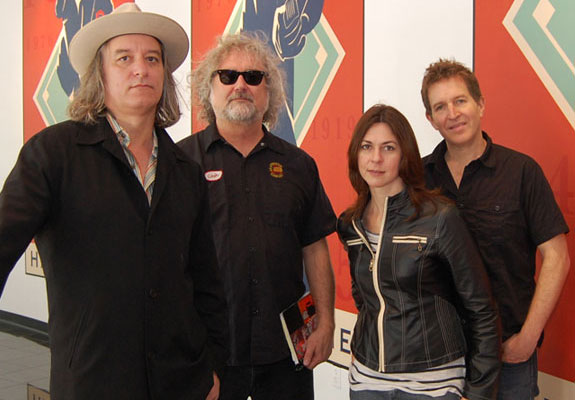 Advance presale tickets for The Baseball Project concert at SABR 45 are available for $40 when you register for the SABR convention online at SABR.org/convention or $60 on-site during convention registration hours or at the door. Click here for the complete SABR 45 schedule.
Formed in 2007 by Scott McCaughey (Young Fresh Fellows, The Minus 5, R.E.M.) and Steve Wynn (The Dream Syndicate, Steve Wynn and the Miracle 3, Gutterball), The Baseball Project began as a way for a couple of fans to pay musical tribute to our national pastime. But The Baseball Project has since blossomed into a full-fledged, much-loved band in its own right, one which includes drummer Linda Pitmon (Steve Wynn and the Miracle 3, Zuzu's Petals), and Peter Buck and Mike Mills, founding members of R.E.M., one of the best-selling alternative rock bands of all time.
SABR's Jacob Pomrenke spoke with Wynn recently about his love of the game, how he comes up with ideas for his songs, and what he's excited about this season. Here are highlights from their interview (edited for clarity):
SABR: Thanks for agreeing to play a show at SABR 45 in Chicago. I know we're all looking forward to it.
Steve Wynn: We're really excited about it, too. We're a little nervous. We feel like we know our stuff, but we might be in a little shallow water there (at a SABR convention). … But it's the perfect audience for us, right?
SABR: When you and Scott (McCaughey) formed The Baseball Project in 2007, did you think this would last as long as it has and gain kind of a cult following among baseball and music fans?
SW: Absolutely not. We're so pleasantly surprised by what kind of a life this band has had. When we began, it was completely a labor of love. All of us have loved the game, we've played in so many bands, and Scott and I have been thinking for a long time how great it would be to make songs and a full record about baseball, about the game we love. … We were both so fired up. We were thinking, "If we don't do it, the other guy will do it first!"
SABR: Take me through your songwriting process a little. How do you choose what stories to write about?
SW: Our initial goal was to get the songs we'd always had in our head out and into the studio, to document those somehow. We both had certain people and events that we really wanted to write about. So the first album just burst out. I always knew I wanted to write about Ted Williams, and Koufax, and Curt Flood, and Fernando (Valenzuela). They were always on my list. Scott had the same idea, to write about Willie Mays, and Satchel Paige, and Ed Delahanty, and things like that. These are the songs we had been wanting to record for a long time. At that point, we thought we'd be done. …
For songwriters and people who make records, sometimes you just want the thing to exist. It's not a long-term plan, it can be, but often it's just "I need to get this out of my head and into a place where other people can hear what I've got in my mind," and that'll be enough.
And at the time, we were all busy. R.E.M. was going strong, The Minus 5, my own solo thing was going full steam. We really saw this as something that would amuse us for a month or two. Maybe, maybe we'd do a show in Portland, maybe do one in New York. We thought we might sell 400 or 500 copies on vinyl.
But it found its audience very quickly. And it turned out there were other people who not only loved baseball as much as us — because there's plenty of people like that — but also people who loved the music we love and the music that we make. It was a fortuitous combination.
SABR: Take me through your songwriting process. What do you use for source material? There's so many great baseball stories; how do you choose what stories to write about?
SW: We don't have to narrow it down — we can just keep making records! As everyone in SABR knows, there are a zillion incredible stories about the game. And we are fans and we know a lot of them, and each time we try to make a record, there's a lot to choose from. … Our process is half traditional (songwriting) and half an editorial board of a great newspaper. We get together and we talk about who you're gonna write about. "OK, I'm working on A-Rod and Bernie Williams this time." And we think about what would make good songs, and then we go and do another record. We're four records deep at this point – and we're not going to run out of good (material) any time soon. …
We're not posers — we love baseball. We all watch a lot of baseball. Mike, Scott, Linda, and myself, we've all loved it our whole lives. We read books, we're in fantasy leagues, lord help us. It is our life. So we're always hearing things, we always have the antenna out. The only difference now is, every time we watch a game or read a book or get in a conversation, we think in the back of our minds, "I think that would make a good song."
We went down to a spring training game down in Florida and we were sitting with Lenny DiNardo, who pitched for the (Red) Sox and the A's. He's a music fan as well, so we had a great time hanging out. He's entertaining us, cracking us up with all these stories about foreign substances, these stories we couldn't believe. And within minutes, Mike said, "I'm writing a song called 'Stuff.'" And he wrote it the next night! That's how it goes.
SABR: What baseball books do you go back to in terms of inspiring your music?
SW: Ball Four was huge for me, as a baseball fan, as a reader. It taught me a lot about sports and humor and, as a kid, I learned a lot of things I didn't know about yet! They might have been interesting and confusing at the time. But that book looms large in my head. I've already got two songs out of that — "Ted ****ing Williams" comes from that book. I also wrote a song for the first album about (Mike) Kekich and (Fritz) Peterson that didn't make the cut. So I go back and look at Ball Four from time to time.
One other book that I really love and this came heavily into play on the 3rd album is The Baseball Card Flipping and Trading Book. I always loved that book, not only the idea of it and the baseball card trivia. But also the pictures and the way it was written — it was just funny and nostalgic and whimsical and cutting, kind of all the things we try to do with our songs. So that's a big influence, too. I still love reading great baseball writing whenever I can.
SABR: What subjects haven't you written about yet that you're itching to make a song about?
SW: That's a good question. There's always something that comes along. … The thing for us is, our sweet spot, our golden era, is the 1960s and '70s because that's what we grew up with. The earlier stuff, we've written about too — Scott wrote some great songs about Carl Mays, and Ed Delahanty, and Satchel Paige. But the '60s and '70s is a big thing for us.
We do try to get contemporary as well, because, you know, our label says you might want to stop writing about dead guys. But when push comes to shove, those are the eras we love. …
And I just feel like it's rare these days to find a modern-day player who can inspires a song. Everyone becomes so placid and all that. Occasionally, you get somebody who has some energy.
I went (on April 9) to see the Mets and Phillies, and saw (Matt) Harvey pitch. Now there's somebody who deserves a song. It's exciting when you find a modern-day, larger-than-life, attitude-filled "I can talk the talk because I can walk the walk" kind of guy. And I'm thinking, "OK, I'm getting ideas." So he might show up (in a song one day.) … What a game; that was exciting.
SABR: Do you have problems writing songs about today's game when things are changing so quickly?
SW: That is a problem writing about modern stuff. We had a song called "Don't Call Them Twinkies," with Craig Finn of The Hold Steady. And it's talking about (Ron) Gardenhire and (Justin) Morneau, so the song is already kind of dated. That is a danger of that. So it's disposable, just like games and sports writing can be.
One of most fun things we did in this band is kind of our obscure two-and-a-half record, which was a monthly installment for ESPN a few years back, called "Broadside Ballads." The plan with that series was to write throughout the season, and each song had to be written and recorded and submitted in one week. So it had to be very current. We had fun doing that. Some of those lyrics are very much dated, but they're still cool and fun to sing in the shower.
SABR: Speaking of current baseball, I know you're a big Yankees fan. What are your thoughts on the A-Rod situation?
SW: I think I laid it out in that song ("13") quite well, I think. … Look, I hope he does well. I'd be thrilled if he has an incredible year, doesn't test positive, and the Yankees make the World Series and he wins it on a walkoff in the seventh game. That would be great; all is forgiven! But I don't see it turning out that way. But I'm ready to see it happen if it does.
SABR: What else are you looking forward to during the 2015 season?
SW: I'm sheepish about this, because I have a thing about fair-weather fans. I kind of did an about-face on the Yankees when I moved to New York 20 years ago. … But Linda and I moved to Queens two years ago and we can walk outside the door and turn the corner and go straight to Citi Field in 30 minutes. It's easy to love the Mets; they're an exciting team right now. They're doing it the right way — they're bringing up homegrown talent, they have great pitching. It's potentially a fantastic team. And the Yankees are doing everything the wrong way. So it's easy right now to love the team down the street rather than the one that's across the river.
There's a lot going on right now. Personally, I love the shift toward great pitching. There's nothing I love more than a 1-0 game. Some people say that's the worst thing in the world. But that's when all the excitement happens. That's the type of game you talk about for years. Give me good pitching any day. … Get rid of pitch counts, that's the only thing that would make it better.
For more information on SABR 45, or to register, visit SABR.org/convention.
---
Originally published: April 21, 2015. Last Updated: July 27, 2020.
https://sabr.org/wp-content/uploads/2015/04/BaseballProject.jpg
400
575
jpomrenke
/wp-content/uploads/2020/02/sabr_logo.png
jpomrenke
2015-04-21 12:51:01
2020-07-27 16:48:42
SABR 45: Talkin' baseball with Steve Wynn of The Baseball Project