SABR 45: Listen to White Sox Players Panel with Ron Kittle, Carlos May, Mike Huff
At the SABR 45 White Sox Players Panel on Saturday, June 27, 2015, at the Palmer House Hilton, three former major-leaguers discussed their careers and experiences on the South Side of Chicago.
The panel included Mike Huff, who played parts of seven seasons as an outfielder from 1989-96, three of those with the Chicago White Sox, including on their 1993 AL West Division championship team; Ron Kittle, a White Sox fan favorite and 1983 AL Rookie of the Year who hit 176 home runs in a 10-year major-league career; and Carlos May, a two-time AL All-Star outfielder who played parts of 10 seasons in the major leagues from 1968-77 with the White Sox, Yankees, and Angels, then spent four more years playing ball in Japan. The panel was moderated by Dan Migala, founding partner of Property Consulting Group.
Here are some highlights:
ON YOUR FIRST BIG-LEAGUE AT BAT
May: "It wasn't good. I faced Dave McNally, and I broke my bat — twice. The big leagues is a learning experience every day. If you don't adjust, you fail."
Kittle: "Tony La Russa gave me a lot of confidence. He pinch-hit me with two out in the bottom of the ninth with the bases loaded. Pardon my language but I called him a prick. … On the first pitch I hit a "foul home run." Fouled off 7 or 8 pitches, got to 3-2, and then swung and missed on a changeup. And then I called Tony some other names! But he told me that was one heck of an at-bat, just keep swinging hard and you're going to be driving Cadillacs and have a lot of success in this game."
Huff: "I grab my gloves and am trying to get out there and the first guy I pass on the bench is like, 'It's (Tom) Glavine, he throws hard-soft.' And the next guy said, 'It's Glavine, he throws inside-outside.' And the next one, 'It's Glavine, he throws high-low." After all that advice, I literally run out to the batter's box and I dig in and the umpire says 'Kid, get out of the box. … I haven't announced you yet.' Ohhhh. Northwestern degree, yeah. … I step out, he gives the sign, and I hear the announcement, 'Now batting, Michael Huff.' Oooooh! And Glavine must be thinking, 'This guy is such a goofball.' He throws me a little lollipop curveball. Crack. I got a base hit on that first pitch."
ON THE WHITE SOX OF THE EARLY 1990S
Huff: "Those teams in the early '90s were good because everyone cared about each other. After the games, Carlton Fisk would still be lifting. We'd sit around the clubhouse and talk baseball. The wives and girlfriends knew not to wait around for us because we'd be spending time together. … One year they called me and said, 'Could you come out in the winter and help this guy, there's a guy we want you to teach outfield defense to. I'm like, 'I'm a defensive outfielder and now you want me to help someone take my job? Can you tell me who it is?' And they were like, 'No, we can't tell you who it is.' Well, it was Michael Jordan. Well, OK, that guy I could help out! … [Kittle interrupts: "And you did a terrible job!"] … I got him playing basketball again, didn't I?"
ON HAROLD BAINES
Kittle: "You guys remember Harold Baines, right? A few hundred hits shy of 3,000? I love that guy so much I wish I could give him all my hits to get him in the Hall of Fame. He used to go out but he would never drink unless he was with me. One time (White Sox) Jerry Reinsdorf asked him, 'How come you never drink unless you're out with Kitty?' And he said, 'It's because when I'm out with this guy I know he's got me covered.' I was like his bodyguard.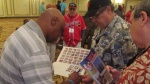 ON BEING TRADED TO THE YANKEES
May: "I got traded to the Yankees on my birthday. Happy Birthday, Carlos! There I am on the plane on the way to New York with the team and the stewardess comes on with all this rum and stuff and I was like, 'The customers drink that much?' And they were like, 'No, that's for us!' And I knew I was in the right place. … (Chris) Chambliss, all those guys knew how to have a good time. Then in '77 we got Reggie (Jackson). He's another whole story. … Over there in the Bronx Zoo, I have a lot of stories I can't tell.
For more coverage of SABR 45, visit SABR.org/convention.
Thanks to Cecilia Tan for transcription assistance.
---
Originally published: June 28, 2015. Last Updated: July 27, 2020.
https://sabr.org/wp-content/uploads/2020/03/research-collection4_350x300.jpg
300
350
jpomrenke
/wp-content/uploads/2020/02/sabr_logo.png
jpomrenke
2015-06-28 00:30:08
2020-07-27 16:48:41
SABR 45: Listen to White Sox Players Panel with Ron Kittle, Carlos May, Mike Huff