SABR 45: Listen to highlights from the Women in Baseball Panel
Women have played our national pastime as children and adults probably as long as their male counterparts. The development of softball has largely obscured the rich history and current involvement of women in the hardball world. At SABR 45, our Women in Baseball Panel — held on June 26, 2015, at the Palmer House Hilton in Chicago — brought into focus the role of women in baseball, past and present, through the real life, and varied experiences of our panel members.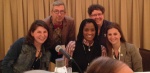 Panelists included: Martha Jo Black, a Chicago White Sox fan experiences executive since 2004 and co-author of a biography/memoir about her father and former major-league pitcher, Joe Black: More than a Dodger; John Kovach, former chair of SABR's Women in Baseball Committee and author of numerous articles about the history of girls and women in baseball; Caroline Phillips, the Chicago Cubs Manager of Premier Services; and Christie Spisak, a player for the South Bend Blue Sox, the oldest women's baseball program in the Midwest, and a junior at the University of Pittsburgh. The moderator was Leslie Heaphy, SABR Director and chair of the Women in Baseball Committee since 1995.
Here are some more highlights:
ON BEING A MALE COACH IN WOMEN'S BASEBALL
Kovach: "There were always girls playing when we played in the neighborhood, but I noticed as I got into more organized ball that there were no girls. All the girls I knew loved baseball! Why were they not on the field playing? They told me they weren't allowed to. That was before Title IX. It seemed so wrong. I had two female players on my team in a Mexican league we were in, but otherwise there weren't any. In 1996 we tried to create a Midwest circuit modeled on the AAGPBL in the Great LakesrRegion, and that's how I got into that side of things."
ON PLAYING FOR AN ALL-GIRLS TEAM IN A BOYS LEAGUE
Spisak: "It was a summer league and we played in Skokie and Wilmette, places that were far from me. We would show up to a place and the boys would laugh. Like they would see one person get out of the car with a ponytail and they'd say, 'Oh, there's a girl on the team,' and then they'd realize, 'Oh, they're ALL girls.' One particular time we showed up to the field and there was a family riding bikes around the park, and they noticed us, and they ran home and got all their friends to come back and see us play. There would be moms and dads on opposing teams sometimes who would root for us instead of their own sons! So it was great. I have mostly positive memories and positive feedback. There were the negative people who thought they didn't have to take us seriously and thought they would run right over us, but mostly it was great."
ON FRENCH TEENAGER MELISSA MAYEUX, WHO RECENTLY REGISTERED FOR THE MLB DRAFT
Kovach: Mayeaux, if she does get drafted, won't be the first female ever drafted. (In 1993, former White Sox GM) Ron Schueler drafted his own daughter, Carey Schueler, as a tribute to her baseball ability. But what I should say about women playing in MLB is that if women were given the same opportunities to play at every level of their lives (as boys are), then they would be ready for the major leagues. But can they actually be ready for the major leagues the way it is in the United States where you just can't get that necessary experience? We can't answer that question."
ON WORKING IN THE BUSINESS SIDE OF BASEBALL
Phillips: "With the Reds, I started in special events, and then I got into the customer service side which I didn't think I wanted to do. I just didn't want to deal with people complaining about cold hot dogs. But then I found out that there was a "premium seating" customer position, I gave it a try, and I loved it. … Hopefully the clubs we're building are going to really be a big thing with private bathrooms, in-seat service, some of them will be underground, that kind of thing. We're doing a lot of focus groups and are building what they want. I keep in touch with the Dodgers and I hear how it's going there. They didn't listen and I'm hearing that the new club they built there, the people hate it. So we make sure we're delivering what should be there. I'm the one saying there should be phone chargers built into the seats and I want them to be padded and not plastics, etc."
Black: "With fan experiences, I do stuff like batting practice access or dinner with (team owner) Jerry Reinsdorf. With Reinsdorf, the Bulls are his mistress who makes a lot of money, but the White Sox are his wife, his true love, because it's baseball. We set things up where people can go out and drag the infield with the grounds crew. It gets people closer to the game. … (In 2005), Jerry Reinsdorf paid for any employee who wanted to go to the World Series to go. He put us up in hotels, and he chartered a bunch of United planes, and when they won the World Series, we all got rings and we were all on the plane."
For more coverage of SABR 45, visit SABR.org/convention.
Thanks to Cecilia Tan for transcription assistance.
---
Originally published: July 2, 2015. Last Updated: July 27, 2020.
https://h2j7w4j4.stackpathcdn.com/wp-content/uploads/2020/03/research-collection4_350x300.jpg
300
350
jpomrenke
/wp-content/uploads/2020/02/sabr_logo.png
jpomrenke
2015-07-02 17:29:56
2020-07-27 16:48:41
SABR 45: Listen to highlights from the Women in Baseball Panel