SABR 46: Watch/listen to the 2003 Marlins Championship Panel
At SABR 46 on July 28, 2016, our 2003 Marlins Championship Panel looked back at a surprising contender that fired its manager in midseason, surged to 91 wins and the National League wild card, then captured memorable postseason series over the San Francisco Giants and Chicago Cubs before upsetting the New York Yankees in six games in the World Series.
The panelists included Jack McKeon, who was voted NL Manager of the Year; Juan Pierre, who recorded 200-plus hits and batted over .300 in the 2003 postseason; Jeff Conine, "Mr. Marlin," who was part of both franchise World Series championships; and moderator Dave Van Horne, the Ford C. Frick Award-winning broadcaster.
---
---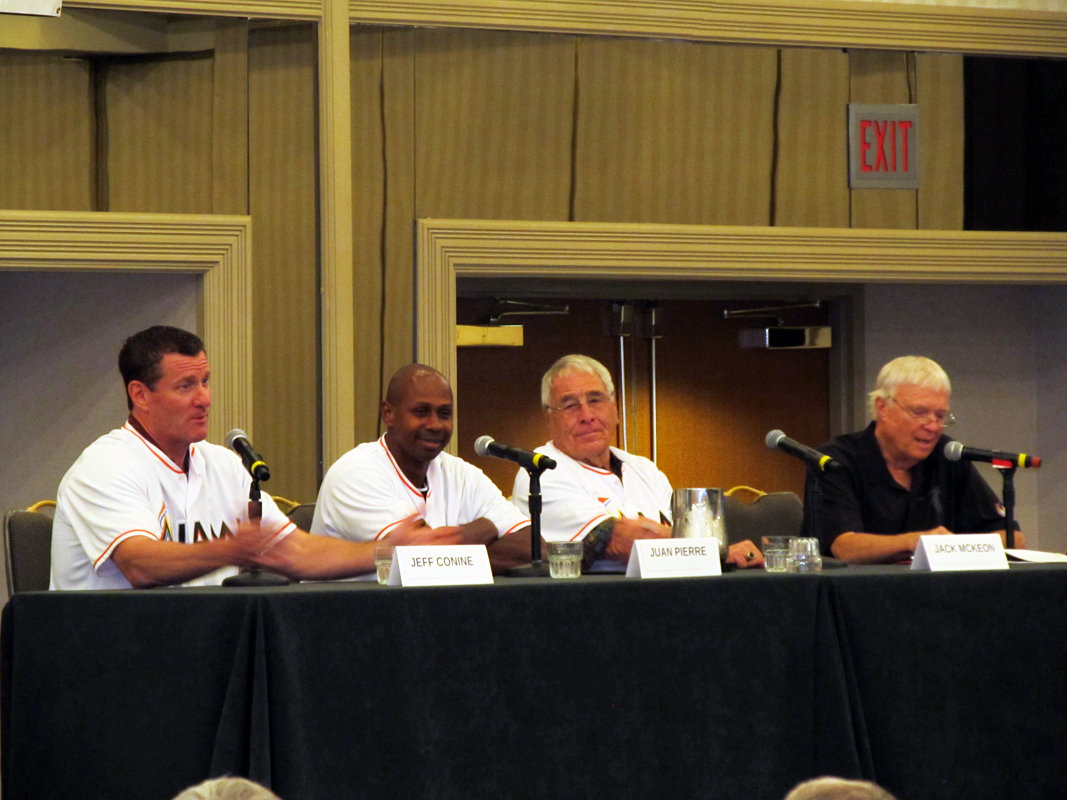 Here are some more highlights from the 2003 Marlins Championship Panel:
ON THE MARLINS' CLUBHOUSE CULTURE
Pierre: "After you've been around, you really realize how special the '03 team was. The unselfishness, everyone just got along. You could go to anyone's locker (to talk.) … When Conine came (back), he just fit right in. We had a million handshakes; we had to start the games three or four minutes late because we had to make sure we got everyone's handshakes in."
McKeon: "I give all the credit to the players. They had no egos. You could ask stars like Mike Lowell or Pudge or Jeff or anyone to bunt, and they didn't challenge you. They knew the right way to do it and we're going to do the best we can. They would do every little thing to win a game."
ON GAME SIX OF THE 2003 NLCS
Van Horne: "(The eighth inning) was perhaps the most exciting 27 minutes of baseball that team has ever played."
McKeon: "This club took advantage of every opportunity that came along. And we kept looking around in the dugout and thought, 'When we are going to get an opening?' As we all know, we did get that opening. And all hell broke loose and we came through with flying colors. … Prior and Wood had dominated us during the season. But there was a feeling in the clubhouse that we were not going to be denied."
Van Horne: "It's a shame it took (Cubs fan Steve Bartman) away from a game that he loved. I always go back, especially when talking to Cubs fans about it, 'Let's go back and look at the missed double-play ball."
ON THE FINAL PLAY OF THE WORLD SERIES

Conine: "It was a miracle. Josh Beckett, while one of the most dominating, phenomenal pitchers on the mound, was one of the worst athletes you've ever seen. When that ball rolled over, I thought, 'Oh my god, that's going to be a disaster.' … And he picked it up like it was nothing and tagged him out. I think we were more in shock that Josh fielded the ball and tagged him than that we had just won the World Series!"
For more coverage of SABR 46, visit SABR.org/convention.
---
Originally published: July 28, 2016. Last Updated: July 27, 2020.
https://sabr.org/wp-content/uploads/2020/03/research-collection4_350x300.jpg
300
350
admin
/wp-content/uploads/2020/02/sabr_logo.png
admin
2016-07-28 13:16:37
2020-07-27 16:47:32
SABR 46: Watch/listen to the 2003 Marlins Championship Panel