SABR 46: Watch/listen to highlights from the Media Panel
At SABR 46 on July 29, 2016, in Miami, our Media Panel gathered to discuss their experiences covering the game.
The panelists included Reynaldo Cruz, a Cuban journalist who founded the Universo Béisbol digital magazine; Jorge Ebro, the Miami Marlins beat writer for El Nuevo Herald; and moderator Chuck Hildebrandt, chair of SABR's Baseball and the Media Committee.
---
---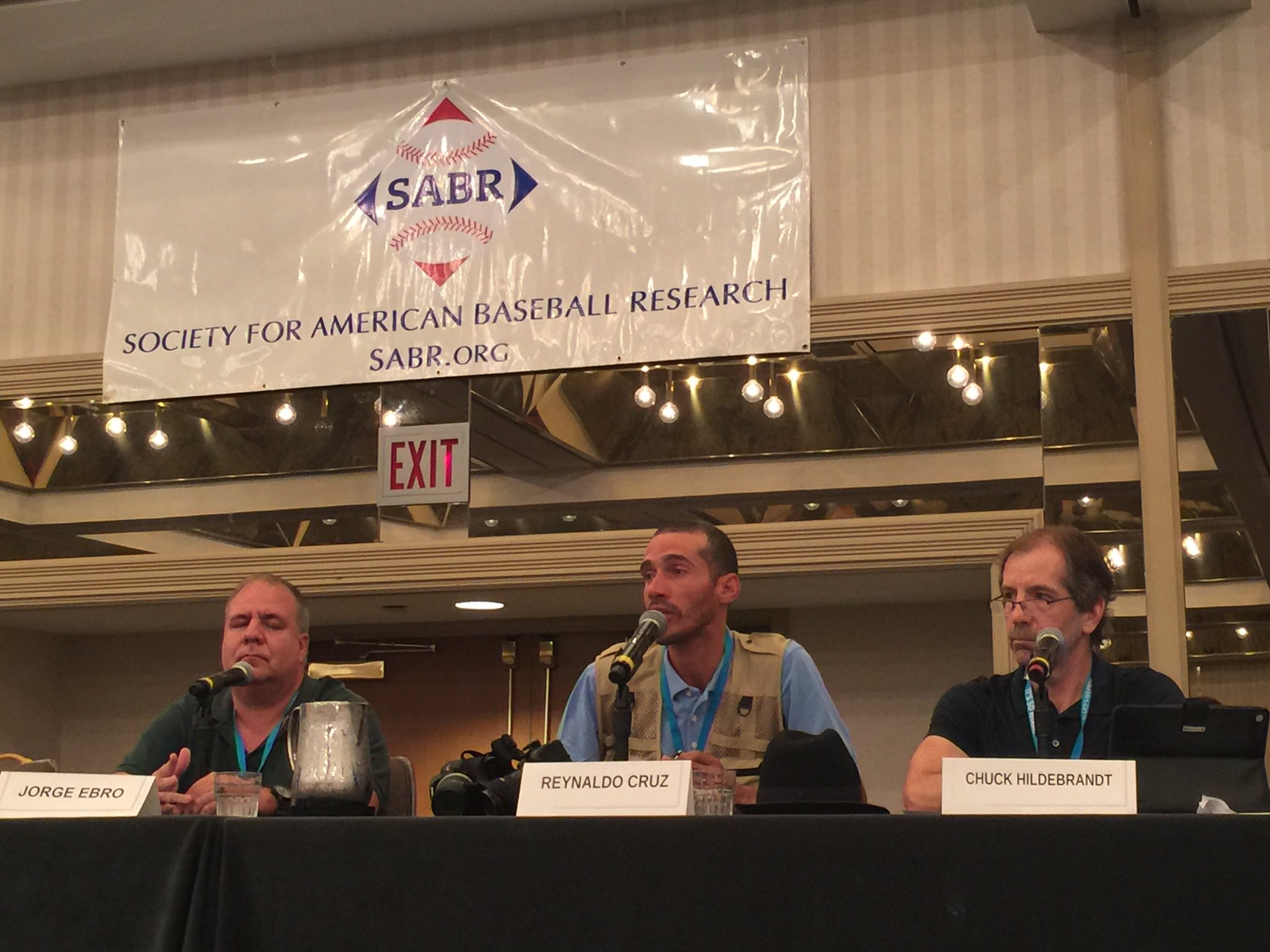 Here are some more highlights from the SABR 46 Media Panel:
ON COVERAGE OF CUBAN BALLPLAYERS IN THE MAJOR LEAGUES
Cruz: "[Holds up a USB flash drive] This is the means of information for Cubans to know about Cuban ballplayers. Flash drives. … They [national media] try not to show success stories. They have no choice with [Yoenis] Cespedes because they have promised they would broadcast the entire World Series, and when the Mets made it to the World Series they had no choice but to put Cespedes on TV. But we have never seen [Aroldis] Chapman on TV, we have never seen [Jose] Abreu on TV. We have never seen [Yasiel] Puig."
ON THE INTERNAL PERCEPTION OF CUBAN BASEBALL
Cruz: "I grew up believing that if we ever played against major leaguers we would steamroll them. That's what the media in Cuba led us to believe. They told us we were better than the major leagues. I grew up believing that if we had a team in the major leagues, we would win 162 games and go on to win 11 playoff games. That's what I grew up believing."
ON THE FREEDOM OF JOURNALISTS IN CUBA
Ebro: "They're not going to throw you in jail. They're not going to beat you. But if you write something against the commission, the baseball federation, you're never going to travel with the team. You're never going to enjoy some of the things that the official media that covers the Cuban national team is earning. Let me tell you, in Cuba, sometimes travel is a way of life. It's the only way that you get access to doors and get access to know the world."
Cruz: "National television and national radio broadcasters are not liked in the entire country. They never tell the truth, they are never honest, because what they want is to travel with the national team."
ON HIS GAME-DAY DUTIES COVERING THE MARLINS
Ebro: "Social media is killing us. It's helping us, but it's killing us. I remember six, seven years ago you enjoyed the game more calm. Enjoy the game. Now you have to be tweeting all the time. … In the past maybe you get a little distracted, now you have to be aware all the time. It's very important because if you make a mistake, people will let you know."
ON THE DIMINISHING INTEREST IN CUBAN BASEBALL
Ebro: "I've seen the shift from my generation, all the Cuban generations that loved baseball a lot, now what I'm getting is soccer is almost the first sport in Cuba. Why it's happening is easy. When you see a Cuban television you can see the final of the World Cup in real time, the final of the Champions Cup in real time. You are constantly seeing the big leagues of soccer, every day. … That's happening because Cubans don't see a lot of what baseball can offer."
For more coverage of SABR 46, visit SABR.org/convention.
---
Originally published: August 2, 2016. Last Updated: July 27, 2020.
https://sabr.org/wp-content/uploads/2020/03/research-collection4_350x300.jpg
300
350
admin
/wp-content/uploads/2020/02/sabr_logo.png
admin
2016-08-02 20:00:45
2020-07-27 16:47:31
SABR 46: Watch/listen to highlights from the Media Panel