SABR 46: Watch/listen to Miami Marlins president Michael Hill's opening remarks
Michael Hill, the Miami Marlins' President of Baseball Operations, delivered the opening remarks at SABR 46 on Thursday, July 28, 2016, in Miami.
Hill, in his third season as President of Baseball Operations for the Miami Marlins, has been with the organization since 2002. He served as General Manager from 2007 to 2013. Before joining the Marlins, he was Director of Player Development for the Colorado Rockies and spent five seasons in the Tampa Bay Rays' scouting and player development departments. He graduated from Harvard University in 1993 and was drafted by the Texas Rangers. He spent two seasons playing in the Rangers organization before beginning his front-office career.
Following his talk, Hill received the 2016 Roland Hemond Award from SABR's Scouts Committee chair Rod Nelson.
---
---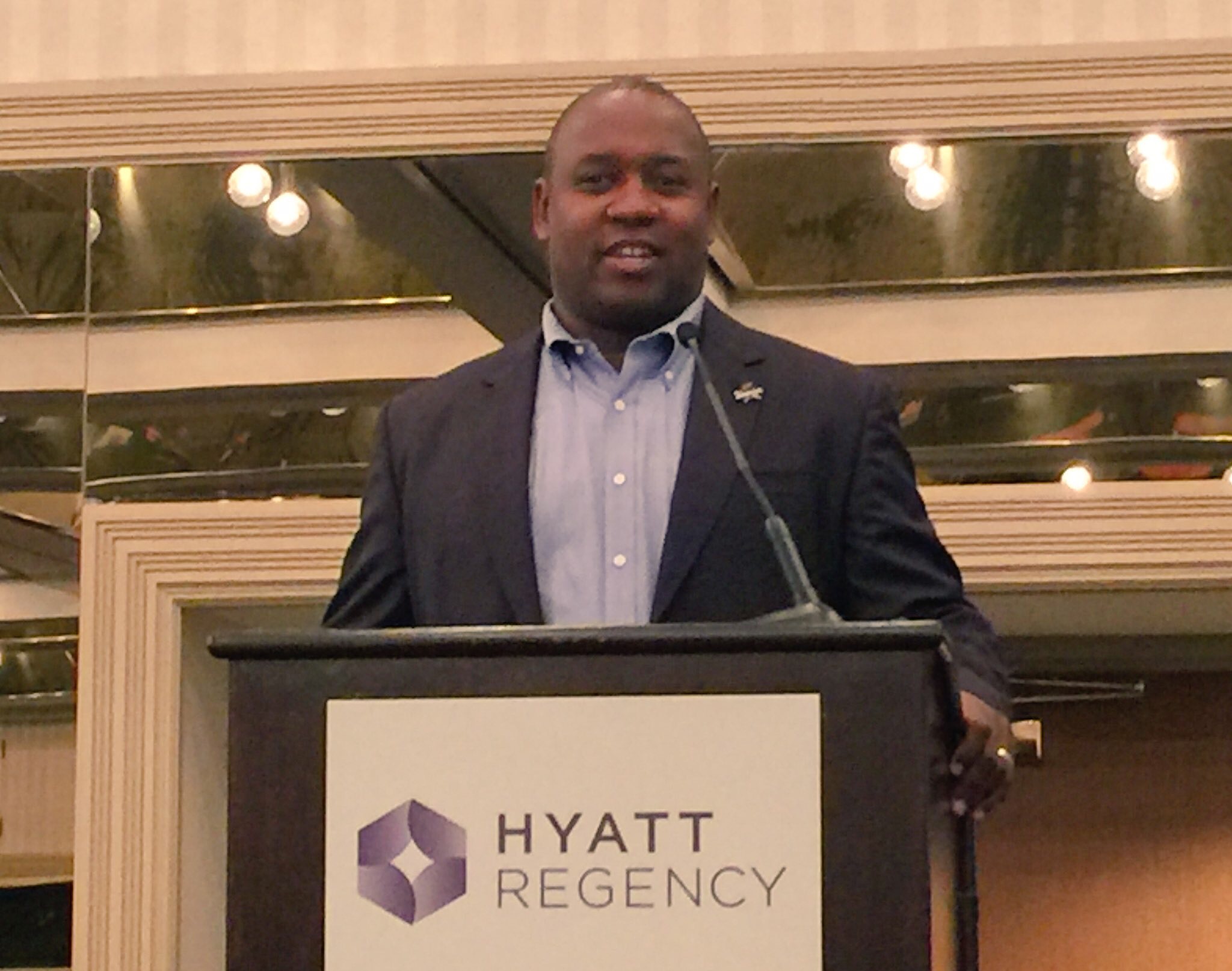 Here are some highlights from Hill's opening remarks:
ON PREPARING FOR AN EXPANSION DRAFT
"I've worked for three expansion clubs. Going through the expansion process sped up my learning curve more so than anything I've ever done in the game. Our process of preparing for the expansion draft [with Tampa Bay] in 1997, we broke down all 28 clubs from top to bottom. And we spent a year and a half evaluating them. … I still have a whole box from that expansion draft. I remember the names of players who were available that we didn't take. … My two-second summary of what I would do is take every available prospect on the list at that time. And there were a ton of them at Double-A, that were unprotected by the clubs. … The clubs were protecting their top 15 [MLB players] and, historically, expansion teams would go for the 16th guy, which is usually an 'extra' guy. And that's the way we went, was to build a team around those players [with major-league experience.] But where you get your most impactful players is the ones who were still prospects."
ON THE 2016 TRADING DEADLINE
"We sit here today and … we need a pitcher. And [other clubs] know we need a pitcher, and that's why my phone keeps ringing, because the price is really high right now. … And I probably need to answer some of these text messages, too. … But we're going to get it done and I told Jack [McKeon] we need a matching [World Series ring] so I can be balanced right now. … We're looking forward to an exciting 61 games left. We figure we're nine games over .500 and we probably need to be nine more over to get to that 90-win threshold and get back to where we want to be, and that's the playoffs and bringing another championship to South Florida."
ON MLB'S EFFORTS TO INCREASE FRONT-OFFICE DIVERSITY
"It's an initiative that's on the forefront of everyone's minds and it's obviously close to my heart. … My seed started when I was a kid and I think we need to try to impact our young people and get them loving our game again. We don't have enough young people of color, Latinos, and women playing our game, loving our game, and I think we've lost some traction with other sports. But I think that's ultimately where it starts. The best way is how you guys were all made baseball fans and how I was made a baseball fan. I've been watching baseball since I can remember with my grandpa, with my dad. It's a part of who I am. And that passion for the game is what keeps me close to the game. And I think that's the long-term solution to grow the game."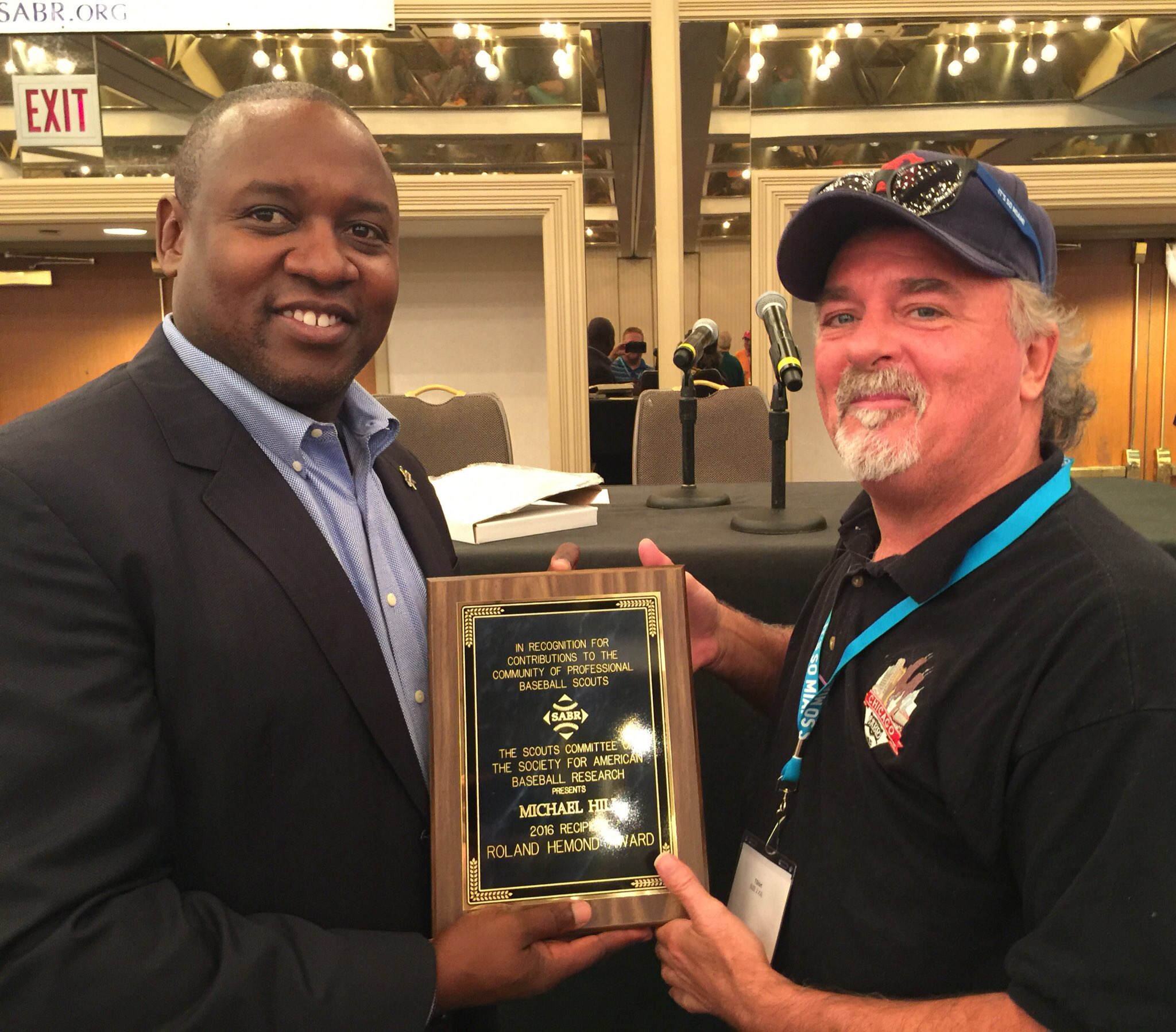 ON SIGNING GIANCARLO STANTON TO A 13-YEAR DEAL
"We were trying to change the narrative here in Miami. That's what we really wanted to do. I personally was tired of our best talent going elsewhere and we were at the crossroads with Big G. … I credit him and his agent, because no deal happens if they don't want to be a part of what you're doing. It's a very interesting contract, because of its length, but we figured we had one of the most prolific power hitters in the game, who was 25 years old. And for 13 years, we figured that we would get all of his prime years and, with his athletic ability, you can move him in to the infield [later] and still have a productive player."
ON RECEIVING THE ROLAND HEMOND AWARD
"I've known Roland for every one of my 22 years in the game. He's a mentor and he's just someone who you want to follow the success he's had in the game. It's just an honor to receive an award in his name."
For more coverage of SABR 46, visit SABR.org/convention.
---
Originally published: August 8, 2016. Last Updated: July 27, 2020.
https://sabr.org/wp-content/uploads/2020/03/research-collection4_350x300.jpg
300
350
admin
/wp-content/uploads/2020/02/sabr_logo.png
admin
2016-08-08 12:44:15
2020-07-27 16:47:31
SABR 46: Watch/listen to Miami Marlins president Michael Hill's opening remarks