SABR 46: Watch/listen to highlights from our Marlins Park ballpark session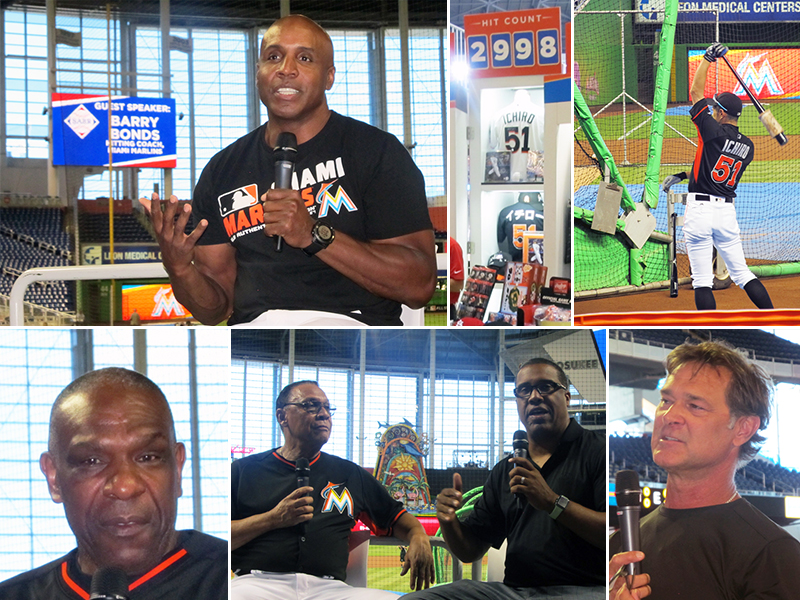 Attendees at the SABR 46 convention in Miami had a special opportunity to visit Marlins Park for an exclusive pregame ballpark session with Miami Marlins executives and players on July 29, 2016.
Before the Marlins' game against the St. Louis Cardinals — in which Ichiro Suzuki was in the starting lineup just two hits away from the 3,000 milestone — special SABR 46 interview sessions took place at Marlins Park with Barry Bonds, one of baseball's all-time greatest players and now the Marlins hitting coach; Don Mattingly, the Marlins first-year manager and a former All-Star first baseman; Andre Dawson, Hall of Fame outfielder; Tony Perez, Hall of Fame first baseman; and his son Eduardo Perez, an ESPN analyst and former major-leaguer. The session was emceed by SABR President Vince Gennaro, with interviews by Barry M. Bloom of MLB.com.
Click on a link below to watch or listen to highlights from the SABR 46 ballpark session.
Don Mattingly
On the fight for a wild-card berth: "We don't speak about nothing but winning the division. We feel like the Nationals are a team we can catch. We're five games back … but we've got plenty of games to play. The wild card, if it's something you end up falling into, then that's a consolation prize if you can't get to where you want to go. … [Winning the division] puts you in the best position to move forward, to be able to set up your pitching, to have five games to win a series, instead of a one-game Russian roulette."
On the Marlins' young roster: "The one thing I knew that maybe the baseball world necessarily didn't know is that this team is a really talented group. We've got a group of young players, all 26 and younger … a group that went through a lot last year, and a group that's confident. … They believe that. What we tried to do here is to set up a culture where you can get your best baseball out of guys and they're part of that, they feel ownership in their own team … and we're seeing some fruits of that right now."
On playing for George Steinbrenner: "There was a time there when him and I were butting heads there a little bit. I think I won an arbitration case and right before the case, he told me, 'Donny, this is just business, don't worry about it. Don't take it personal.' And so I win — and then he rips me in the papers about the farmers of Indiana, I'm not a regular guy anymore, all I care about is money. And that was interesting, a little learning curve right there for me. I figured it was … if he wins, it wasn't personal and if I win, it was personal. … But he treated me very well. I stood up for myself in that situation and I think I gained his respect a little bit. After that, it was like we were old friends."
On Ichiro's chase for 3,000 hits: "At the beginning of the season, if all three outfielders stayed healthy, you start to wonder, when do you get Ichiro in the lineup? There was a possibility that he didn't reach 65 (hits) this year. But we've had some guys get hurt … He can play all three outfield spots. He's an above-average runner, thrower, defender. After he played 153 games last year and he got 60-something hits. We felt like we needed to use him less to get more from him. Then you keep him rested and you get more production. … This is the way he likes it. He knows at this point of his career that he's an extra outfielder; he sees the talent of the other guys. Everything's been open and up-front, where it's about winning and not about him. He didn't want to be part of a sideshow and I think that's where we're at right now."
Andre Dawson
On visiting the Hall of Fame for Induction Weekend: "I really enjoy it. I enjoy the three-day getaway. What a lot of people don't realize is Cooperstown is so peaceful and serene. Everything slows down. … Of course, the new inductees, they're [running] nonstop from the time they get there Thursday until the time we have the dinner Sunday night. But I really enjoy the opportunity to get back and support those guys."
On who he would select to the Hall of Fame: "Definitely next year, Tim Raines. To me, there's only one Rickey Henderson. But Tim Raines was the epitome [in the National League] of what Rickey was in the American League. He did everything they asked him to do. … All those years playing in Montreal, he was like a little brother to me. He pretty much set the stage and nobody could avoid the middle of the [Expos] lineup with Timmy on base."
On his love for Chicago Cubs fans: "Even though I played 10 years in Montreal, my career was revitalized in Chicago. … The fans were terrific. They embraced me from day one and allowed me to relax and feel right at home. I just the best of times playing there, on a natural surface. Everyone in America loved the Cubs. I wish I could have extended my career there and retired as a Cub."
On the artificial turf in Montreal: "During my career, I played 20 years and had 12 knee surgeries. Playing on the Astroturf all those years … it took a lot of pain pills, a lot of tape, a lot of pregame preparation. Ice before the game and after the game. It took a lot of preparation just to go on the playing field. … Today, they have turf surfaces that are actually as good as playing on grass. That turf was by far the worst in baseball."
Tony Perez, with Eduardo Perez
On being a prolific RBI man: "I loved the situation. Every time I saw the men on base, my eyes popped [out.] I knew the pitcher was in trouble, because I was going to be swinging the bat to get those guys across the plate. That's the way I played as a kid all the way up to the big leagues.
On playing with the Big Red Machine: "When I [stranded] those guys on the bases, they were going to let me have it. But the way they played was amazing — Pete Rose wanted to get on base every time. You can see the guys in the dugout now, when someone makes an out and comes back, his teammates give him a high-five. If you tried to do that with Pete, there was going to be a fight!"
On the toughest pitcher he ever faced: "That's easy: Bob Gibson. … And I was in good company around the league. Everyone was hitting .100-something against him. … J.R. Richard was really tough, too. But he was around the plate a lot and he was a thrower. Gibson was a pitcher and every pitch he made was good."
Barry Bonds
On comparing himself to Ichiro and other great hitters: "We all have the same technique, we have the same IQ on hitting. We're just two different styles of hitters. But the philosophies are exactly the same: the way we approach the ball, the way we can cover the plate, the way we're able to adapt to the situation. All [great hitters] are technically identical. … It's just some [more] of mine went over the fence."
On becoming a hitting coach: "When Jeffrey [Loria] first called me, I told him, 'Are you nuts?' If it wasn't for me working with Alex Rodriguez and Dexter Fowler in the offseason … And now, I've learned that I really enjoy it. I enjoy the different personalities, trying to figure out where [a player's] mind is, why can sometimes I see something he doesn't, how can I help him get there and hit. … I think doing this, honestly, has given me a lot more patience to deal with people. It's really given me that balance of being able to communicate and I'm enjoying it. … Hopefully I can bring some value to them and hopefully they can [instill] that to the next generation."
On helping Marcell Ozuna to become an All-Star: "They're all young players here and people's expectations for a 24- or 25-year-old player, it's hard. You have to take steps. … You have to want it and Ozuna wanted it. He wanted to come to me every day and he wanted to stick with it. It's like figuring out a puzzle. You're going to have new challenges every year, but if you don't start somewhere, you're going to get nowhere. … But if you really want to know the truth, I told Ozuna his bat was horrible. I gave him one of my bats and he believed it. And it really wasn't the bat, it was always him. But if he thinks it's the bat, god bless him, keep swinging it!"
On playing through off-field troubles: "I had a father [Bobby Bonds] that was very different and disciplined, and I had a godfather [Willie Mays] who I wanted to accept me as a great baseball player. Willie and my dad always told me, 'Whatever problems you have off this field are still going to be there three hours after this game.' And baseball just gave me that release from everything going on around me throughout my career. … I had more pressure with my godfather saying I was a good baseball player from the time I was 5 years old than any legal problem I ever had."

Bonus audio! Click here to listen to highlights from Miami Marlins executive Claude Delorme's talk during the SABR 46 ballpark session (MP3; 27:02). As the Marlins were taking batting practice down below us, the Marlins' Executive Vice President of Operations and Events spoke about the unique architectural and design features of the ballpark in Little Havana, which opened in 2012 and is located on the site of the former Orange Bowl football stadium.
For more coverage of SABR 46, visit SABR.org/convention.
---
Originally published: August 16, 2016. Last Updated: July 27, 2020.
https://h2j7w4j4.stackpathcdn.com/wp-content/uploads/2020/03/research-collection4_350x300.jpg
300
350
admin
/wp-content/uploads/2020/02/sabr_logo.png
admin
2016-08-16 11:00:00
2020-07-27 16:47:31
SABR 46: Watch/listen to highlights from our Marlins Park ballpark session