SABR 46: Watch/listen to Perspectivas del Béisbol Panel with ESPN Deportes
At SABR 46 in Miami, our Perspectivas del Béisbol: Covering Baseball for Hispanic Fans On ESPN Deportes panel, which took place on July 28, 2016, talked about the coverage of baseball, both in the major leagues and internationally, by ESPN Deportes, with an emphasis on how Spanish-speaking fans are consuming the game.
The panelists included Ozzie Guillen, the outspoken former major-league shortstop and manager who led the Chicago White Sox to the 2005 World Series championship; Ernesto Jerez, an Emmy Award-winning play-by-play announcer for ESPN Deportes' "Sunday Night Baseball" since 1995; Enrique Rojas, an ESPN Deportes reporter who has covered MLB and the winter leagues for more than 20 years; and moderator Leonte Landino, the chairman of SABR's Luis Castro/Latin America Chapter who produces all baseball properties on ESPN Deportes and writes for ESPNDeportes.com.
---
---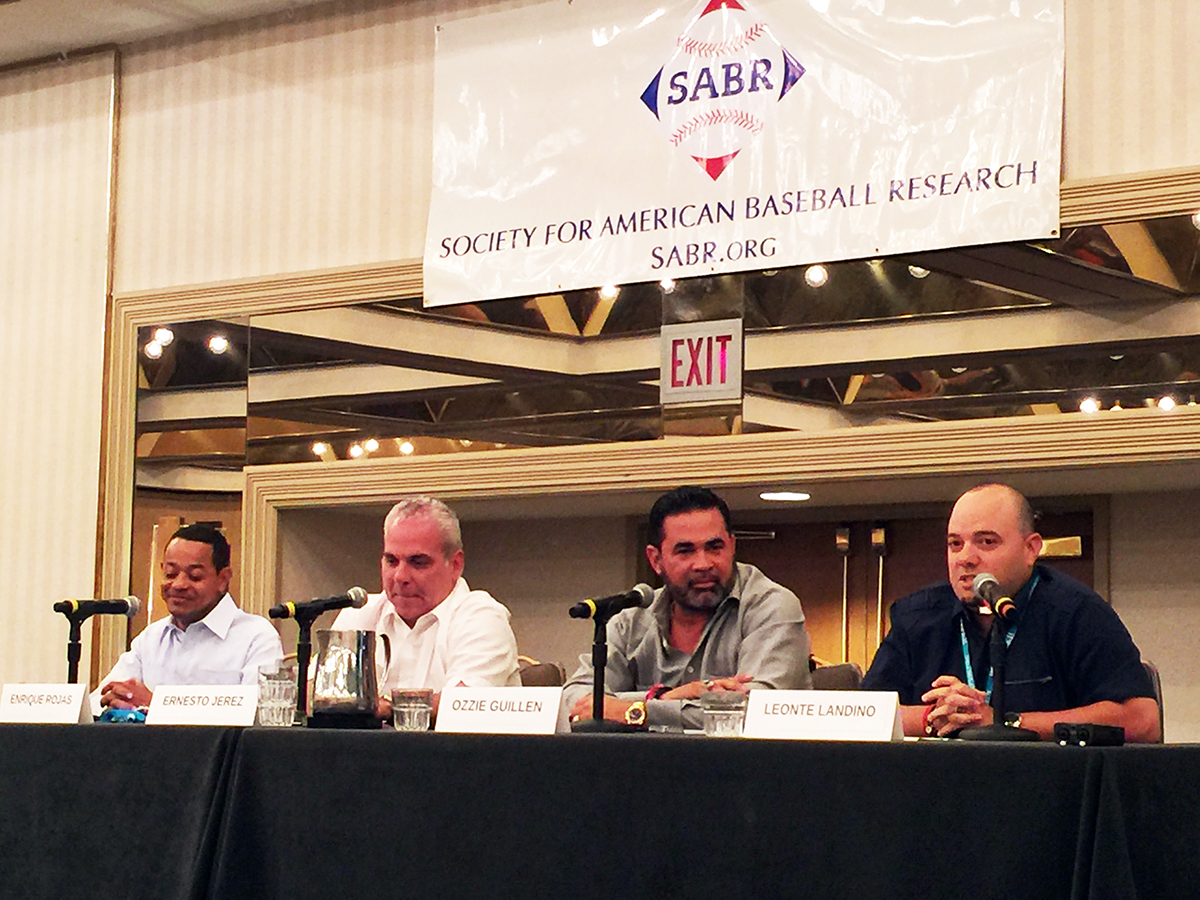 Here are some highlights from the Perspectivas del Béisbol Panel at SABR 46:
ON THE PERSPECTIVE OF LATINO FANS
Landino: "The Latino fan sees baseball differently. The American fans usually make connections with a team on a local level. If you're from Chicago, you're either a Cubs or a White Sox fan. If you're from Kansas City, you make connections with the Royals. The Latino fan makes connections with a player, mostly. … So that's why we try to cover baseball differently, given that unique perspective that the Latino fan is always looking for. … Every country has different customs and manners and how they embrace their players. We try to keep alive the cultural heritage of each country … and the struggle of Latino players to reach MLB, which is a great [factor] we consider when covering baseball. [So we try to] present stories that cause a spark, to appeal to younger audiences, especially with the engagement on social media."
ON TRANSITIONING FROM THE DUGOUT TO THE BROADCAST BOOTH
Guillen: "Well, the last time I was in Miami with a mic near my mouth, it was a very bad feeling! … As a manager, you grow up with the game and you know what to do. If we were playing the Cleveland Indians, I can look at the roster and see who's playing and who's not, and everything comes natural. You play the same team 19 times and you should know the players. … When broadcasting, I had to look around and learn every team, little by little. … And I watched how the best guys prepare. I look at the man next to me [Ernesto Jerez] and he's the best I've ever seen. It's 2 o'clock in the afternoon and he's taking notes. The game's not until 8 o'clock! And these guys do this every day, four or five times a week. And I sat there like, 'Oh my god, I thought we were going to have fun here. This is hard!' So day by day, little by little, my goal was to compete with them. That made me prepare better."
ON TRANSLATING SABERMETRICS TO LATINO FANS
Jerez: "It doesn't fly that well until you tell [fans] it's a positive thing and why. We don't like changes, especially if they are quick. … When you find a Dominican and he tells you, "The day a baseball player signs a multi-million dollar contract because of his WAR …" then you show him a picture of Mike Trout. And you say, 'This is why we're trying to make you understand that there are certain things that baseball is doing to make the game fun, and more than [batting] average, home runs, and RBIs."
Landino: "It's been challenging. We're trying to educate people on sabermetrics in Spanish with terms that are nonexistent. We feel we have some responsibility [at ESPN Deportes], how to translate those stats and how to explain to our audience. It's a work in progress. We hope that in a couple years, people are grasping these terms and stats, and embracing them."
Jerez: "How can we implement all those terminologies translated into Spanish? Leo now has come up with a little bible and they're working on those little things. Everyone knows that WAR stands for Wins Above Replacement. … But how do you tell our audience that a player is leading in VZR? He's not thinking of a stat, he's thinking of something he has in his home."
ON BUILDING A RELATIONSHIP WITH LATINO PLAYERS
Rojas: "I have a different way for getting scoops. Take someone like Pedro Martinez. If he's pitching tomorrow I can call him up, 'Hey, Pedro, how are you?' I don't need the press conference. Baseball's PR people hate it, because they want to protect their players and you can go over it. … In the Dominican, I know everyone in the country. I know their mothers, their fathers, their sisters, their cousins, their friends, their enemies. If Albert Pujols is close to signing a contract [extension], everyone calls to tell me! … For me, I know the players and the families and I have 1 million contacts in my cell phone. Through the years, you can build [their] confidence and they say, 'This guy knows [the truth.]' "
For more coverage of SABR 46, visit SABR.org/convention.
---
Originally published: August 9, 2016. Last Updated: July 27, 2020.
https://sabr.org/wp-content/uploads/2020/03/research-collection4_350x300.jpg
300
350
admin
/wp-content/uploads/2020/02/sabr_logo.png
admin
2016-08-09 14:06:07
2020-07-27 16:47:31
SABR 46: Watch/listen to Perspectivas del Béisbol Panel with ESPN Deportes