SABR 47: Listen to highlights from Jean Afterman interview with Claire Smith
At SABR 47 on June 29, 2017, at the Grand Hyatt New York, we were joined by two iconic baseball figures, New York Yankees Senior Vice President/Assistant General Manager Jean Afterman and ESPN's Claire Smith, the 2017 J.G. Taylor Spink Award winner.
Smith moderated a one-on-one interview with Afterman, talking about her life and career in baseball and with the New York Yankees.
---
---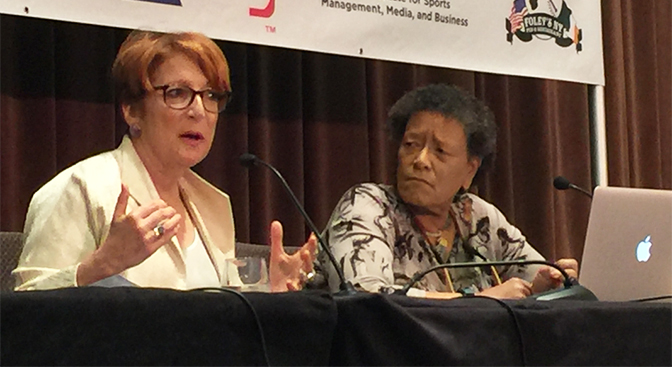 Here are some highlights:
ON THE DREAM OF WORKING IN BASEBALL
"Never in a million years. … It was never in my mind. I was fortunate that I was in the right place in the right time to launch into baseball in a different way and here I am. … I went to law school at a later age, in my thirties, and that made all the difference for me."
ON LIFE AS A PLAYER AGENT
"The geography for agents is just not good. You are constantly defending yourself against other agents stealing your clients, and it's also not 'Jerry Maguire.' You don't make millions of dollars and you travel across the country on your own dime, and sometimes you can be let go because you only got six free pairs of shoes instead of seven for somebody. … But even in our personal lives, it's very difficult to advocate for yourself. It's much easier to advocate for a friend or a family member. But everyone needs an advocate. An agent is very important to have distance between the person you're negotiating with and yourself."
ON HER MOST VIVID MEMORY WORKING WITH GEORGE STEINBRENNER
"Well, they're all vivid! … Before I came to the Yankees, I could call him George. [Afterward] it had to be Mr. Steinbrenner. But for me never 'The Boss,' because that's Bruce Springsteen. … One story was [what we called] 'The Night of the Bad Tuna' … We were down in Tampa and they had a bunker, airless, windowless, and I think that was part of the [Yankees] technique. [Don Nomura and I] were negotiating for a player and we had settled on a [salary] number. And [George said], 'OK, that's it, I'm going to dinner and we'll work out the details when I get back.' … He comes back and says, 'I had a tuna that I just don't think sat right and it gave me the opportunity to think that's not the number we want to go to.' … Eventually we came back to the number George had agreed to. But every time thereafter, when we were negotiating with George, we asked ourselves, 'OK, is this going to be pre-meal or post-meal?' "
ON THE LACK OF FEMALE EXECUTIVES IN BASEBALL
"I do want to make the point that George Steinbrenner and Brian Cashman are, around the world, the only owner and GM who have hired not one but two female assistant GMs [Jean and Kim Ng]. And I'm very proud of that and very proud of the Yankees. … Really, the only requirement to be a front-office executive is brains. You have to be smart. And smart is something that's gender-blind. That doesn't matter [if you're] male, female, or undeclared. If you use your mind, if you have a brain, you can achieve anything. … I do think there will be women moving up in the ranks, but they have to have the opportunities. … So I do think that's going to change, I hope sooner rather than later."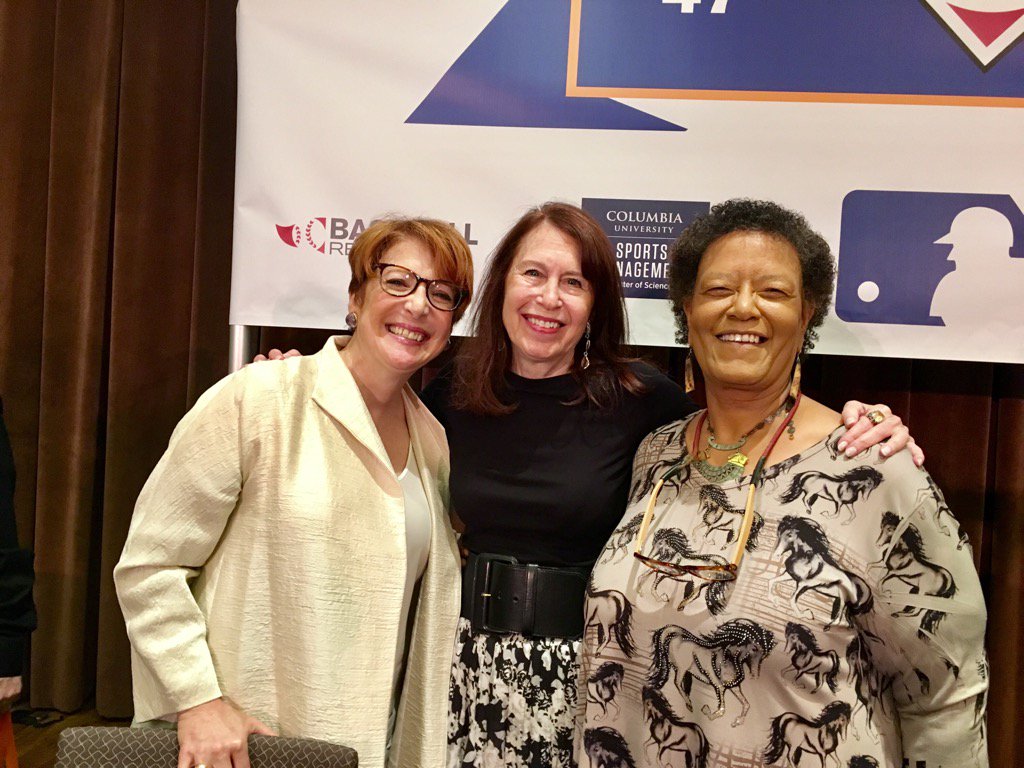 ON MLB'S DIVERSITY PIPELINE PROGRAM
"The committee was tasked with creating opportunities for anyone to enter a front office and breaking down some of the barriers. Front office executives don't spring like Venus out of the waves, fully formed. You have to have a career path, you have to start at the beginning. So the idea is to have people at the beginning, as interns or associates, and create a pipeline to the assistant general manager or the general manager jobs."
ON MAKING TRADES WITH THE RED SOX
"I like to think if we ever did, it would have a similar outcome. … Baseball is riddled with unwritten rules. And there's an unwritten rule that you never really trade with teams in your own division, particularly if they are two words, one beginning with an R and the other with an S. So I don't think we would probably do. But who knows, anything's possible."
For more coverage of SABR 47, visit SABR.org/convention.
---
Originally published: June 30, 2017. Last Updated: July 27, 2020.
https://h2j7w4j4.stackpathcdn.com/wp-content/uploads/2020/03/research-collection4_350x300.jpg
300
350
admin
/wp-content/uploads/2020/02/sabr_logo.png
admin
2017-06-30 00:27:58
2020-07-27 16:14:49
SABR 47: Listen to highlights from Jean Afterman interview with Claire Smith