SABR 47: Listen to highlights from Citi Field ballpark session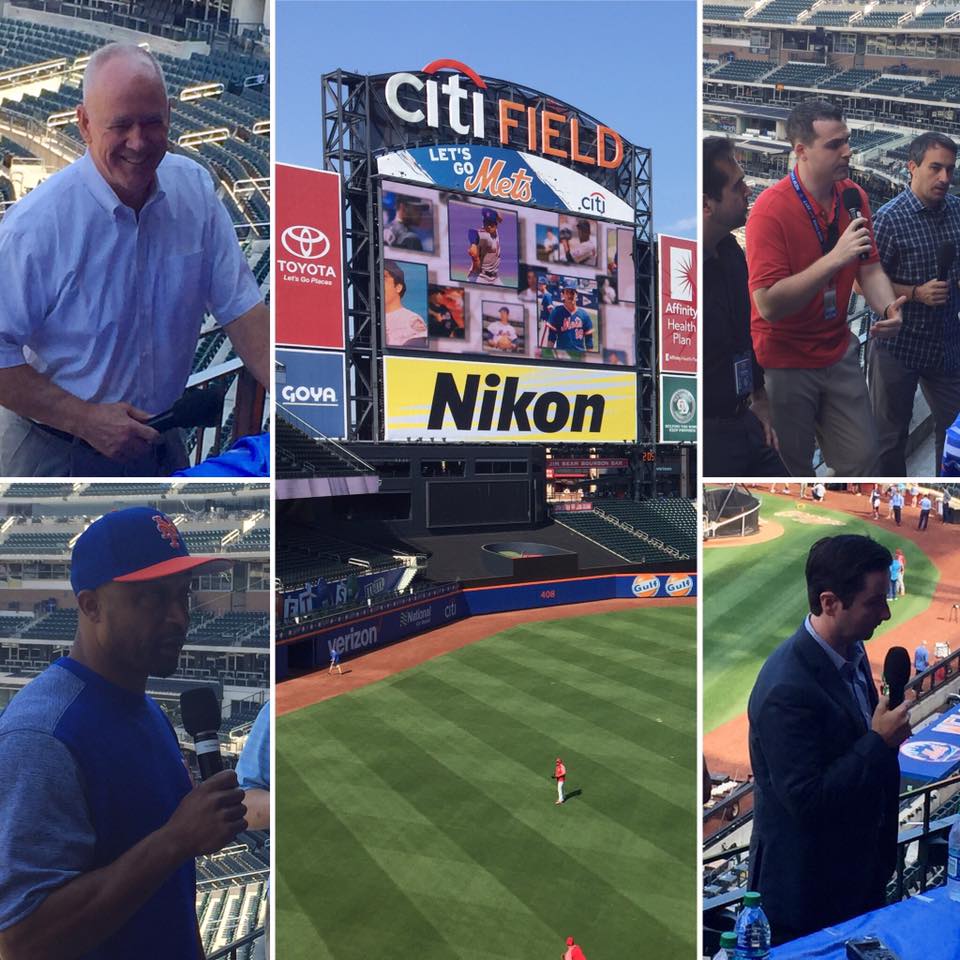 Attendees at the SABR 47 convention in New York City had a special opportunity to visit Citi Field for an exclusive pregame ballpark session with New York Mets executives, coaches, and broadcasters on June 30, 2017.
Before the Mets' game against the Philadelphia Phillies, special SABR 47 interview sessions took place at Citi Field with Mets general manager Sandy Alderson, first-base coach and former major-leaguer Tom Goodwin, a Broadcasters Panel with Josh Lewin, Wayne Randazzo, and Steve Gelbs, and an Analytics Panel with Director of Baseball Research and Development T.J. Barra, Sr. Coordinator of Baseball Systems Development Joe Lefkowitz, and assistant hitting coach Pat Roessler. The session was emceed by SABR CEO Marc Appleman, with interviews by Barry M. Bloom of MLB.com.
Click on a link below to listen to highlights from the SABR 47 ballpark session.
Tom Goodwin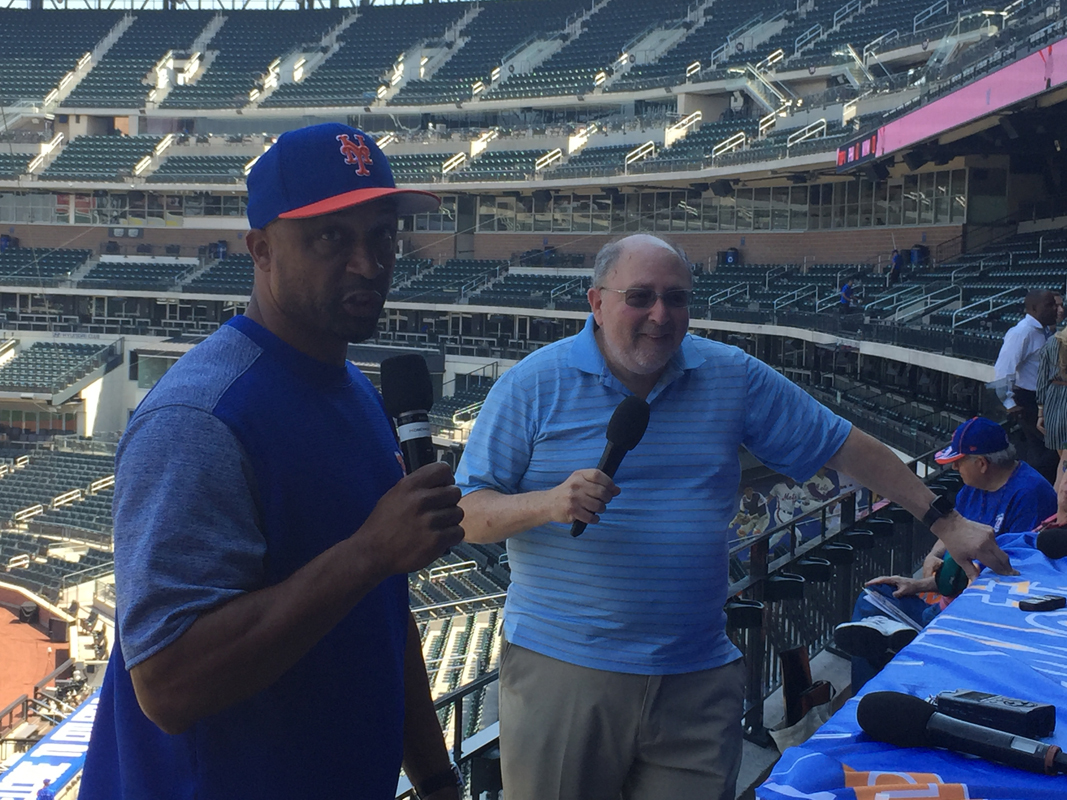 On the many managers he played for and worked with: "Tommy [Lasorda] was funny. He had the personality and that drew people toward him and that can even draw free agents. … Bob Boone, he really liked the running game. I didn't know much about catching so I learned a lot. But just his demeanor, he was real calm, wasn't too far up, wasn't too far down. … Johnny [Oates] was kind of the same way. He was real calm, real cool, somebody that guys liked to play for. He was stern enough to where he could put his hand on you if something wasn't going right and he wanted to get you back in line. … Buddy Bell was also the same way. He was mild-mannered but when he raised his voice, you listened. … Then I had Dusty Baker. It didn't have to always be about baseball. Whatever it was, he could talk to you about it. I think that's why a lot of guys like to play for him. Plus he's honest. He can yell at you and make you feel like you did something wrong, and you might stand up and give him a standing ovation because of the way he put it. … And T.C. [Terry Collins], he really wants that relationship with the players. He wants to know guys can come in, make sure that door goes both ways. I've been very fortunate to have some good and some great managers … that I can learn from and mold myself along the way."
On the absence of David Wright: "You definitely don't replace him. There's a reason why the 'C' was put on his jersey, not just because of the player he is but the person that he is today. … He's a stand-up professional and an outstanding human being. All that he's been through, he's still kept his attitude positive. He still talks to the guys whenever we have him here. … He makes sure the guys keep pushing. He's just a class act all the way around."
On having a veteran presence on the team: "Just to have the Curtis Granderson and Jay Bruce types out there to show the [young] guys what it's about, to have some longevity in baseball. I'm not saying it's easy to come up and do well, but it's a lot harder to sustain that level of play throughout 10, 12, 13 years without the preparation that goes into it. … There's a certain level of preparation that has to go in and those guys put it in. And that's going to get dropped down to the younger guys … and that's how the circle of life kind of goes. That's how the machine keeps running and you have championships after championships, when the older guys give back to the younger guys and it just keeps going in that direction."
---
Broadcasters Panel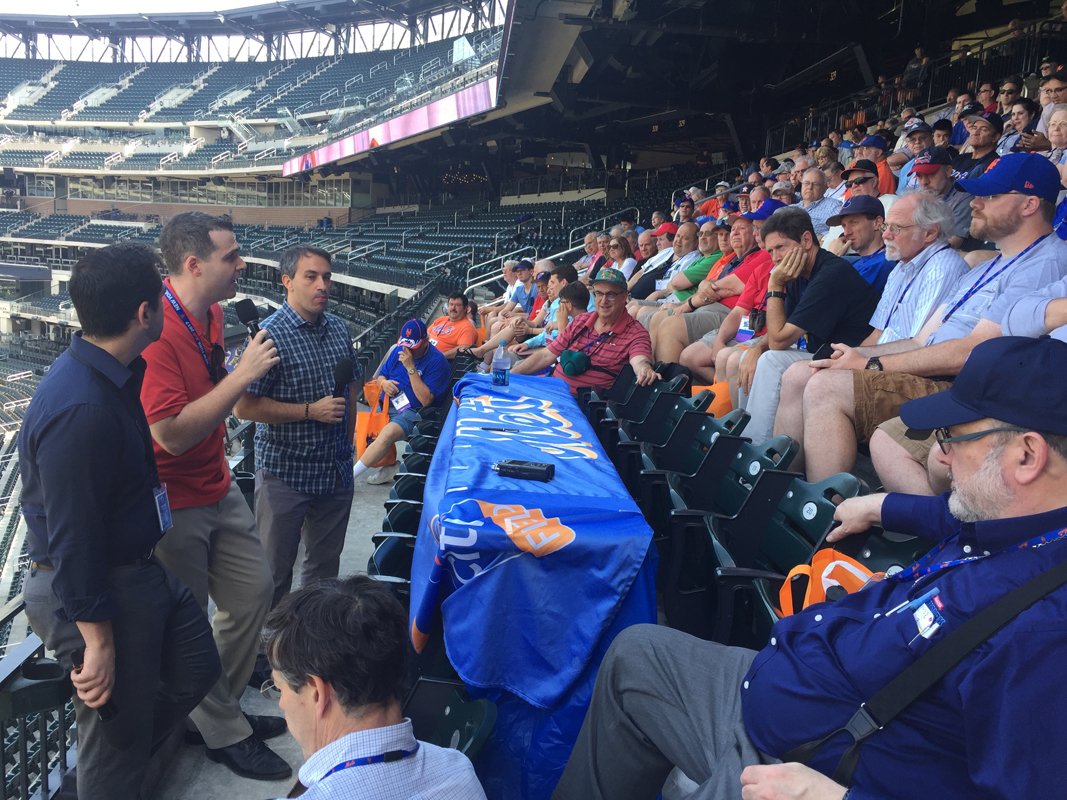 On the differences between radio and TV
Lewin: "Radio is a different animal. It's a blank palette, you get to do whatever you want, say whatever you want. There's no producer in your ear, no director showing you a shot where you have to talk about what's on the screen. … That's why sleep is important, hydration is important — research is important, and we are indebted to you guys, because we steal a lot of stuff from your hard work."
Randazzo: "On radio, you have that challenge of having to describe everything that you see fit for the broadcast at that moment. And I think it makes it a little more challenging than TV, and certainly more creative than the TV landscape, as well.
On the grind of the broadcasting life
Randazzo: "We do this 162 games. I did minor-league baseball for seven years. … It's a labor of love; it has to be for how much we spend around each other, and at the ballpark and around the team and around the country. It's something that we all love and we're fortunate to be around it every day."
On sideline reporting for the Mets
Gelbs: "Most productions use the sideline reporter as another aspect of the broadcast. They say, 'OK, here's what the manager spoke about today, so you're going to talk about this.' And what my producer and our broadcast team really challenges me to do is … to go out there and find something that Gary [Cohen] wouldn't know. So that allows me to think of things differently when I go into the clubhouse and try to figure out a storyline that's not being discussed."
---
GM Sandy Alderson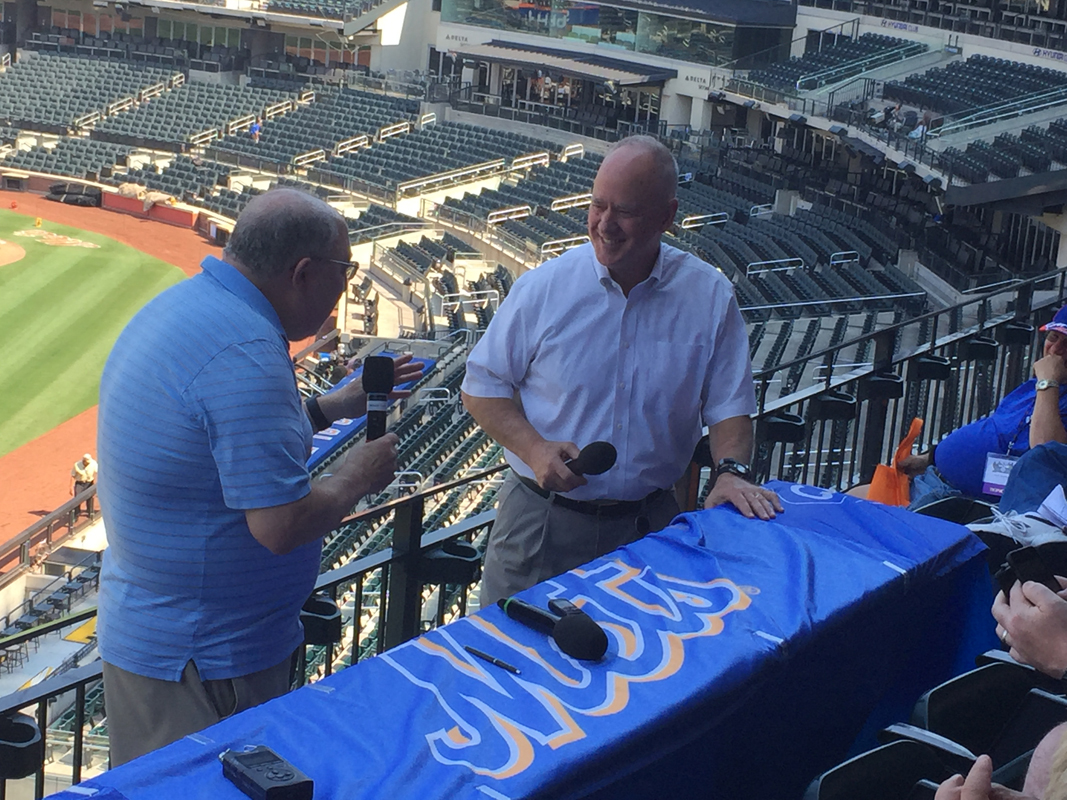 On the signing of Tim Tebow: "Why did we sign him? Because he's a good guy? Partly. Partly because of his notoriety as a celebrity. No question about that. And partly, in recognition of that celebrity, this is the entertainment business. My attitude is, why not? I actually think it's been great for baseball. I think it's been great for the South Atlantic League in terms of interest and entertainment. We'll see how far he goes. … The problem was, the [scout] we sent to see him in California did not exactly send in a glowing report. I knew he didn't want his name on it. … Anyway, the guy we put down is the director of merchandising. … You can buy a ticket at Port St. Lucie right now and boo the heck out of him as far as I'm concerned."
On the Atlanta Braves' recent release of Bartolo Colon: "Well, I can't say anything about Bartolo, but I did call Atlanta and ask if we could buy their surplus bobbleheads. And he lives in Jersey, too. … Anyway, he's been designated and as we would with anybody, we'll analyze it. He hasn't pitched as well as he did in the past so we're trying to look at, 'Hey, what's going on here?' Is it the ballpark, is it velocity, is it location? I mean, what exactly is going on?"
On the future of manager Terry Collins: "Terry has done a nice job. The most important thing a manager brings to a team is the leadership necessary to get through 162 games. It's a real grind. That's the place Terry is most effective, keeping the guys playing and playing at a high level. He's done that for years and years and that's why he's been here as long as he has."
On the Mets' run of injuries in 2017: "We had this elite starting rotation. Well, that's gone. In some ways now, I'd rather have a packhorse than a thoroughbred. What's becoming more and more important is going out there every five days to give us five to seven innings rather than being great for a period of time and then not being available. It's about being able to pitch and get 30, 32 starts. Don't walk anybody, keep the ball in the ballpark, and we'll take it from there."
---
Analytics Panel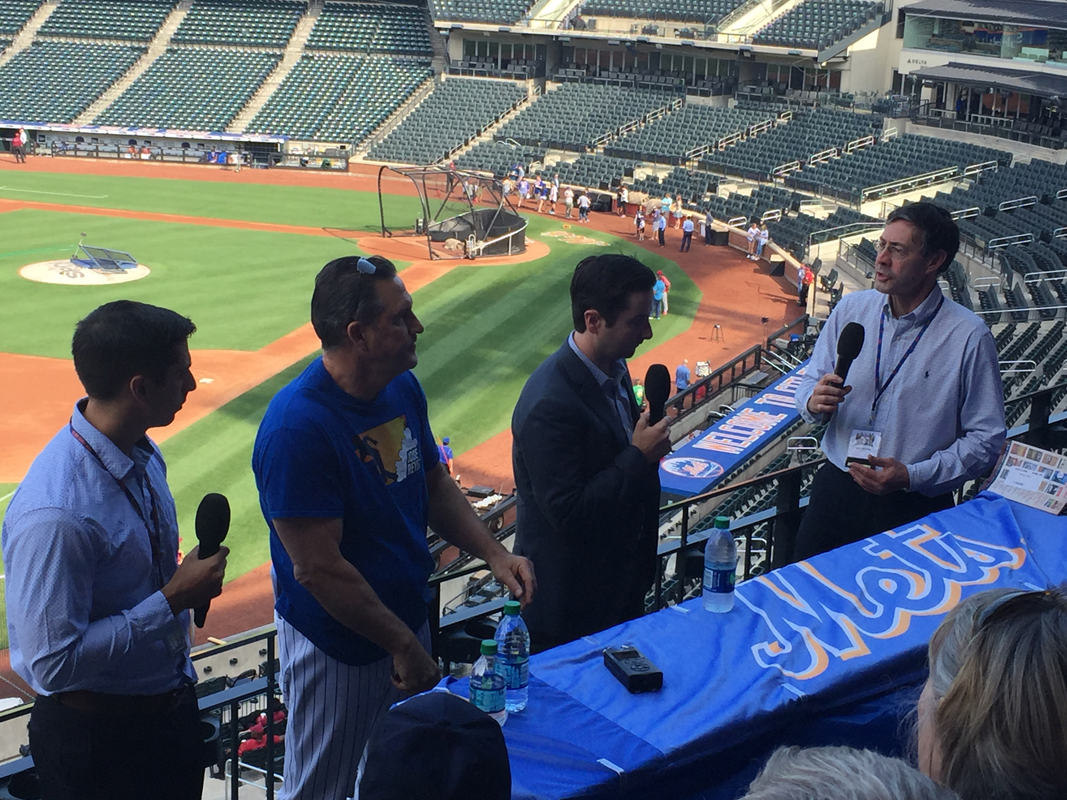 On 'translating' analytics between the front office and dugout
Barra: "I think at first it's trying to gauge your audience, whether you're talking about players, coaches, or scouts. … You can have people who like math and people who don't. You have to figure out how to get the same message across to different people. It's more about getting the concepts of baseball across. That's where Pat comes in; he's able to take some of these more advanced metrics and implement them into our strategies and how we develop our hitters."
Roessler: "There's a lot of ebbs and flows in baseball. We don't really get wrapped up in who goes 0-for-4 one night. We're kind of looking at two-week periods. Sometimes there's a recency bias in baseball where [a player] will ground out seven times in two days, and next thing you know they'll say, 'He's hitting all ground balls.' Well, if you look at over the last month, no he's not. … So we take a longer look — we go in and look at two weeks on chase rates, miss rates, fly ball rates, are they pulling the ball in the air, how's their exit velocity, where are they being pitched, are they using the whole field, are their swing rates higher? And we use a lot of it as positive reinforcement. For instance, Curtis Granderson got off to a slow start, which he normally does. But when you look at his chase rate, miss rate, average exit velocity, he's really [been] pretty good. But his batting average on balls in play was tremendously unlucky. So you try to use that to keep their confidence up and keep them in the right frame of mind."
On how receptive players are to sabermetrics
Roessler: "You know, in the last three years, there's a lot more guys that are talking exit velocity, launch angle, and how hard did I hit that ball? There's probably a third of them that are really deep into it; Jay Bruce is one. And a third of them [couldn't] care less. And then there's that middle group that if you approach them at the right time, and your timing is good, they're very receptive to it."
On traveling with the team
Barra: "This is my third year traveling with the team. In 2015, we were struggling on the road and Sandy [Alderson] was trying to find new ways to figure out how to improve our performance on the road. Me being there allowed us to monitor different strategies and philosophies that we were trying to implement. The first year, we got to the World Series and last year we got to the playoffs. … Each day is the same sort of process. I get to the ballpark at 12:00 or 1, and I sit down with each coach for 15 or 20 minutes, review the previous night's game and what we're trying to accomplish, and what sort of adjustments we're going to make for that game. So it's sitting down with Dick Scott on infield, Tom Goodwin on outfield, Kevin [Long] and Pat on hitting, and Dan [Warthen] and Ricky [Bones] on pitching. There's always something you're trying to do to get the most out of your players."
For more coverage of SABR 47, visit SABR.org/convention.
---
Originally published: July 11, 2017. Last Updated: July 27, 2020.
https://sabr.org/wp-content/uploads/2020/03/research-collection4_350x300.jpg
300
350
admin
/wp-content/uploads/2020/02/sabr_logo.png
admin
2017-07-11 15:28:06
2020-07-27 16:14:48
SABR 47: Listen to highlights from Citi Field ballpark session