SABR 47: Listen to highlights from Keith Olbermann's talk on baseball cards
At SABR 47, we were joined by a longtime SABR member and enthusiastic baseball card collector and historian, Keith Olbermann, who spoke at the inaugural meeting of the SABR Baseball Cards Research Committee on July 1, 2017, at the Grand Hyatt New York.
---
Audio: Listen to Keith Olbermann's talk about baseball cards at SABR 47 (MP3; 55:25)
---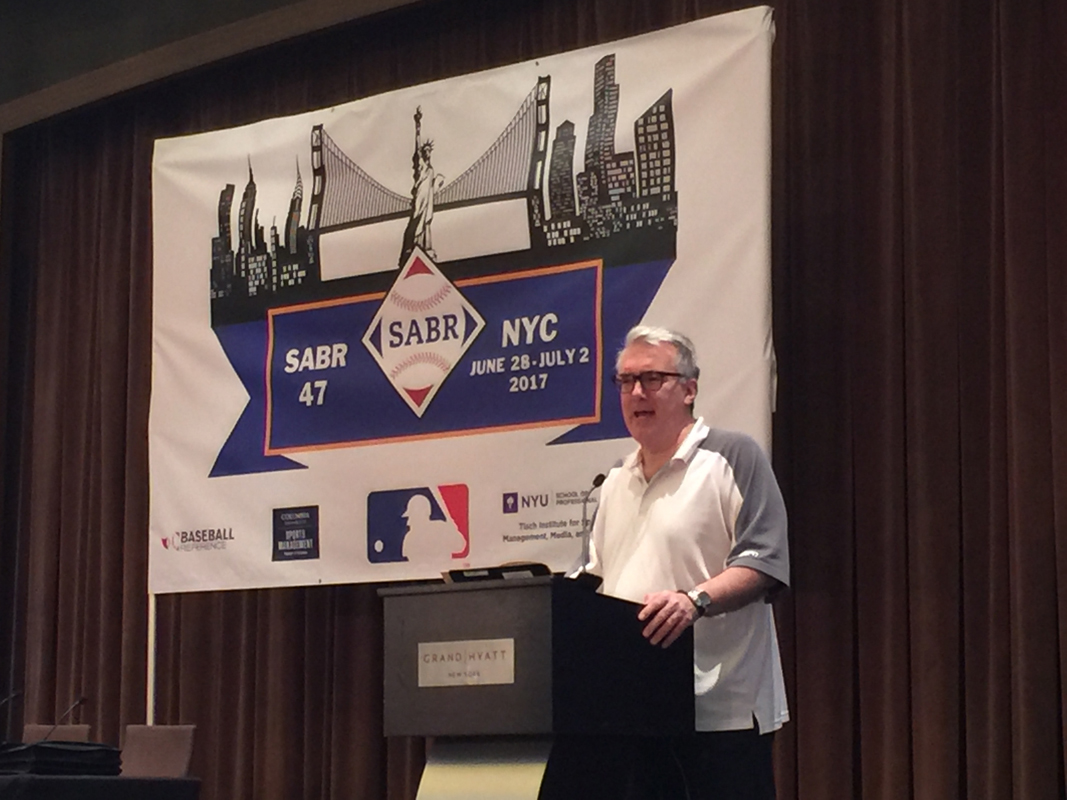 Here are some highlights:
ON HIS ORIGINS AS A CARD COLLECTOR
"I became a baseball fan, and then a historian, and then someone who worked in the field … and do other interesting things because of baseball cards, and not the other way around. … I had no interest in baseball, but the 1967 Topps cards came with a fold-up insert, a miniature poster. It's difficult to convey what this meant to baseball fans in 1967. I came from a fairly well-to-do family, but I never saw Mickey Mantle live on television in color. We didn't have a color TV. … My pack did not have a poster in it and I didn't get one. … So my goal thereafter was to collect baseball cards. By this time, 50 years ago, I was investing in baseball cards, buying out the other kids."
"I've written articles about cards, I've been involved in books about cards, and the purpose for all of these things has been … to get more money to buy more cards. I'm appearing here at no charge, which means I will buy fewer cards. I will be going to Topps to consult with them on a project about their retro-cards, and they will pay me with a case of those cards. We've discussed other ways of doing it, but I think it works fairly well this way."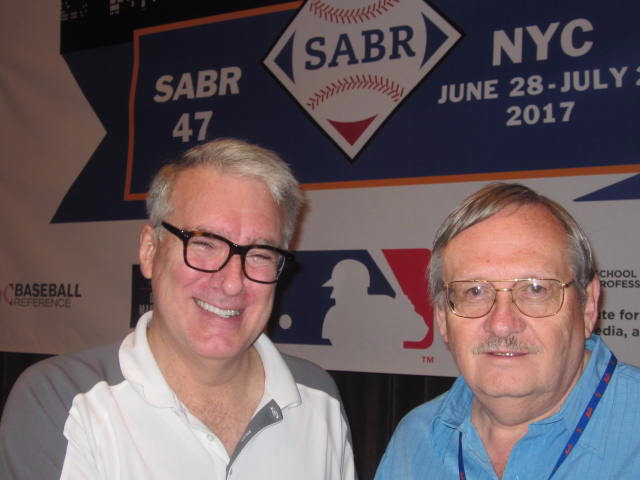 ON SABR'S FOUNDING BY MEMORABILIA COLLECTORS
"There's some certain history of this organization that has not been acknowledged in many ways. … Bill [Haber], one of the founders of SABR, was not just a baseball card collector. Bill was the guy who decided what was on the backs of Topps baseball cards. He was the go-to guy for historical research. He was credited with finding a 1907 Brooklyn second baseman named (Emil) Heinie Batch. He would fly around the country to chase down these players and read their headstones. And this guy [Dan] Dischley was the publisher of The Trader Speaks. He was the first one to host a baseball card collection, in New York. It was at Lake Ronkonkoma [in 1968]. I went there, at 13 years old, and it drew collectors as far away as the West Coast. And my point in mentioning this — Haber, Dischley, [Bob] McConnell, [Paul] Frisz, the collector of guides and World Series books; Dan Ginsburg, the autograph expert — this is something that is not spoken of a lot here, because there is still something of a stigma to baseball cards, even within this august organization. But this is important: SABR was founded by baseball memorabilia collectors. … It's just great to recognize that's what the roots are. It's baseball cards, it's baseball history, and the two things as they merged."
ON HIS MOTHER NEVER THROWING OUT HIS CARDS
"I avoided it by installing a lock in my [bedroom]. I bought my first T206 card when I was 11 years old. We were regularly going to antique stores wherever we were, and they were 35 cents apiece. [My parents] understood that I was not going to be stopped. Merely throwing them out would give me more room to buy more, so it was to their advantage to let me just keep them. … But for those of us who kept our cards, all the mothers who threw them out? We owe them great debts of gratitude, because otherwise what would they be worth!"
For more coverage of SABR 47, visit SABR.org/convention.
Photo at right: Keith Olbermann is pictured with SABR founding member Tom Hufford at SABR 47 in New York. (Courtesy of Tom Zocco)
---
Originally published: July 6, 2017. Last Updated: July 27, 2020.
https://sabr.org/wp-content/uploads/2020/03/research-collection4_350x300.jpg
300
350
admin
/wp-content/uploads/2020/02/sabr_logo.png
admin
2017-07-06 17:17:10
2020-07-27 16:14:48
SABR 47: Listen to highlights from Keith Olbermann's talk on baseball cards