SABR 47: Listen to highlights from the MLB Now panel with Brian Kenny
At SABR 47 on Thursday, June 29, 2017, MLB Network host Brian Kenny led a panel discussion, MLB Now: The Changing State of Sabermetrics, at the Grand Hyatt New York.
In addition to Kenny, the panel included former major-leaguer Mark DeRosa, New York Post columnist Joel Sherman, MLB.com's Mike Petriello, and SABR President Vince Gennaro.
---
Audio: Listen to highlights from the SABR 47 MLB Now panel (MP3; 1:00:52)
---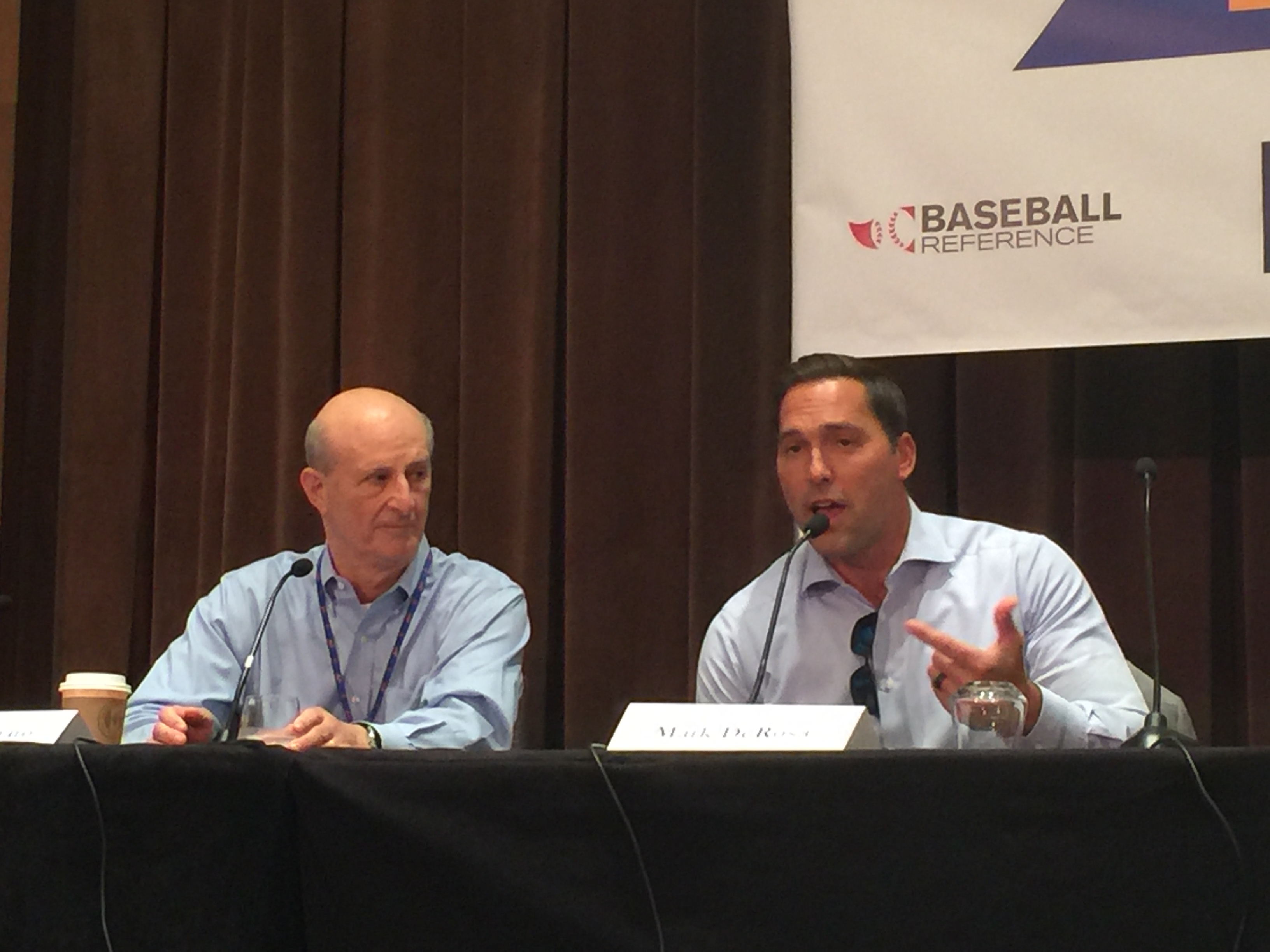 Here are some highlights:
ON IMPLEMENTING ANALYTICS IN THE CLUBHOUSE
Gennaro: "This is where the coaching staff is so important. It's setting a climate where the player is open to learning and growing, as opposed to making it a referendum on his ability. It's making sure we're creating a culture where [everyone thinks] we're all in this together, we have your best interests at heart … but not every player is going to take it the same way. I've had players say, 'Please don't ever tell me that again. I don't want to know what my flaws are. I just want to see ball, hit ball.'"
Sherman: "I'll relay a story that I had recently with Aaron Judge. He has some of the best numbers in the league with two strikes. That goes counter to a guy who's going to strike out 200 times. … I said to him, 'It's interesting to me because you're susceptible to strikeouts.' And he stopped me and said, 'I'm susceptible to strikeouts?' And I had to think about it for a second and said, 'Well, yeah, you're on pace to strike out 200 times.' And he said, 'I am?' … There's all these comparisons to Jeter, but Jeter would often come to the clubhouse and not know who the opposing pitcher was. That worked for him."
DeRosa: "I played 13 seasons and I'll be honest with you, I never had anything put in any locker. I would read the [scouting] packet, the normal packet. But I think it's who you're raised by. I was drafted by the Atlanta Braves. Chipper Jones didn't like to do a lot physically before a game. He would show up to the yard at 2 o'clock and sit and play solitaire almost until about 6:58. And he'd put his uniform on and run to third base, and he's going to be a first-ballot Hall of Famer. But what he did do was he was in that video room, he taught me how to break it down, how to study the [players]."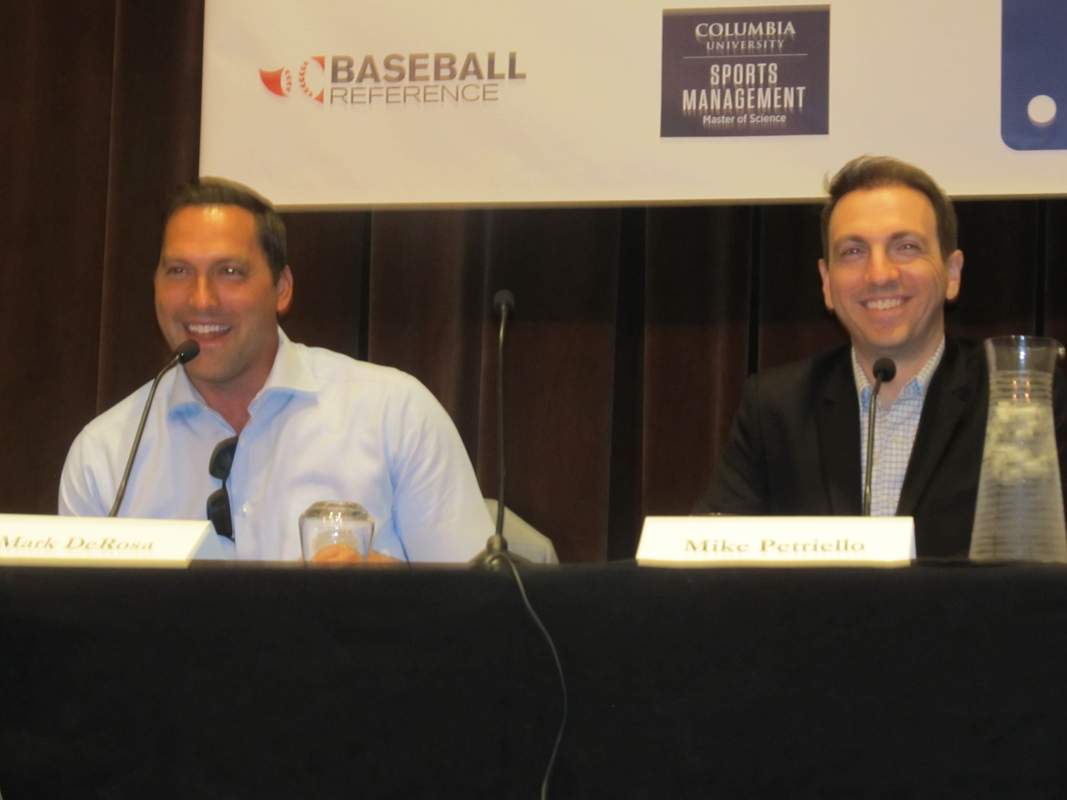 ON GETTING MORE BALLS IN PLAY
Petriello: "Velocity keeps going up and up and up … and guys just don't care about strikeouts anymore. It used to be embarrassing. … So one of those two things have to change. I don't think guys caring about strikeouts again. So the only way I can actually see this changing is if something physical changes on the field: where the mound is, the height, the distance, or whatever. And that's a serious change. People freak out when we make a tiny change like you don't have to throw four intentional balls for a walk. … I don't know what else you [can] do."
DeRosa: "To me, the hardest thing to do in sports is to hit a baseball. And now you're asking us to manipulate it to all parts of the field. There's a good percentage of the guys that cannot do that, period. And eliminate shifts, because everyone is trying to launch because you can't get a hit on the ground anymore. … And the ball is juiced, I don't care what anyone tells me. … They're hitting balls to parts of the park that I saw Hall of Famers not be able to hit it to."
Gennaro: "Call the strike zone the way it's supposed to be called, automate it, eliminate the variation you see. … I think the variation tends to favor the pitcher, I think we see stretching on the corners. I think you'd see hitters have a better shot."
ON THE POSSIBILITY OF DEFENSIVE SLUMPS
Petriello: "I think we're going to find out. Obviously, we can measure every play now, speed and distance [with the Statcast system.] … A lot of it is opportunity. That's always going to be an issue on defense. You don't always get your four guaranteed plays a night like you do with hitting."
DeRosa: "It's very rare, but I've been out there and there have been one or two times in my career where I didn't want the ball hit to me. Not feeling like I was timing it right, not liking the surface. A lot of variables went into it."
Sherman: "If you watched the Mets, there was about a 10-day period where a baseball hit to Asdrubal Cabrera was like a 50/50 play. I don't think it was a slump, because it had nothing to do with range, but he just couldn't field it. … I also wonder if defense has become tougher to have range in, when exit velocity is up so high … can you have [good] range if the ball is not hit right at you and it's hit so hard?"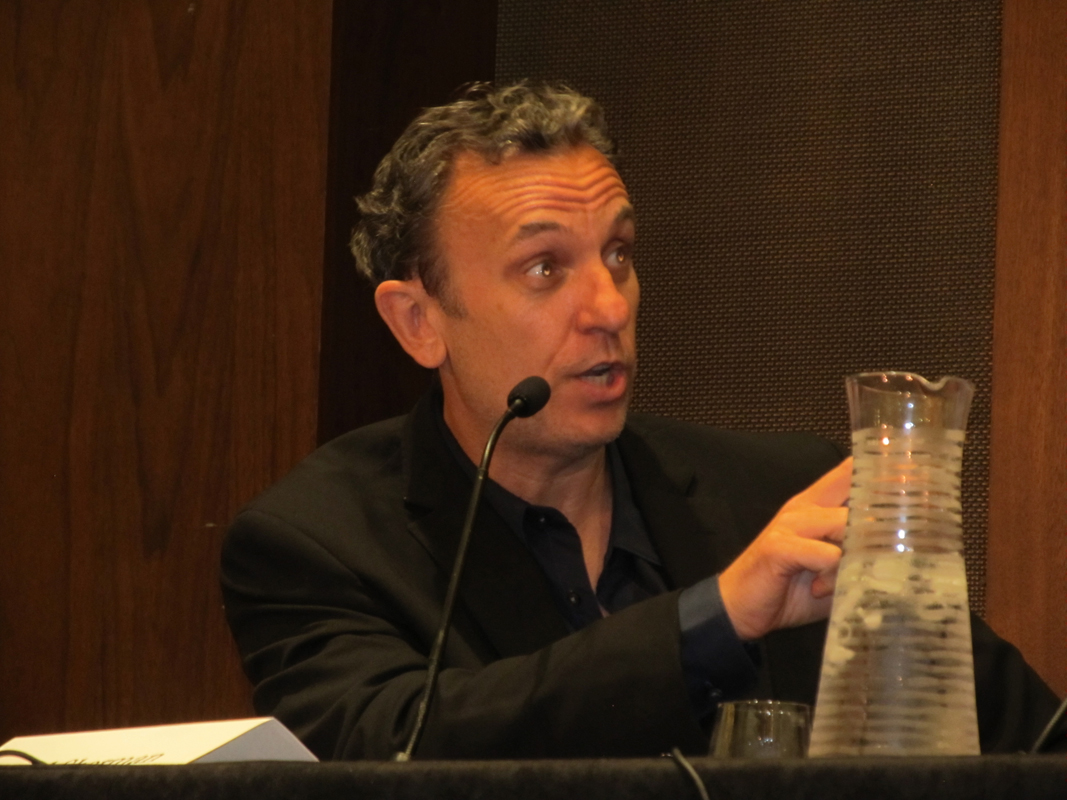 ON HOW MORE DATA CHANGES MANAGERIAL STRATEGY
Sherman: "I think it's going full circle back to the good managers using data and form-fitting that to their personnel and also their belief system. … The numbers might line up, and you say 'Why is this guy in the game?' And the smart ones know a lot more about their players, a lot more about their health, about the schedule coming up and travel and things like that. It all goes into the hopper. And if it was all done by stats, you would maybe get a better outcome on a specific event, but you would lose other things like health. So managers are always making decisions that have to do with 162 games."
DeRosa: "I played for Buck [Showalter] and he was the most prepared manager I ever played for. And I played for Bobby Cox, Tony La Russa, go down the list. Buck never got kicked out of the game because he felt his importance was on that bench. You can look that up, he doesn't get ejected much. I asked him one time, 'Why don't you ever get thrown out? Have our backs one time.' He said, 'No, I mean more to you guys in this dugout than I do up in my office.' Which I agree with. … You have to take everything in consideration, but at the end of the day, it's still a Little League team — everyone knows who the best players are. And for Zach Britton not to pitch in that [2016 wild-card] game was unforgivable."
Petriello: "A large part of a manager's job is something we can't quantify publicly. How many times does the manager get killed for not bringing in the lefty, but the manager knows the lefty's girlfriend just broke up with him? He can't say that, he just has to go out and wear it. We can't quantify that, although it's very important. … But I think soon we can quantify decisions of base coaches. Should he have sent the runner on a sac fly? Should he sent the guy rounding third? That's the guy of stuff we can put numbers on. It won't replace the clubhouse stuff, but that's kind of area where we can make improvements."
For more coverage of SABR 47, visit SABR.org/convention.
---
Originally published: July 5, 2017. Last Updated: July 27, 2020.
https://sabr.org/wp-content/uploads/2020/03/research-collection4_350x300.jpg
300
350
admin
/wp-content/uploads/2020/02/sabr_logo.png
admin
2017-07-05 11:21:14
2020-07-27 16:14:49
SABR 47: Listen to highlights from the MLB Now panel with Brian Kenny