SABR 47: Listen to highlights from the Yogi Berra panel
At SABR 47 on Saturday, July 1, 2017, the It Ain't Over: The Legacy of Yogi Berra panel looked at a beloved Yankees great and American cultural icon at the Grand Hyatt New York.
The panel included Lindsay Berra, Yogi's granddaughter and an MLB.com correspondent, New York Times reporter Harvey Araton, best-selling author George Vecsey, and moderator Dave Kaplan, founding director of the Yogi Berra Museum and Learning Center.
---
Audio: Listen to highlights from the It Ain't Over: The Legacy of Yogi Berra panel at SABR 47 (MP3; 1:01:45)
---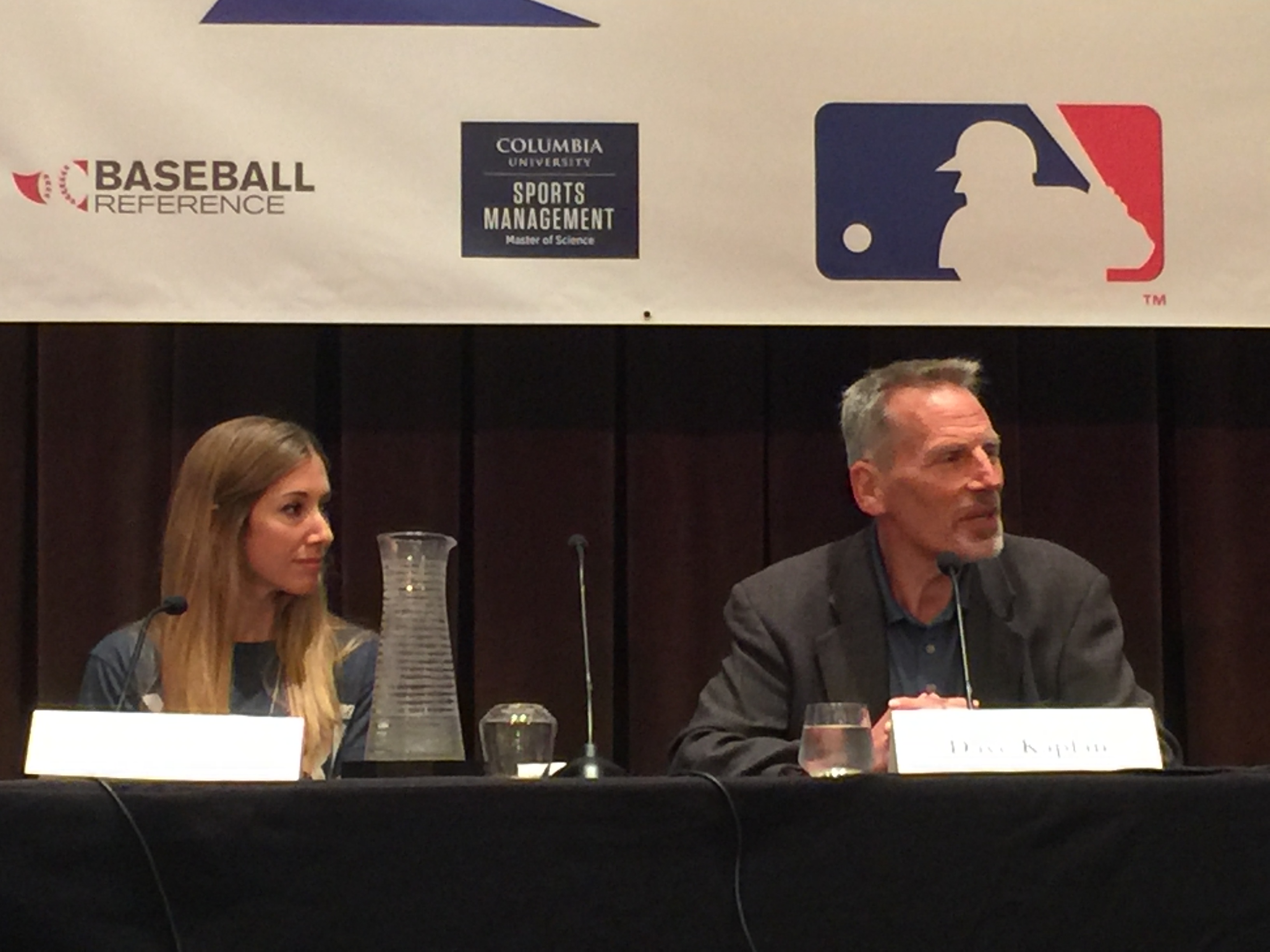 Here are some highlights:
ON YOGI'S TRANSCENDENCE IN POPULAR CULTURE
Berra: "I don't think he ever thought about anything he said; [it] just came out of his mouth. … He wasn't trying to be witty or funny or smart. He just had a unique way of seeing the world, where everything was black and white and simple. He just sort of called it like he saw it. He spoke like that in his everyday conversations with all of us. … But everything he said was so simple that it was smart. So if he was ever giving you advice, and you were trying to wrap your brain around it in some existential way, he would just give you this easy way of looking at it … and you would know what to do. Yogi-isms, everyone uses them — every president, I think, going back to Kennedy has quoted him, so many politicians, it's such a pop-culture reference now. They transcend things, because when you boil them down, they do make a lot of sense."
Araton: "When I was doing interviews for the book [Driving Mr. Yogi] in Louisiana, Ron Guidry said something like, 'He's the most beloved man in America.' And as an author, you don't want to override your book with cliches. But when I was going over the transcripts later on, we live in such a polarized country these days … it's really hard to find a middle ground on a lot of people. … But you would probably have a difficult time finding someone in the United States with a disparaging word to say about Yogi. This is not a cliche, this is the truth. It's an incredibly difficult thing to be almost universally loved in the times that we live in. What an accomplishment."
ON YOGI AND CARMEN BERRA'S RELATIONSHIP
Berra: "My grandmother was such a special person. They were married for 65 years. … You talk about sharing someone with the world, that's probably harder for a wife. And for my entire life, I watched her share him with all these people who actually, legitimately loved him too. We all got to realize — and it's really a humbling, astonishing, shocking thing to realize — that as much as you love someone that you're related to, there are that many people in the world who love him, too. … I still get choked up, because it's that moving to me."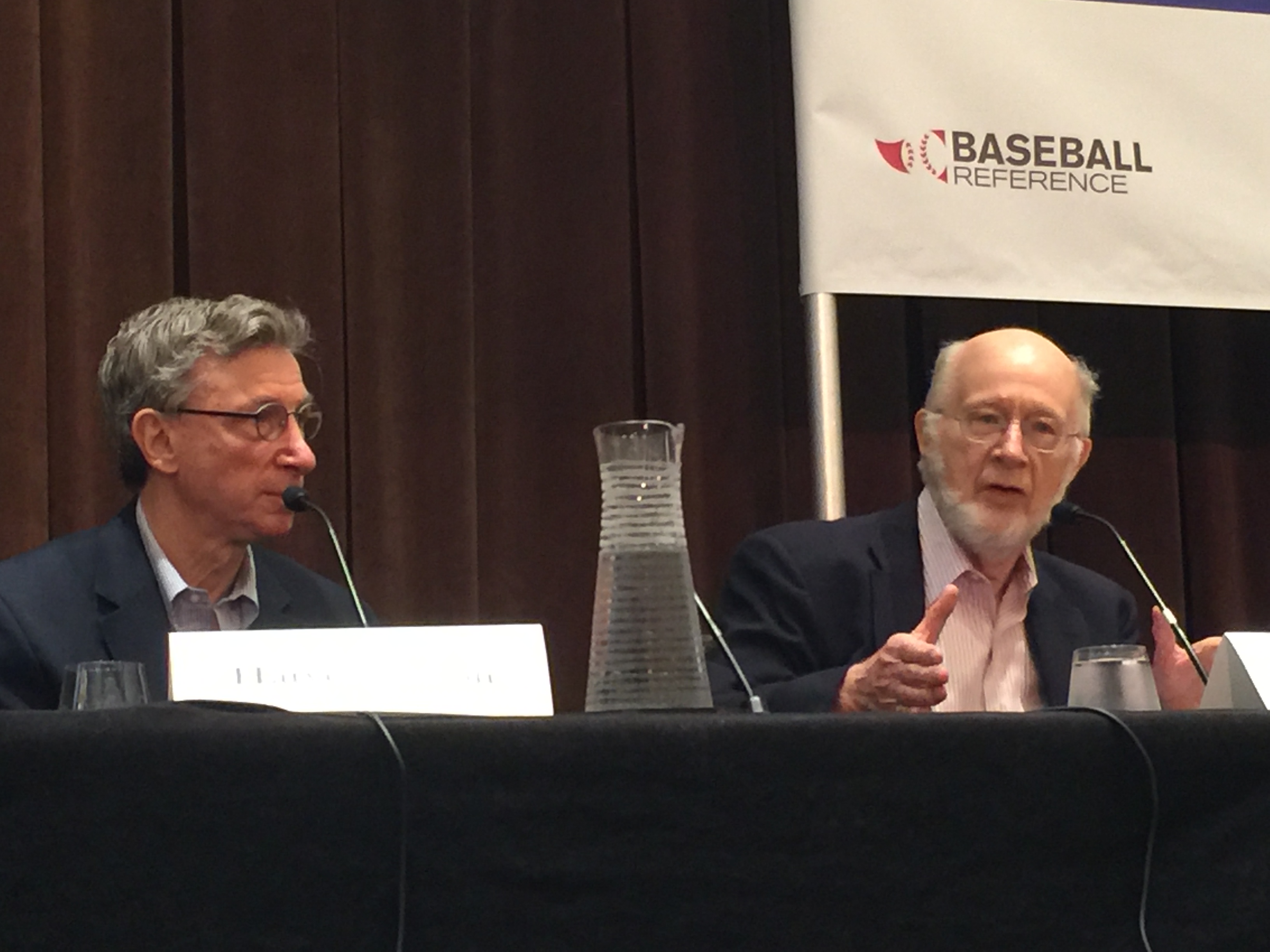 ON YOGI BERRA AND THE INTEGRATION OF BASEBALL
Vecsey: "Yogi was the great pragmatist. When it was approached to him [that Elston Howard would be replacing him as catcher], it was 'It's a way to save your legs, we've got this guy who's going to be a major-league player.' If he didn't think Elston was a 150-game catcher himself, he wouldn't have moved to left field. … [He] had the class to recognize that whatever had happened outside of the broader societal stuff, and [he] recognized one of their own was a disciplined, professional athlete, and Elston was that."
Berra: "When Jackie came up in 1947, my grandfather went out of his way to introduce himself. And they became great friends. Rachel Robinson was at my grandfather's 90th birthday party and they stayed friends long after Jackie had passed. But Grandpa really embraced those guys, Jackie, Elston Howard, Minnie Minoso. Things were very simple for him. He didn't really see color — you were a good ballplayer, you could hit or you couldn't, you could run or you couldn't. Jackie wasn't black, he was fast. Elston was his teammate. Part of Grandpa's legacy is he was on the right side of the color line when it wasn't necessarily the right place to be. Baseball was integrated long before this country was, and he embraced that and was a big part of that."
Berra: "[Rachel Robinson and Yogi] would greet each other every time they saw each other with — Rachel would come in and go, 'Safe!' And Grandpa would go, 'Out!' [referring to Jackie's steal of home in the 1955 World Series.] And then they would give a big hug and a kiss. It's really funny, I work for MLB and I see Sharon Robinson very often, and now we do the same thing. 'Safe! Out! How are you?"
For more coverage of SABR 47, visit SABR.org/convention.
---
Originally published: July 6, 2017. Last Updated: July 27, 2020.
https://h2j7w4j4.stackpathcdn.com/wp-content/uploads/2020/03/research-collection4_350x300.jpg
300
350
admin
/wp-content/uploads/2020/02/sabr_logo.png
admin
2017-07-06 16:06:22
2020-07-27 16:14:49
SABR 47: Listen to highlights from the Yogi Berra panel