SABR 48: 'Four Strangers' upset powerhouse team of ex-champs in Trivia Contest; Massey wins third title
A team of "four total strangers" who met each other just a few days earlier captured the most unexpected SABR Trivia Contest championship in recent memory on Saturday night at SABR 48 in Pittsburgh. Meanwhile, defending champion Dan Massey of Lancaster, Pennsylvania, joined an elite group by capturing his third Trivia Contest title and second in a row in a rematch of the 2017 individual final against Rob Rafal of Douglaston, New York.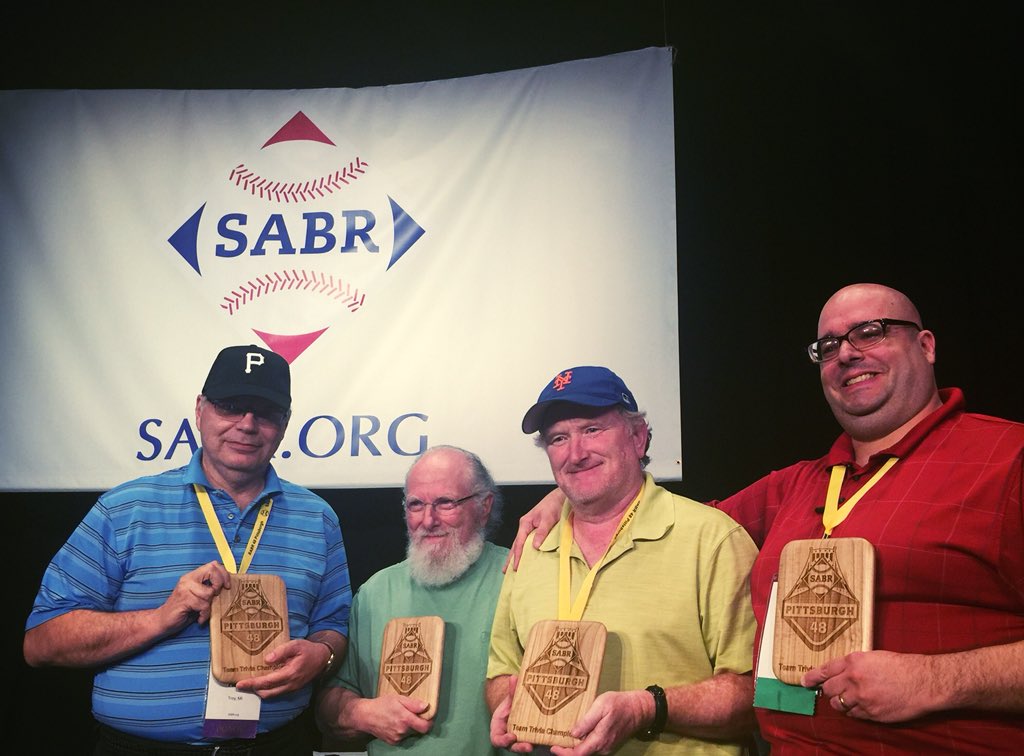 The Four Strangers team of David Fleitz (Troy, Michigan); Vince Guerrieri (Elyria, Ohio); Tom Nester (Dix Hills, New York); and Jamie Selko (Eugene, Oregon) held off a powerhouse group of ex-champions to win their first team title together. They formed their team on Thursday following the preliminary round after none of them qualified for the individual semifinals.
"We're not strangers anymore," said Guerrieri, who was attending his first SABR convention, after a narrow 14-11 upset victory in the final.
The runner-up team, who called themselves Kelly Stinnett and the Fab Forbes, of Mike Caragliano (Flushing, New York); Bill Carle (Lee's Summit, Missouri); Mark Kanter (Portsmouth, Rhode Island); and Rafal were attempting to defend their 2017 team title. The foursome has won a whopping total of 38 combined team and individual SABR Trivia Contest championships between them.
They missed the correct answer on a crucial "daily double" question late in the second half of the final round, about the only major-league pitcher to throw a perfect game and hit a grand slam during the regular season (Felix Hernandez.)
---
Test your knowledge: To download questions from the SABR 48 Trivia Contest preliminary round, click here. (For answer key, click here.)
---
Fleitz and Selko were both former champions on the Four Strangers team. Fleitz is the only SABR member ever to win three consecutive individual Trivia titles, in 2005-07, before he retired from that contest. This is his third team title, having been part of winning groups in 2015 in Chicago and 2016 in Miami. Selko's last trivia championship came a quarter-century ago, at the 1993 SABR convention in San Diego; he was also part of winning teams in 1985 in Oakland and 1986 in Chicago.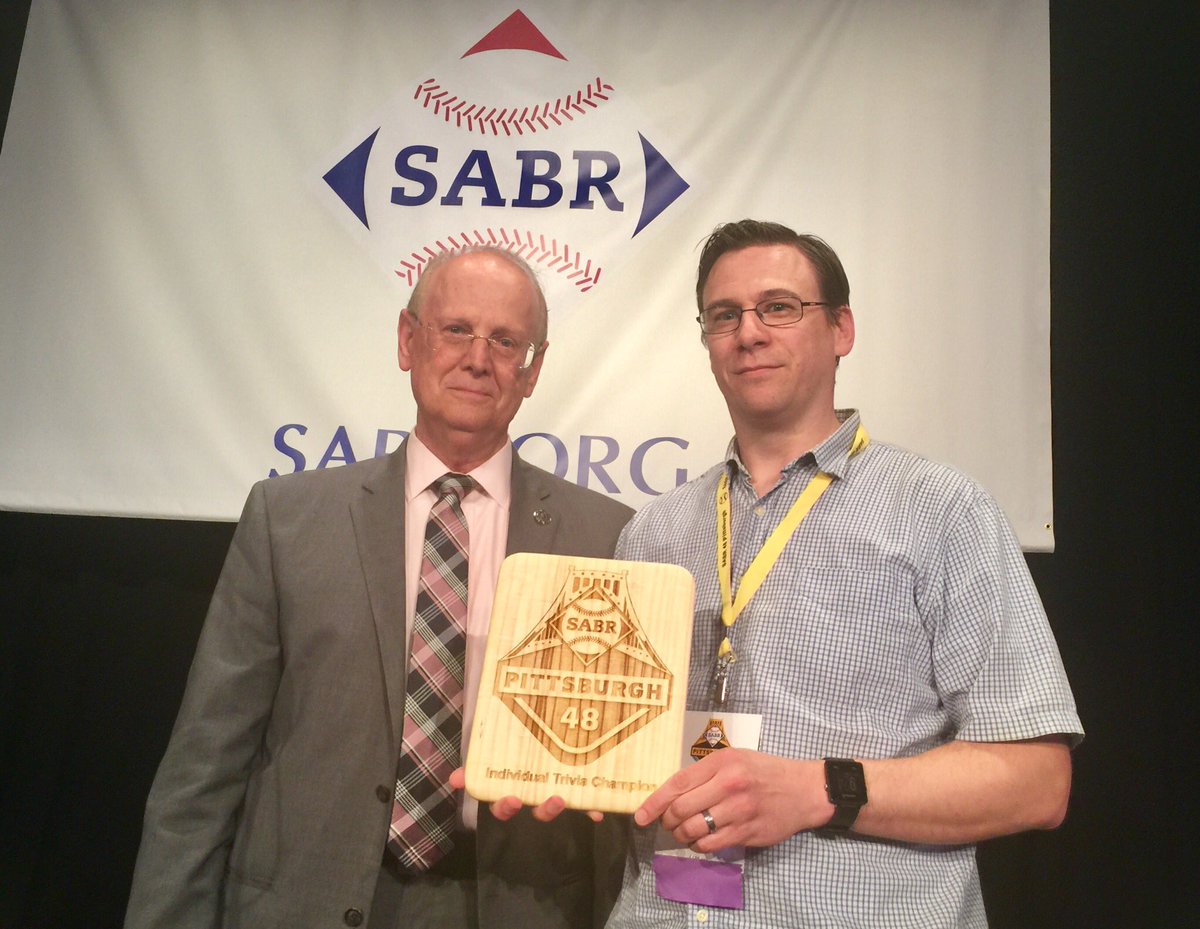 Massey became just the fourth three-time individual winner in SABR Trivia Contest history, joining Fleitz, Carle, and Caragliano. The latter two were also individual semifinalists this year. Caragliano holds the all-time record for individual wins after taking his fourth championship at the 2013 convention in Philadelphia.
The other semifinalists were The Young and the Old: Al Davis, Greg Funk, Kyle Ganning, and Tom Hoffmeister; and PA-PA-PAIL: Massey, Rod Merkle, Ted Knorr, and Jesse Marquart.
The SABR Trivia Contest was moderated by D. Bruce Brown, president of the Baltimore Babe Ruth Chapter and co-chair of Horsehide Trivia with T. Scott Brandon. Brown and Brandon wrote and edited the questions. Considerable assistance in both evening sessions at SABR 48 was given by Diane Firstman, Damian Begley, Barb Mantegani, and Michelle Freeman. Rich Klein and Larry Hayes helped with fact-checking and proofreading. Brandon assembled the game boards of the semifinal and final rounds.
To view a list of previous SABR Trivia Contest winners, click here.
For more coverage of SABR 48, visit SABR.org/convention.
---
Originally published: June 23, 2018. Last Updated: July 27, 2020.
https://sabr.org/wp-content/uploads/2020/03/research-collection4_350x300.jpg
300
350
admin
/wp-content/uploads/2020/02/sabr_logo.png
admin
2018-06-23 20:20:40
2020-07-27 16:11:21
SABR 48: 'Four Strangers' upset powerhouse team of ex-champs in Trivia Contest; Massey wins third title