SABR 48: Listen to highlights from the Media Panel with Pittsburgh Pirates broadcasters
At SABR 48, our Media Panel of Pittsburgh Pirates broadcasters discussed some of the most memorable moments in Bucs baseball history over the past half-century.
The SABR 48 Media Panel on June 22, 2018, included Steve Blass, Pittsburgh Pirates color commentator and former major-league pitcher; Joe Block, Pittsburgh Pirates play-by-play announcer; Greg Brown, Pittsburgh Pirates play-by-play announcer; and Lanny Frattare, the longest-tenured broadcaster in Pittsburgh Pirates history. It was moderated by Curt Smith, author and baseball broadcasting historian. The introduction was delivered by SABR Media Committee chair Chuck Hildebrandt.
---
Audio: Listen to the SABR 48 Media Panel (MP3; 1:01:41)
---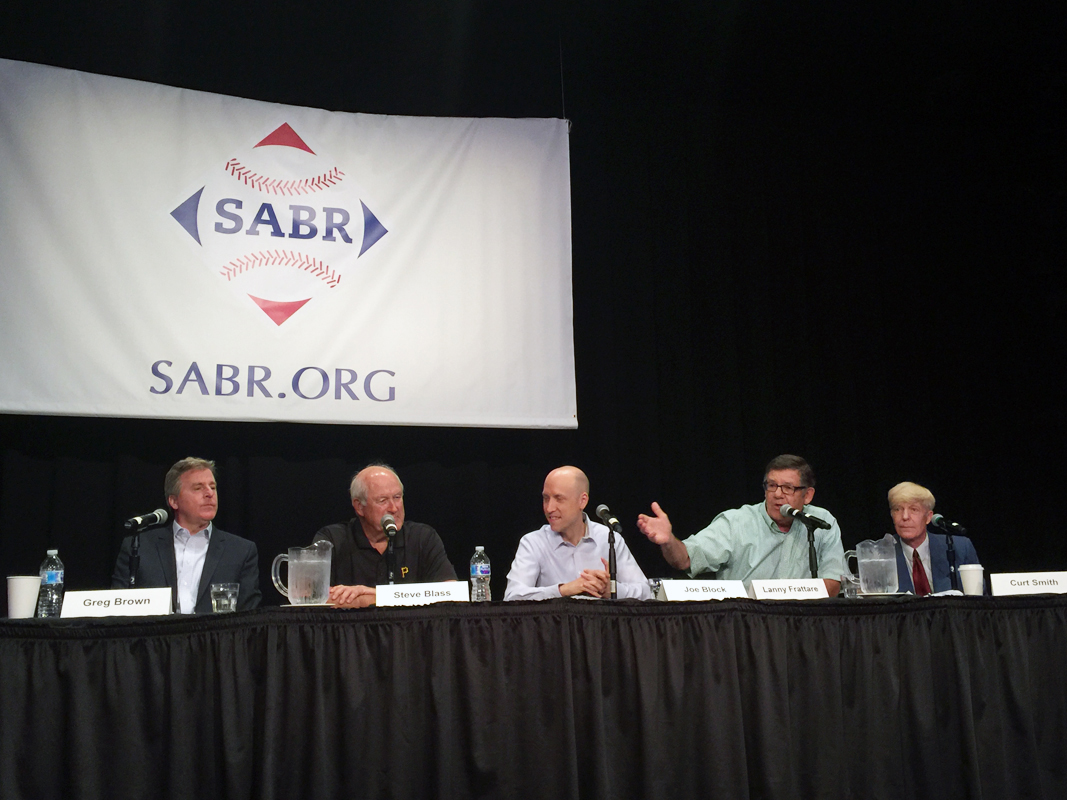 Here are some highlights:
ON YOUR FAVORITE PITTSBURGH BASEBALL MOMENT
Frattare: "The clincher in 1990, Jim Leyland's first division title (as manager of the Pirates). … Doug Drabek pitched a masterful game, for the final out Jose Lind took a groundball at second base, and they carried Jimmy Leyland off the field. That's my all-time favorite. I believe MLB announcers are always looking for those moments — and a real good announcer can encapsulate in a short period of time the essence of what just happened."
Block: "I would like to nominate the 2013 wild-card game. I wasn't here for it, but hearing all the different accounts since then, of course. My wife grew up here, so when the Brewers were out of it, we always became Pirates fans, which was our secret thing that we weren't allowed to say at the time. … This is funny, but they have this thing (on broadcasts) where you can turn off the announcers and just listen to the park sounds. So that was us, we were sitting in our living room in Milwaukee, with the (Johnny) Cueto chants and him dropping the ball. It was a memorable experience. We were really hoping that was going to be the Pirates' year. She was shaking, because obviously all those years of not being able to go to the postseason and that was the first one back. That's the one that sticks out in my mind."
ON WINNING THE 1971 WORLD SERIES
Blass: "Just going through the whole experience of a championship season, when I look at this ring, I don't think about the check — well, I think a little bit about the check — but I think about the guys I went through that whole thing with … in that moment, when I see the highlight film and I remember the last out, what a release that is. You're so focused and you're so intense, it's unbelievable. … To play on a team with three Hall of Famers and win a championship, everybody has a dream, not everyone gets to live 'em. … I will never forget that moment for the rest of my life."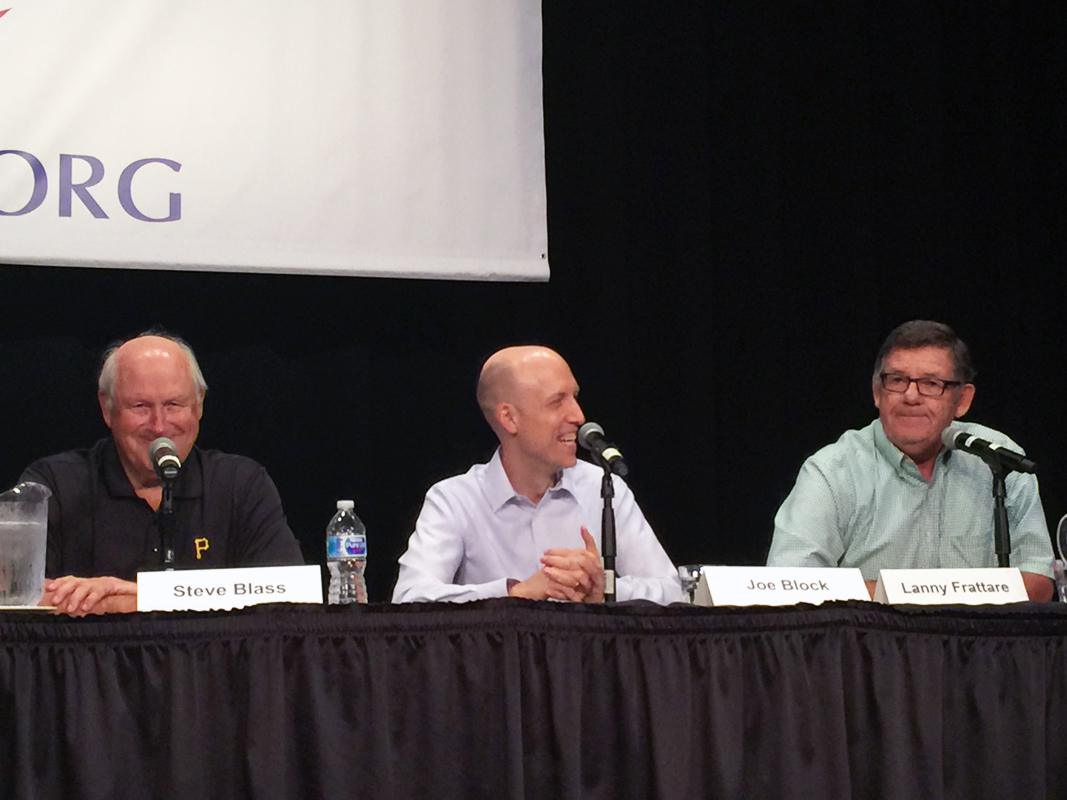 ON THE 1979 PIRATES
Frattare: "My all-time favorite game from that (season) came on August 31. The Pirates are leading by one run, Darrell Evans is coming to the plate, Kent Tekulve is on the mound. I said on the air, 'I can't believe Chuck Tanner is going to take Tekulve out of this game.' Chuck took the ball and signaled to the bullpen for Grant Jackson, the left-handed pitcher to pitch to the left-handed batter. … Kent Tekulve starts walking toward left field and I said on the air, 'I can't believe Chuck Tanner is thinking about playing Tekulve in left field.' But that was the plan. And Chuck says to Grant, 'Keep the ball away from Evans.' And Grant says to him, 'Are you kidding? Tekulve is out in left field!' Chuck says, 'I don't care, that's what I want you to do.' … The second pitch was a breaking ball away and Darrell Evans pops it out to … left field. What are the odds? … Remember how Willie Stargell had the stars? Kent Tekulve was so obsessive about them that he sewed them onto his cap so he wouldn't lose them. He had stars on the top brim for his wins and the second brim was for his saves. And the one star he got from Willie Stargell for playing left field, he put on the top of his hat."
ON WORKING HIS WAY UP TO THE BIG LEAGUES
Brown: "I can say with great sincerity that I feel like I worked my tail off to get here. (Even) literally cleaning toilets and jock straps down in Florida in the instructional league in 1979. Many people believed, because my name is Brown, that when I started in the organization I got the job because I was (longtime general manager) Joe L. Brown's son. I had to clarify that. … As I grew up, I enjoyed listening to broadcasters who enjoyed being in the booth with each other. … Growing up in central Pennsylvania, Lanny Frattare was my voice. From Philadelphia, it was Harry Kalas and Richie Ashburn, and those guys were buddies. You could tell that, you knew it. … I feel that's important, that you get along with each other on the air."
For more coverage of SABR 48, visit SABR.org/convention.
---
Originally published: July 3, 2018. Last Updated: July 27, 2020.
https://sabr.org/wp-content/uploads/2020/03/research-collection4_350x300.jpg
300
350
admin
/wp-content/uploads/2020/02/sabr_logo.png
admin
2018-07-03 15:36:30
2020-07-27 16:11:21
SABR 48: Listen to highlights from the Media Panel with Pittsburgh Pirates broadcasters