SABR 48: Listen to highlights from the Pirates Player Panel with John Candelaria and Grant Jackson
At SABR 48 on June 23, 2018, the Pirates Player Panel included two pitchers from the Pittsburgh Pirates' 1979 World Series championship team. They discussed the team's famous "We Are Family" atmosphere, their comeback in the fall classic against the Baltimore Orioles, and life in the major leagues.
The panel, moderated by Pirates broadcaster Joe Block, included John Candelaria, who spent 19 seasons as a pitcher in the major leagues, winning 177 games and helping the Pittsburgh Pirates capture the 1979 World Series championship. A fan favorite in Pittsburgh known as the "Candy Man," he threw a no-hitter at Three Rivers Stadium in 1976, made the National League All-Star team with a league-leading 2.34 ERA in 1977, and pitched six shutout innings in Game Six of the 1979 World Series to help the Pirates rally from a 3-1 deficit and defeat the Baltimore Orioles. The panel also included Grant Jackson, a valuable reliever for three pennant-winning clubs during his 18 seasons in the major leagues. He made four scoreless appearances in the 1979 World Series, helping the Pittsburgh Pirates win their most recent championship, and also pitched for the Baltimore Orioles in the 1971 fall classic and the New York Yankees in 1976.
---
---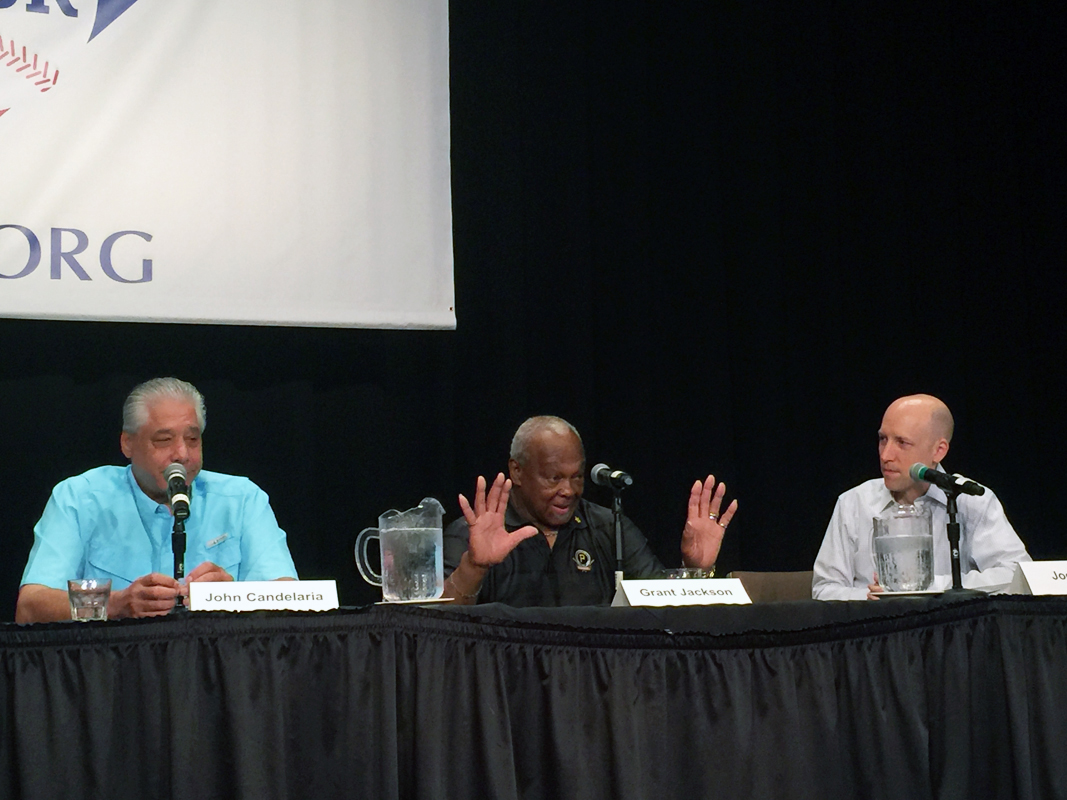 Here are some highlights:
ON PLAYING WITH WILLIE STARGELL
Candelaria: "Willie had a tremendous year, obviously, as MVP of the National League with Keith Hernandez, and just the World Series that he had was phenomenal. It was an honor playing with Willie. … I met him when I was 18, and I was in awe. … He was a good influence, a good person to talk to, a great teammate. I loved him more than the ballplayer he was, and he was pretty good at that."
ON THE STARGELL STARS
Candelaria: "It was Willie that started it. You did something good, you got a star. You got a win, you got a star. You got a big hit, you got a star. … I got a couple along the way, but I only wore one on my hat. Not like Teke (Kent Tekulve), who wore a thousand of them. He probably stole a couple from Willie, OK? My locker was right next to him."
ON THE PIRATES' CAMARADERIE
Candelaria: "I can't tell you how much fun we actually had in the clubhouse. It was a joy, it was a good trip. Best organization, in terms of the players I played with, in all the 19 years I was in the major leagues. … They came to play, on and off the field."
ON THE NLCS AGAINST THE CINCINNATI REDS
Jackson: "Coming into the clubhouse in Cincinnati, there's a chalkboard right there. Pop and I got there very early (before Game One) and we said, 'Let's get Candy.' So we put up (a quote on the chalkboard) from George Foster, Johnny Bench, and Joe Morgan (that said), 'We can't wait for you to get to the ballpark. We're going to get you.' Candy came in and saw that sign and his eyes got that big. And he said, 'I'll show those guys!' And he went out and blew them away. … That's the kind of stuff we'd do to each other, not to get you mad, but to get you fired up …"
Candelaria: "(For example), Tony Perez would 'send' a limo to the airport for you, to make sure you got to the ballpark …"
Jackson: "Yeah, make sure you get here on time for this whooping!"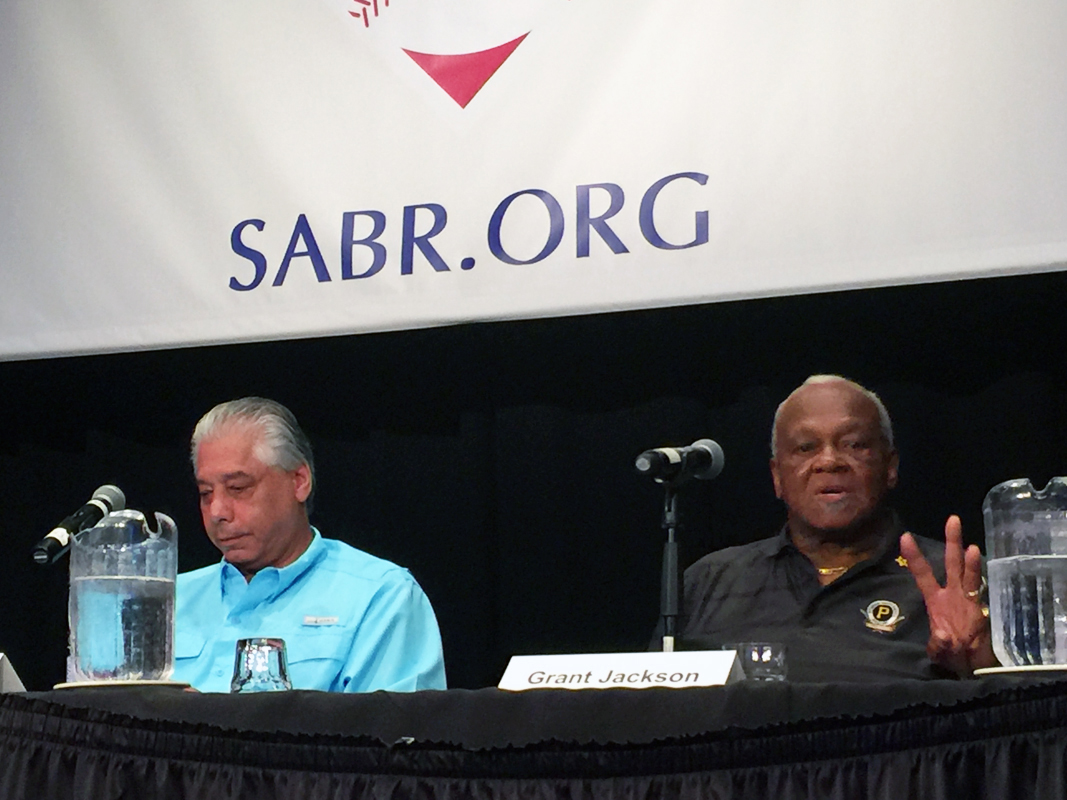 ON THE ABILITY TO COME FROM BEHIND
Jackson: "I knew the team we had was an outstanding team. It's not how you start, it's how you finish. … As a whole, I can say even when we lost the first game of the World Series, we were in Baltimore, a bunch of guys were eating crabs and drinking beer after the game. I said, 'We'll be all right.' … It was a place we had been before. We were a family and we stuck together and came through."
Candelaria: "In Game Six, if we had lost, we were going to fly right out after the game. So the equipment manager called my room and said, 'You need to get your luggage down.' I said, 'I'm not going anywhere. My luggage is staying here, we'll be back after the damn game.' … I refused to send my luggage down. I'm pitching, we're winning. That's it."
For more coverage of SABR 48, visit SABR.org/convention.
---
Originally published: July 4, 2018. Last Updated: July 27, 2020.
https://sabr.org/wp-content/uploads/2020/03/research-collection4_350x300.jpg
300
350
admin
/wp-content/uploads/2020/02/sabr_logo.png
admin
2018-07-04 13:50:13
2020-07-27 16:11:21
SABR 48: Listen to highlights from the Pirates Player Panel with John Candelaria and Grant Jackson