SABR 48: Listen to highlights from the PNC Park ballpark session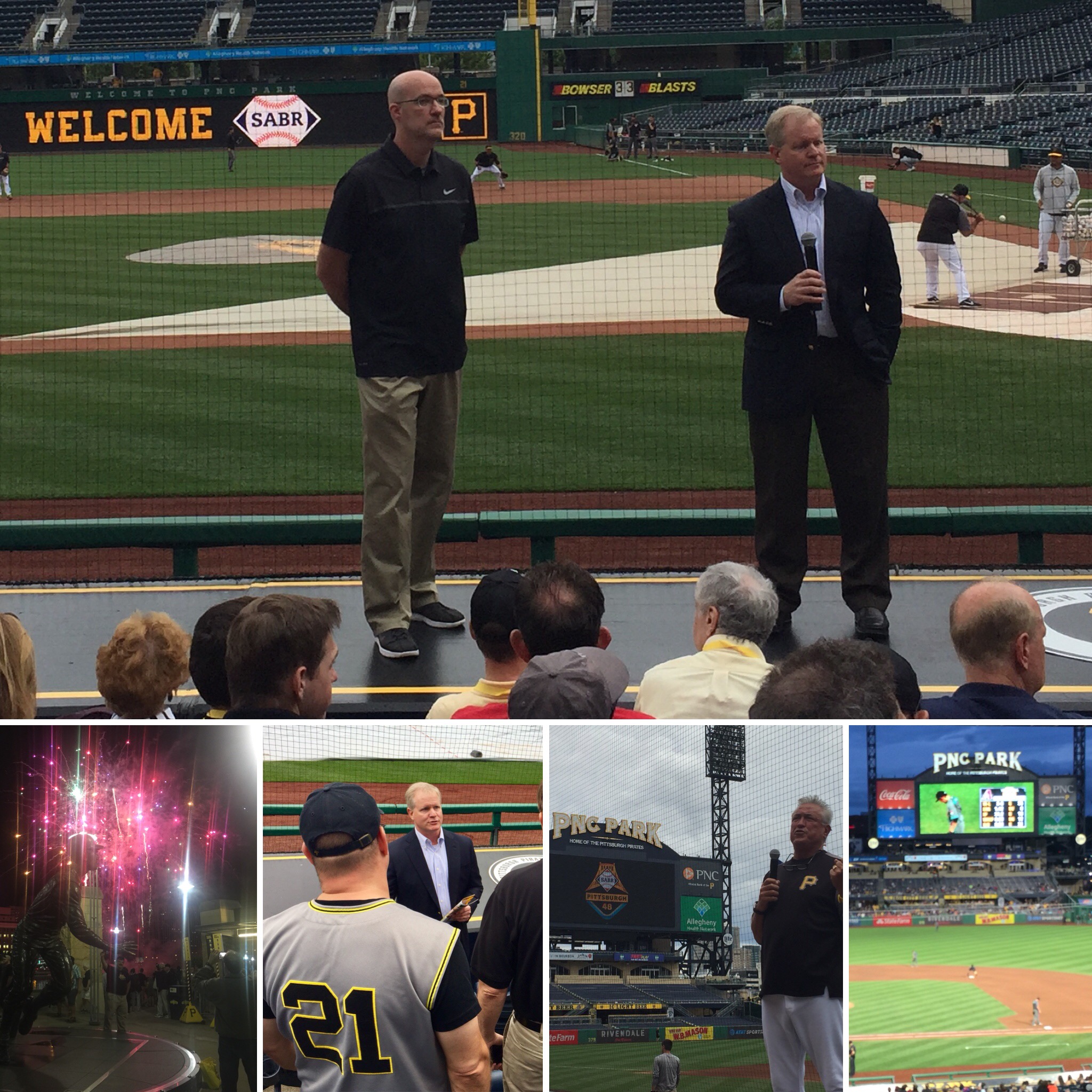 Attendees at the SABR 48 convention in Pittsburgh had a special opportunity to visit PNC Park for an exclusive pregame ballpark session with Pittsburgh Pirates executives, broadcasters, and manager on June 22, 2018.
Before the Pirates' game against the Arizona Diamondbacks, special SABR 48 presentations took place at PNC Park with Pirates general manager Neal Huntington, manager Clint Hurdle, broadcaster Joe Block, Director of Baseball Informatics Dan Fox, and Thomas E. Kennedy, former project executive for the Sports & Exhibition Authority of Pittsburgh and Allegheny County.
Click on a link below to listen to highlights from the SABR 48 ballpark session.
Click here to view a photo gallery of the SABR 48 ballpark session at Flickr.com.
Clint Hurdle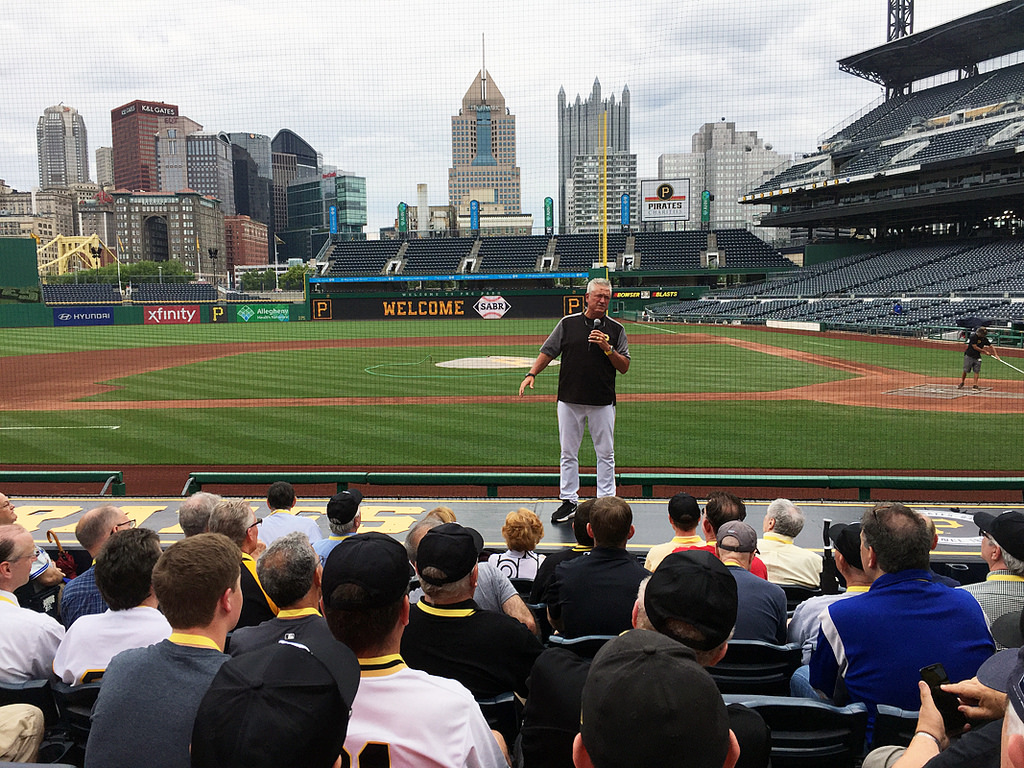 On getting into sabermetrics: "Ten years ago, you know what I had on sabermetrics? Nothing! … I actually started exploring sabermetrics after I was fired in Colorado in 2009 in the second month of the season. I went to work for the MLB Network and I had a lot of time on my hands. I'd go in and they'd give us our topics, they'd present ballgames, statistics and numbers, and then they'd present some analytics views of the game. 'Wow, this is interesting. I really never looked at this aspect before.' I'm sure for most of you it opened up an entire new world of baseball. And it's obviously opened up a whole new avenue for different types of fans to get involved in baseball. …"
On the value of sabermetrics to manager: "The analysts have provided our organization, and every organization, with another tool or two or three in your toolbelt. And the wonderful thing we do here so incredibly well, I do believe we are probably one of the pioneer organizations that bring our analysts into the clubhouse, into our team meetings, our scout meetings, to take our analysts with us on the road. … What the analytics have done is made me stretch. … They've made me listen, learn, use my ears and eyes, and trust and rely upon people who have a smarter sense of application in certain areas than I do. My job now is to coordinate with those people, to work side by side with those people, to give us a common fabric, a connection, so we're all working together."
On continuing to learn more: "I'm thankful for the different lenses, for different talents. … My dad is 84 years old. … I'm not going to try change my dad's view of the game. What I'm going to do is tell him what I've learned in the last 10 years, the evolvement that I needed to go through because if I didn't, the game is going to pass me by. The game is going to stop for no one. … Truth be told, there is a certain game of baseball that I'm holding onto that isn't as prevalent as it used to be. What I won't become is a grumpy old man and fight the change and fight the current. I need to learn how to swim with the current, to use the wind in the back of my sail to sail better."
---
Thomas E. Kennedy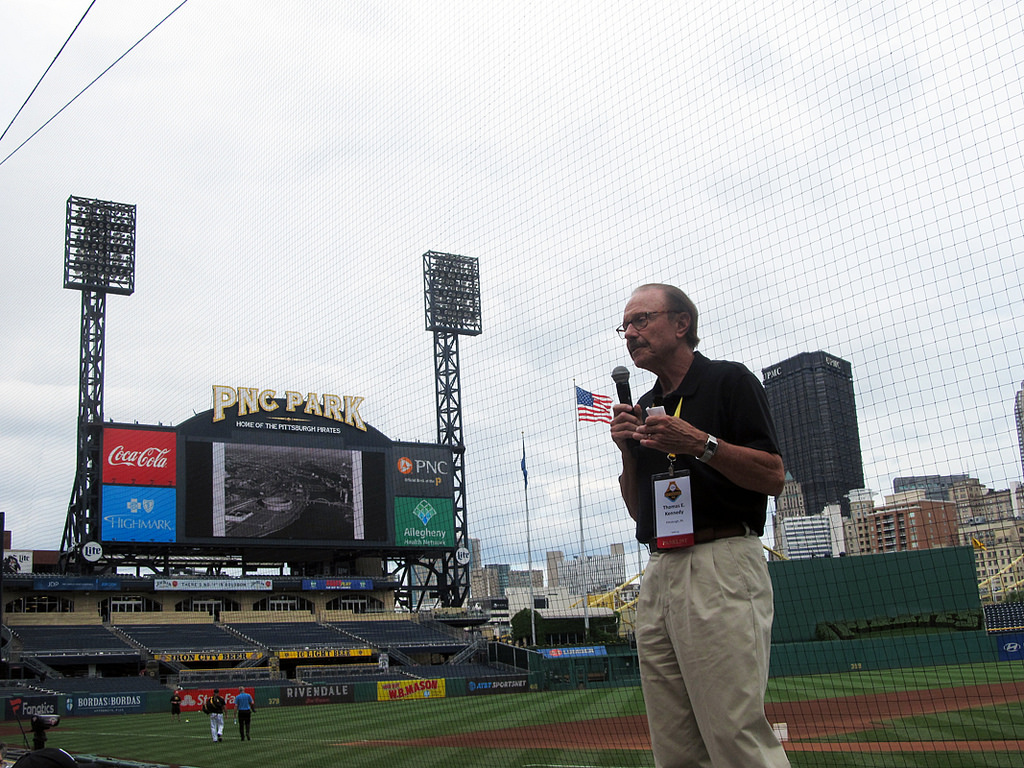 On the mayor's vision for PNC Park: "We had a mayor, Tom Murphy, who recognized that it was very important to keep the Pirates in Pittsburgh. As Frank Coonelly said yesterday, the Pirates have been part of the fabric of Pittsburgh since the late 1800s. We couldn't let them leave. But [Murphy] had a vision for much more than just a ballpark. … The task force [he commissioned to build a ballpark] had three criteria: 1) It had to be a benefit to Western Pennsylvania. 2) It had to be an aesthetic landmark. And 3) It had to be something other than a ballpark, a place [for fans] to go for other reasons, restaurants, entertainment, hotels, etc. … They also learned at the time from other cities, like Cleveland, Baltimore, and Denver, that building a stadium in the urban network was a good idea. … Tom Murphy's mom used to tell him when he was a kid, 'Stay away from the rivers and be home at night.' And his thing was, 'Go to the rivers and stay out late.' "
On choosing the location of the ballpark: "When you're at PNC Park, you know you're in Pittsburgh. I heard a joke about how it was really convenient they built a city so that when you're sitting at the ballpark you can see it. But the city was here first. … It was actually the best site for development. Believe it or not, this area had very little industrial [activity]. So the environmental issues were going to be low and the acquisition of property was not going to be that hard, so it was the perfect site."
---
Dan Fox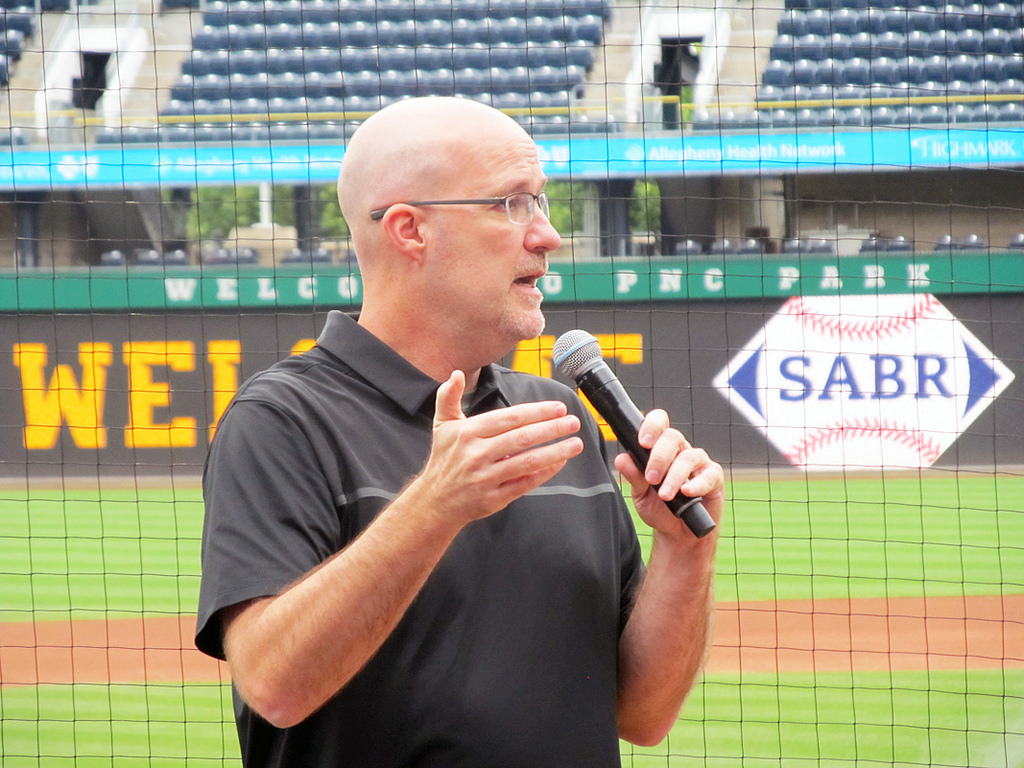 On his role as Director of Baseball Informatics: "Informatics is a term that's used to describe the cross-section between information and analytics. Our job, in our department, is to use information to do things that are actionable. So it's not just collecting information for information's sake, and it's not only doing analysis. It's actually trying to marry the two so we can inform the decision-making process and help make the best decisions possible. So our group acquires information from providers, we collect information from our scouting department, we then house that information, we create software for our scouts and our front office to use. And then of course we do analytics on that stuff ourselves and help the process with the major-league team as we scout opponents or the draft or making trades or free-agent acquisitions. That's kind of the 10,000-foot view."
On using information to make decisions: "Ultimately, our job is to help predict the future. We use the past to inform how we're going to do that. But generally speaking, we're trying to use the information we have today to help predict what's going to happen tomorrow: where are [pitchers] are trying to attack our hitters, where to position defenders, how a guys might develop through the minor leagues, where those players might be undervalued so we can have an opportunity to trade for them or make a waiver claim or sign them as a free agent."
On his early interest in baseball: "I first became a SABR member when I was 10 years old, and I remember signing up and getting my first Baseball Research Journal — and probably not understanding most of it, but I thought it was really cool. I always enjoyed the statistical side of the game and doing baseball simulations and all of that. I am a computer science person by education and worked in the software development industry for a long time before joining the Pirates about 10 years ago. I kind of got into it once Retrosheet and the play-by-play data became readily available and started writing for Baseball Prospectus, Hardball Times, places like that. … When the Pirates were looking for someone to jump-start the development of the internal system, my background in software development and doing some of that analysis was attractive. So that's how I got here."
---
Neal Huntington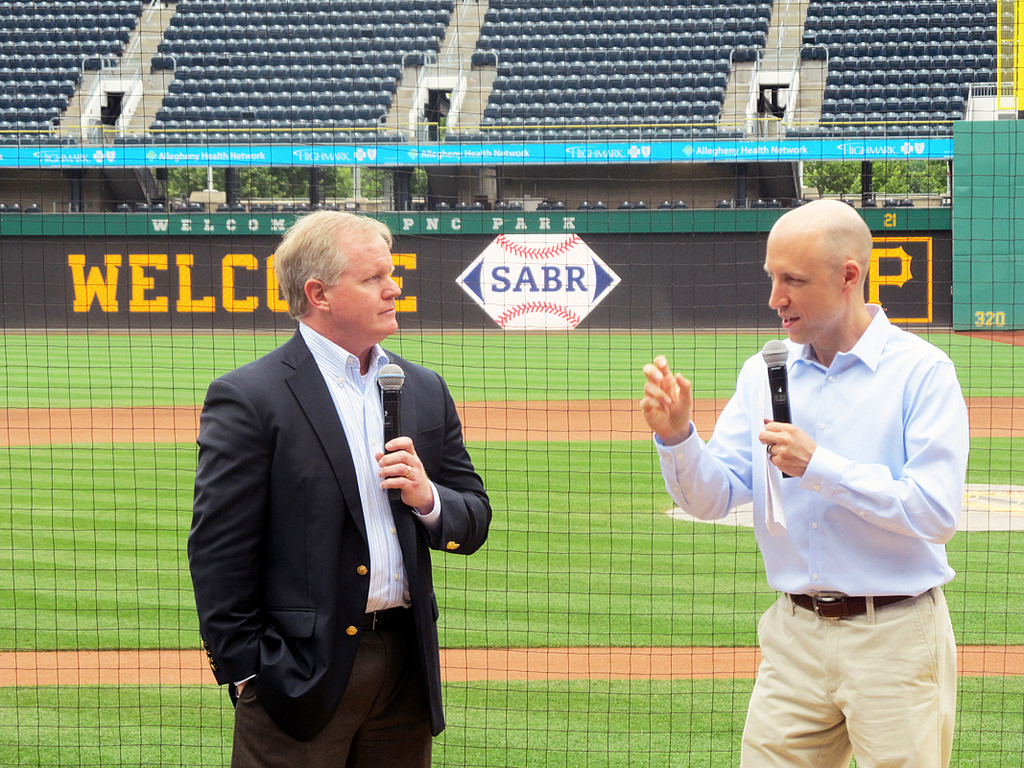 On evaluating amateur players before the draft: "There's a pendulum of information that we have available for any [player]. At the major-league level, a player has 5 to 10 years of data to work from and 5 to 7 years of minor-league data. But every year, the quality of data gets better, the depth gets better. There's still the fact that with an 18-year-old high school pitcher, you have limited data. So that's where the pendulum swings. … But the draft is very much art and science, and we're working to improve the science part of it. There's TrackMan in more college ballparks and in more minor-league ballparks. So when a showcase goes through one of those ballparks, we'll gather 15 pitches or 10 at-bats and we can begin to identify spin rate, exit velocity, some other things. It's still not enough a large enough sample to buy into holistically, but it does give us some indicators."
On the acceptance of statistics in front offices: "I have never understood the stats vs. scouts argument. If you go back to the old, traditional scouting reports, a lot of the tool grades were based on statistics. Your hit grade was based on batting average, your power grade was based on the number of home runs you hit, your control grade was based on walks per nine [innings]. … Branch Rickey recognized this years ago … but he faced resistance. In this day and age, we don't feel the resistance is necessarily against statistics. But baseball people are resistant to change. … It took years to get people to be willing to put numbers on the uniforms! So you can imagine it's taken years to get people to understand and accept that the numbers a player produces is his valuation, and it's going to take as long a time to change those numbers as we get better."
On limited opportunities for young players to develop: "I would like to see baseball stop being a game of the elite. As you know, baseball began as a game of the elite. It was the wealthy doctors, lawyers, people who could take time off in the second half of the day, to go play baseball. That's why they were called baseball clubs, like tennis clubs and golf clubs. Then it changed and it became open to everybody and that's when the game was the greatest. Unfortunately, we've become a game of the elite again. There's very limited opportunity in the inner cities. If you're not a travel team, if your mom and dad aren't willing to drive and sacrifice 40 of their 52 weekends for your benefit, if they're not willing to pay for gurus and flights and hotel rooms … you're going to get mocked for playing on your local town team. That's what we need to change as an industry. And I honestly don't know how to do it. … USA Baseball, Commissioner [Rob] Manfred, Major League Baseball, they're working hard … they've taken skill development in their youth and made it a priority. … Somehow we've got to develop skills and make the game interesting and stop letting these kids throw so many innings [at a young age.]"
For more coverage of SABR 48, visit SABR.org/convention.
---
Originally published: June 28, 2018. Last Updated: July 27, 2020.
https://sabr.org/wp-content/uploads/2020/03/research-collection4_350x300.jpg
300
350
admin
/wp-content/uploads/2020/02/sabr_logo.png
admin
2018-06-28 02:56:38
2020-07-27 16:11:21
SABR 48: Listen to highlights from the PNC Park ballpark session