SABR 48: Listen to highlights from the Wendell Smith panel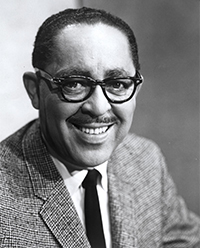 At SABR 48, our panel discussion on Wendell Smith of the Pittsburgh Courier: His Life and Legacy focused on the career of a pioneering African American sports writer on Thursday, June 21, 2018, at the Wyndham Grand Downtown Pittsburgh.
Our panelists included Chris Lamb, professor of journalism at Indiana University-Indianapolis and author of Conspiracy of Silence: Sportswriters and the Campaign to End Segregated Baseball; Larry Lester, chair of SABR's Negro Leagues Research Committee and author of nine books on baseball history; Pamela E. Walck, media professor at Duquesne University and author of an upcoming book on the Pittsburgh Courier; David K. Wiggins, professor at George Mason University and author of the upcoming book, More than a Game: A History of the African American Experience in Sport.
---
---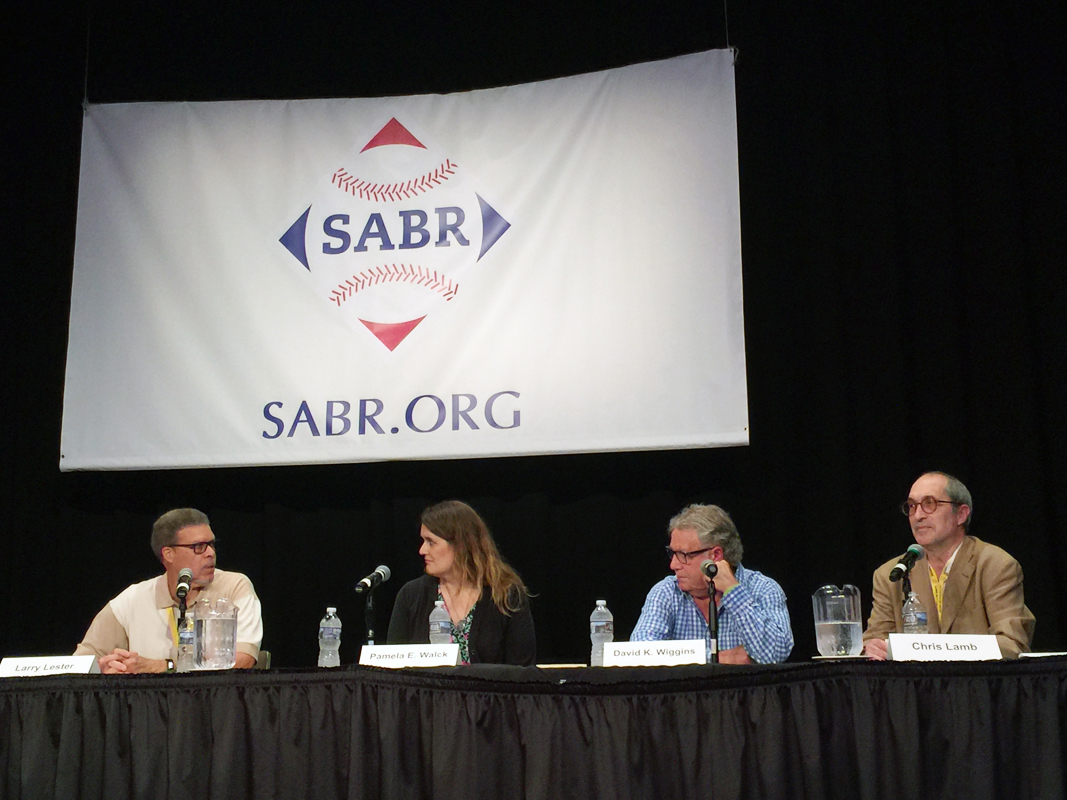 Here are some highlights from the panel:
ON THE PITTSBURGH COURIER'S HIRING OF WENDELL SMITH
Wiggins: "[In 1933] the Courier started a campaign to see if they could convince major-league baseball (teams) to sign African American players. … But I would contend that it really got its start with the hiring of Wendell Smith in 1937. He was an extraordinary person, very smart, very disciplined. He was a civil rights activist and he was also a gifted and talented writer. He began speaking out seriously in 1938 and he attempted to prick the consciousness of the leaders of major-league baseball and Americans more generally. Certainly with the advent of World War II, and the Courier's Double-V campaign, Wendell Smith also pointed out the hypocrisy that was so evident. How could you deny black players participation at the highest levels of the sport when we're fighting for the four freedoms?"
ON THE SIGNIFICANCE OF THE DOUBLE-V CAMPAIGN
Walck: "The campaign was huge. It started off as a letter to the editor [in 1942] from a young man who said, 'Why should I serve my country when I'm not being treated fairly at home? Why can't there be a double victory, one overseas and one at home?' … The campaign was really remarkable because it infused all across America. There were clubs that popped up. It influenced clothing and hairstyles, the women's hair would be done in a Double-V part. It just took over, it was a unifying element. You saw the logos everywhere. Even the [rival] Chicago Defender picked up on the Courier's coverage of it."
ON JACKIE ROBINSON AND WENDELL SMITH
Wiggins: "We talk a lot about [Branch] Rickey and Robinson, and how important they were to each other. … But I would contend we should talk more seriously and more often about Smith and Robinson. Wendell Smith was extraordinarily important to Robinson … there was a symbiotic relationship there. Wendell Smith became Jackie Robinson's friend [and] mentor [and] confidant. Smith kept track of Robinson's life in great detail. He's certainly important in regards to Jackie's first spring training. … He fashioned a narrative about this African American who is able to overcome the odds and not just find his way into major-league baseball, but to realize a highly successful 10-year, Hall of Fame career. He uses his pen to create this narrative about Jackie Robinson that I think is important for all of us to remember."
Lamb: "[Later in life], they stayed in touch but they had a falling-out. … In 1948, Smith ghost-wrote Robinson's autobiography and he made mistakes. This caused a rift. For instance, he had his name wrong. He called him John Roosevelt Robinson, and his name was Jack. And he referred to his mother as Molly, and it was Mallie. … Jackie Robinson also criticized the Negro Leagues, and the black sports writers — they sort of shot back at Robinson. And Smith also criticized Robinson for endorsing Republican candidates."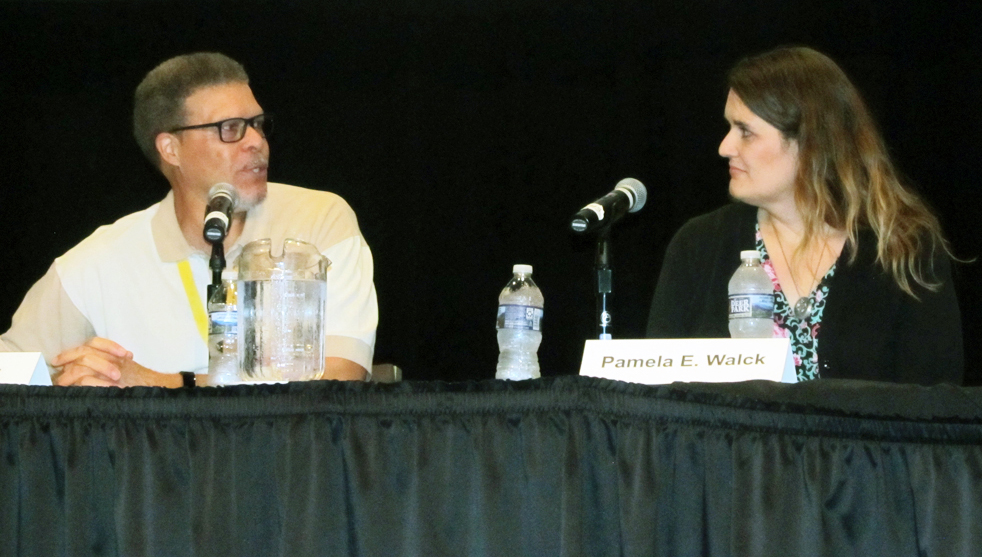 ON WENDELL SMITH'S LEGACY AS A CIVIL RIGHTS ACTIVIST
Lester: "Wendell Smith is on my Mount Rushmore of writers, along with Sam Lacy, Shirley Povich, and … Lester Rodney. … We cannot have sports without politics. That's why we have presidents throw out the first pitch. We have camouflage uniforms. People want to to separate this, but it is not possible. That's why we sing the [national anthem]. Wendell Smith was a game-changer; he started a movement before there was a civil rights movement. We should give him credit for that."
For more coverage of SABR 48, visit SABR.org/convention.
---
Originally published: June 27, 2018. Last Updated: July 27, 2020.
https://sabr.org/wp-content/uploads/2020/03/research-collection4_350x300.jpg
300
350
admin
/wp-content/uploads/2020/02/sabr_logo.png
admin
2018-06-27 00:44:04
2020-07-27 16:11:21
SABR 48: Listen to highlights from the Wendell Smith panel