SABR 49: Bill Carle pulls off daily double, teams with Jamie Selko to win Trivia Contest
Trivia giant Bill Carle pulled off the "daily double" to win both the individual and, with Jamie Selko, the team contests at the SABR Trivia Contest on Saturday, June 29, 2019, at SABR 49 in San Diego.
Carle, of Lee's Summit, Missouri, became the third SABR trivia champion to win both contests in the same year, joining Mike Caragliano in 2012 (Minneapolis) and Rob Rafal in 2016 (Miami). Carle tied Caragliano for the all-time SABR record with four career wins in the individual trivia contest. He also won his seventh team contest, for 11 overall trivia championships, second only to Mark Kanter in SABR convention history.
Selko, of Eugene, Oregon, won his fifth career team trivia title and second in a row. He and Carle were also part of winning teams in 1985, 1986, and 1993 — the last time the SABR convention was held in San Diego.
---
---
Carle and Selko held off the runner-up team, called No Use For A Name, which included Brian Wood (Pacific Grove, California); Jerry Kahn (New York City); Steve Roney (Ladera Ranch, California); and R.J. Lesch (Carlisle, Pennsylvania).
Wood was a first-time finalist in the individual contest, but he was bested by the 11-time champion Carle, who drew gasps from the crowd when he correctly answered a question about the unusual coincidence that united All-Star third basemen Pepper Martin and Al Rosen (answer: they were both born on February 29).
The other team semifinalists were The All-Americans: David Kaiser, Francis Kinlaw, Tom Howell, and Elliott Frankfother; and The Four Musketeers: Dick Cramer, David W. Smith, Steve Krevisky, and Philippe Cousineau. Lesch and Cousineau were also semifinalists in the individual contest.
The SABR Trivia Contest was moderated by D. Bruce Brown, president of the Baltimore Babe Ruth Chapter and co-chair of Horsehide Trivia with T. Scott Brandon. Brown and Brandon wrote and edited the questions. Considerable assistance in both evening sessions at SABR 49 was given by Diane Firstman, Damian Begley, and Frank Workman. Rich Klein, Larry Hayes, and Mike Caragliano helped with fact-checking and proofreading. Brandon assembled the game boards of the semifinal and final rounds.
To view a list of previous SABR Trivia Contest winners, click here.
For more coverage of SABR 49, visit SABR.org/convention.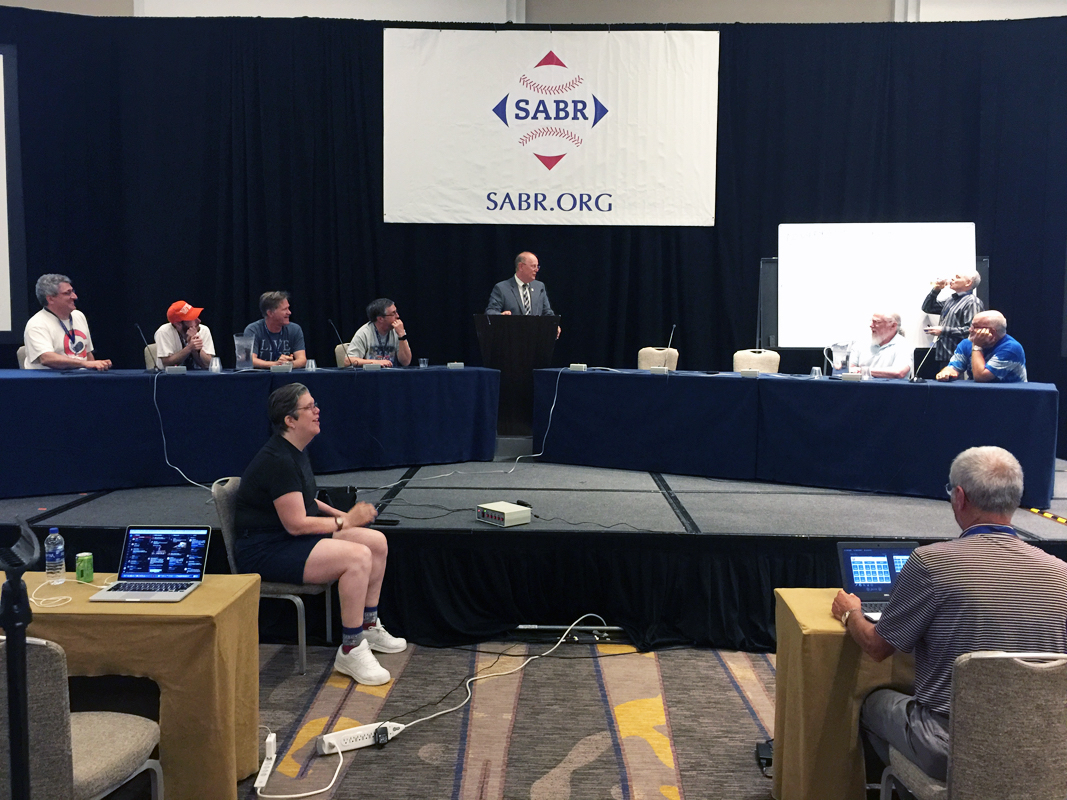 D. Bruce Brown, center, of Horsehide Trivia emcees the SABR 49 Trivia Contest team finals on June 29, 2019, at the Manchester Grand Hyatt in San Diego. Pictured on stage, from left: R.J. Lesch, Jerry Kahn, Brian Wood, Steve Roney, Brown, Jamie Selko, and Bill Carle. In front: Diane Firstman and Frank Workman. In back: scorekeeper Damian Begley.
---
Originally published: June 29, 2019. Last Updated: July 27, 2020.
https://sabr.org/wp-content/uploads/2020/03/research-collection4_350x300.jpg
300
350
admin
/wp-content/uploads/2020/02/sabr_logo.png
admin
2019-06-29 23:38:22
2020-07-27 16:10:15
SABR 49: Bill Carle pulls off daily double, teams with Jamie Selko to win Trivia Contest