SABR 49: Listen to Padres legend Steve Garvey's oral history interview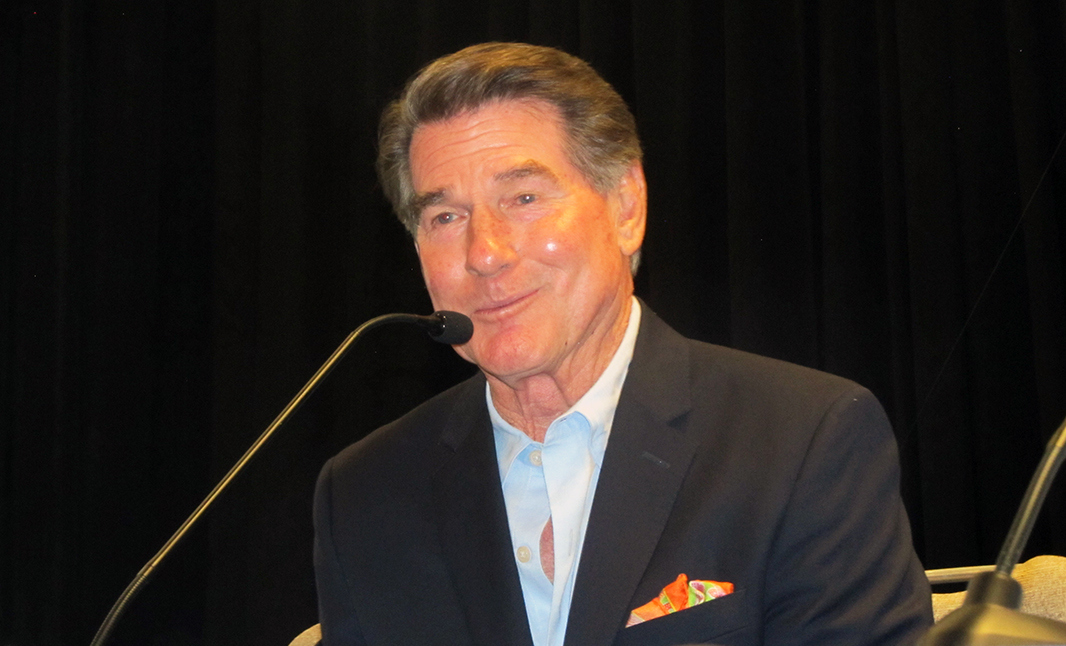 At SABR 49, we were excited to welcome Steve Garvey, one of the most popular players in San Diego Padres history, for a live SABR Oral History interview on Saturday, June 29, 2019, at the Manchester Grand Hyatt in San Diego.
Garvey played 19 seasons in Major League Baseball and his game-winning blast off Hall of Fame closer Lee Smith to win Game Four of the 1984 NLCS helped propel the Padres to their first World Series. He won MVP honors in the NLCS and his No. 6 was the first ever retired in franchise history.
He also helped lead the Los Angeles Dodgers to four World Series and he was selected as the MVP for the National League in 1974. He made 10 All-Star teams, won four Gold Glove awards at first base, and his streak of 1,207 consecutive games played is still the most ever in National League history. He was interviewed at SABR 49 by John McMurray, chair of SABR's Oral History Committee.
---
---
Here are some highlights: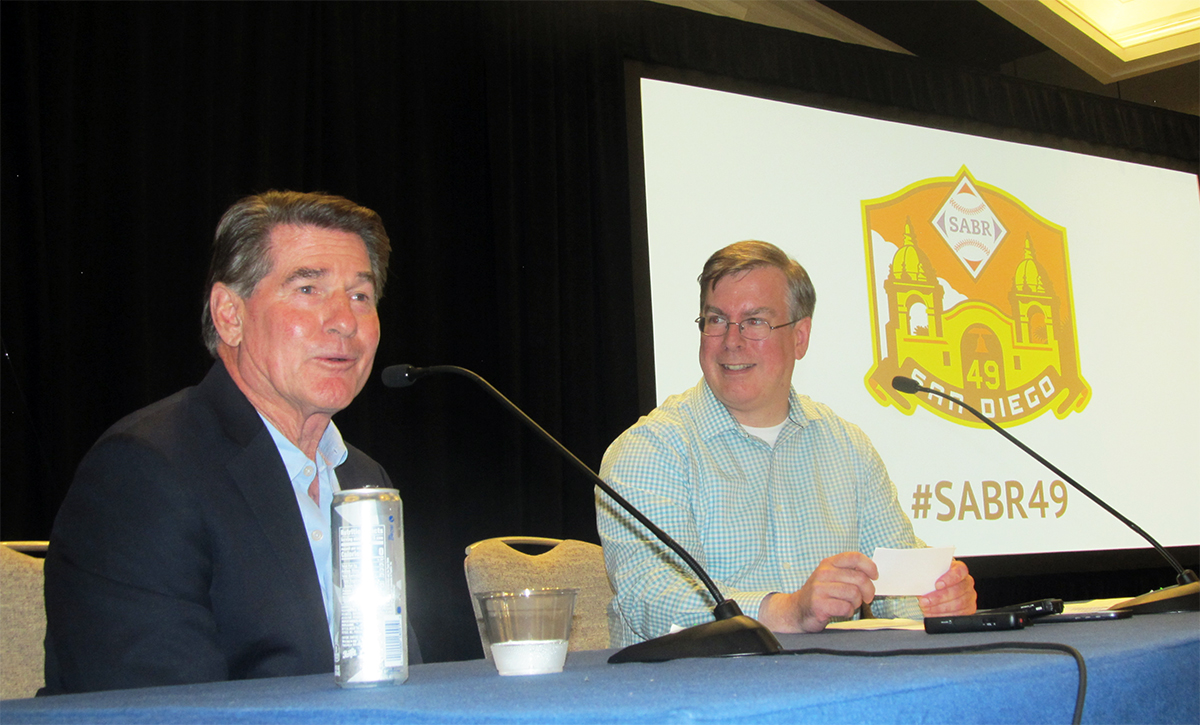 ON HIS SIGNING WITH THE PADRES
"The Dodgers made me an offer I could refuse, at the end of 1982. Nobody ever thought I wouldn't be a Dodger. … At that time, five teams could draft you to negotiate with you, and it was San Francisco, the Cubs, Yankees, Houston, and the San Diego Padres. … [Padres owner] Ray Kroc said, 'Stevie, I want you here. But I got one problem: I can only pay you in Big Macs and french fries.' I looked at him and said, 'Can I have them for a lifetime?' He said, 'You can. I think I can find a few bucks, too. Let's get this deal done.' We had a great lunch, we talked about McDonald's and success … and [the next day] it was done."
ON HIS GAME-WINNING HOME RUN IN THE 1984 NLCS
"I had been sick the night before, I didn't take batting practice. I'm laying on the table in the training room and [Padres manager] Dick Williams comes up and says, 'Listen, we won't start you, we'll pinch-hit you.' I looked at Dick and said, 'Twelve hundred and seven [consecutive] games, seven and a half years, I'm playing tonight.' Dick was a pretty astute manager, and he looked at me and just said, 'Go get 'em, kid.' … In the bottom of the ninth, I told Tony Gwynn, who's leading off, 'T, just get on and I'll try to get it in the gap in right and with your speed, let's win this thing.' … I was 0-for-6 off Lee Smith that year. Every time I faced him, it was the shadows of Wrigley and he was throwing 98. But the first pitch was a fastball up a little bit, I felt good and the adrenaline kicked in. … I figured he's not going to throw me a breaking ball, he's going with his best stuff. He left it out over the plate … and I stayed on top of it and it started going up. It's that sweet spot in time where for a moment it freezes as it's going toward the light, like in The Natural … and I'm getting to first base and I see the ball come down and Henry Cotto is climbing the wall and I think, 'Oh my lord, [it'll be] the greatest catch in postseason history.' And it lands about five feet [behind him] and then pandemonium. I hit first base, I lift my fist up in the air, really for the fans, and by the time I got towards home plate and picked me up on their shoulders. … Everyone said, 'When that ball hit the wall, we knew we were going to win [the series].' "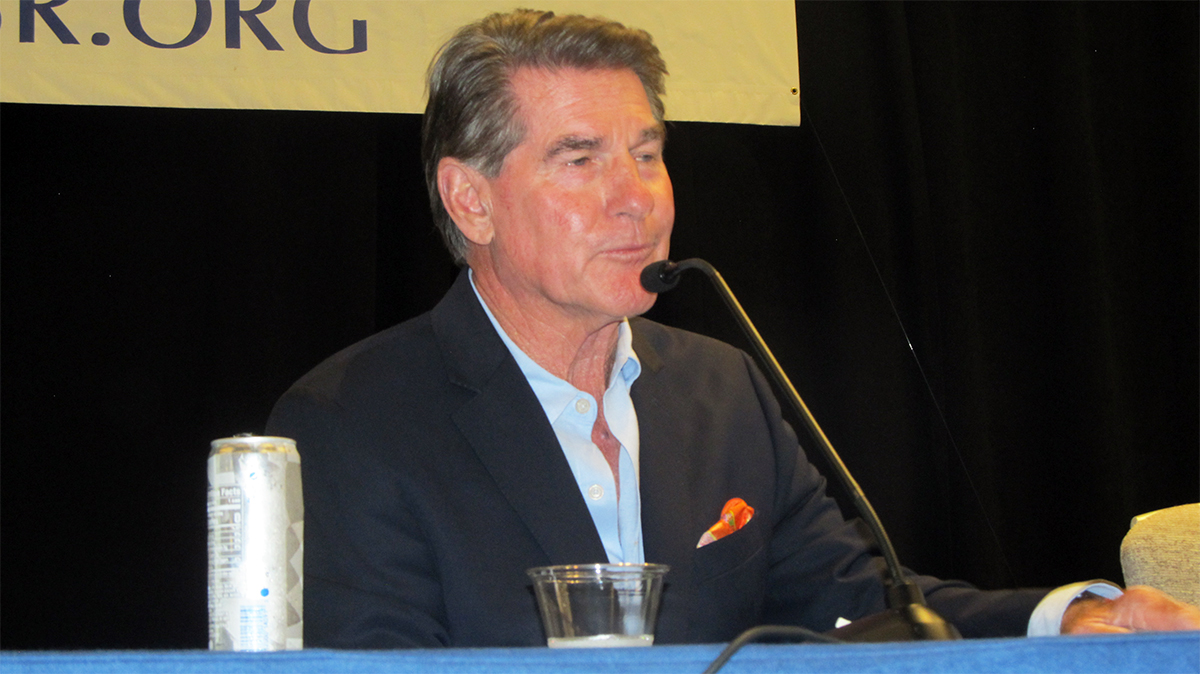 ON HIS RELATIONSHIP WITH TONY GWYNN
"I had played against Tony [with the Dodgers] and we had talked from time to time. I was hoping [then] he would become a better basketball player than a baseball player. … As we get older, we have to work harder — do extra things to 'buy time' [and extend your career.] I would get to spring training at 7:00 and what I used to do is jump rope for about 25 minutes in some secluded spot. So I found a back dressing room in Yuma and I feel like somebody's there with me, and it's Tony. He asks what I'm doing and I said, 'I'm buying time.' He said, 'Am I going to have to do that?' I said, 'I hope so.' He laughed and said, 'OK, that's my first lesson from the Garv: you can't work too hard.' "
ON HIS ABILITY TO PERFORM UNDER PRESSURE
"The more critical the situation, the more important the situation, I wanted to be up at the plate and I wanted the ball hit to me. If I failed, I failed daringly. But if you don't want to be in that situation, if you have a fear of failure, you don't want the ball hit to you or you don't want to face Nolan Ryan or Steve Carlton, then you're probably going to fail."
For more coverage of SABR 49, visit SABR.org/convention.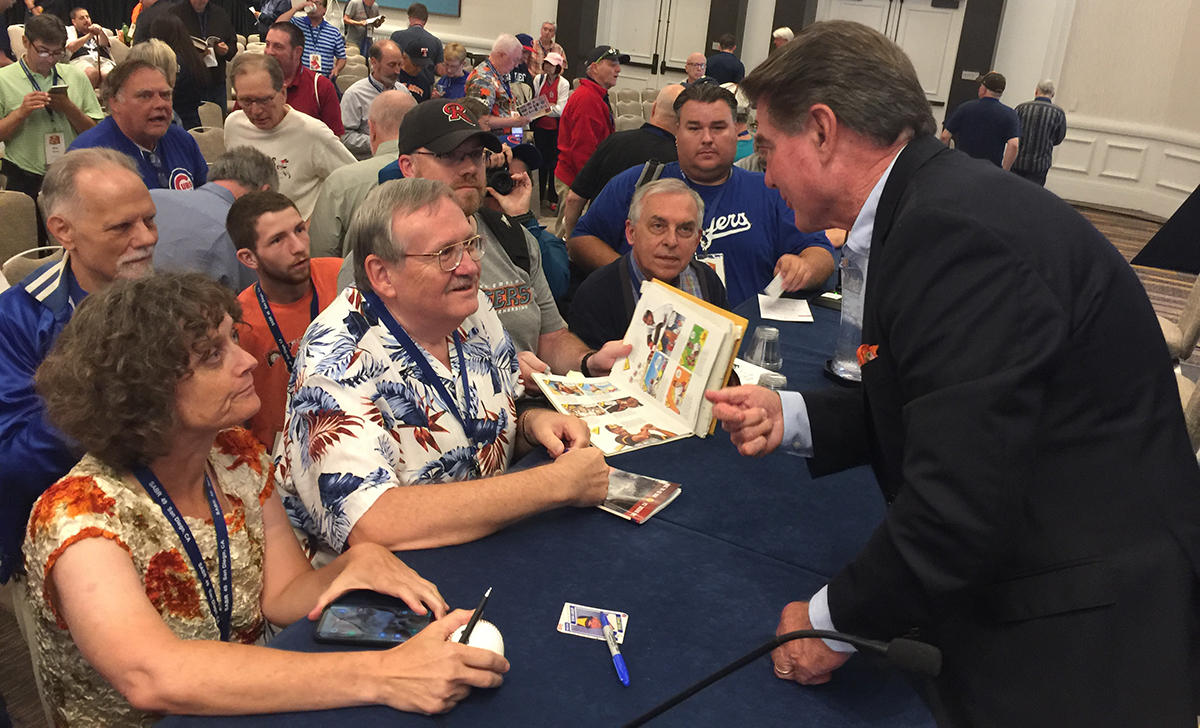 Steve Garvey, right, greets SABR founding member Tom Hufford, center, following his live Oral History interview at SABR 49 on June 29, 2019.
---
Originally published: July 9, 2019. Last Updated: July 27, 2020.
https://sabr.org/wp-content/uploads/2020/03/research-collection4_350x300.jpg
300
350
admin
/wp-content/uploads/2020/02/sabr_logo.png
admin
2019-07-09 15:20:30
2020-07-27 16:10:15
SABR 49: Listen to Padres legend Steve Garvey's oral history interview