SABR 49: Pankin, Rewolinski win 2019 convention presentation awards
Mark Pankin has won the 2019 Doug Pappas Award for the best oral research presentation and Zachary Rewolinski has won the SABR Convention Poster Presentation Award for the best poster presentation at SABR 49 in San Diego.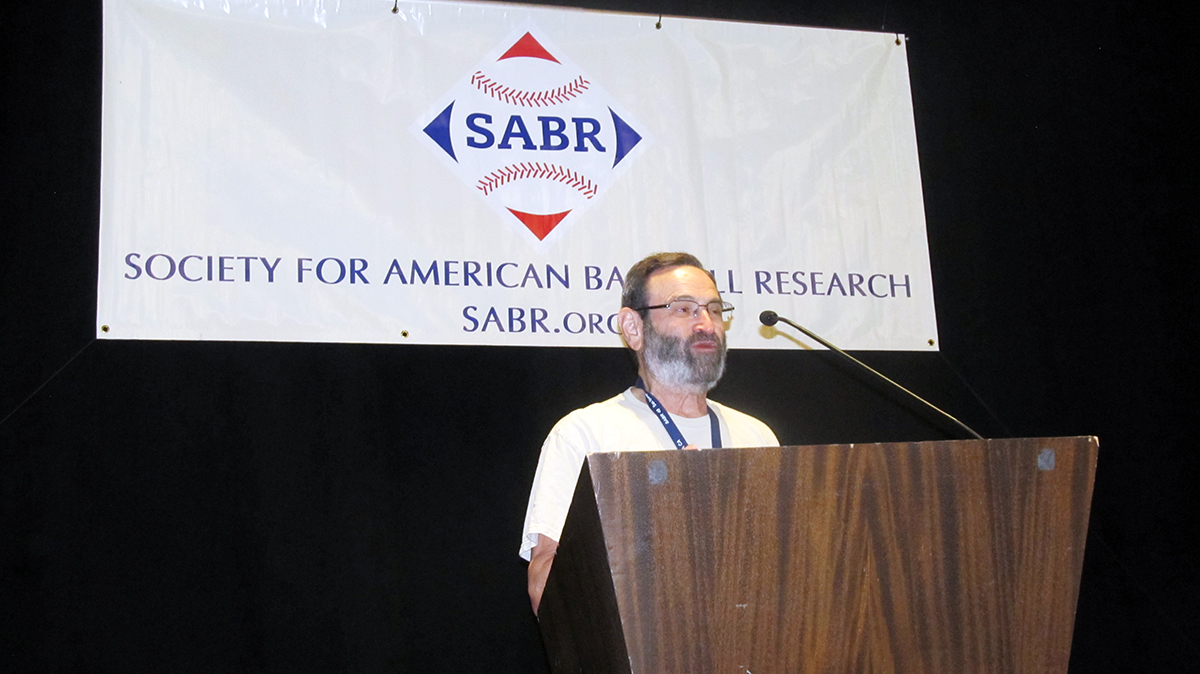 Pankin, the Retrosheet.org webmaster and and a retired investment advisor from Alexandria, Virginia, won the Pappas Award for his presentation, "Baseball's Most Confounding Rule," which he delivered Friday, June 28 during SABR 49 at the Manchester Grand Hyatt hotel in San Diego.
Pankin's abstract is posted below:
The rule for what can happen when a team sends the wrong batter to the plate has two parts, both of which are uncomplicated. Nonetheless, it has resulted in confusion and wrong actions by players, managers, umpires, and at least once by a league president. With the apparent exception of Earl Weaver, managers often have failed to take full advantage of the strategic possibilities that can occur when the other team commits a violation. Pankin explains the batting-out-of-turn (BOOT) rule and discuss its history, shows how often it has happened, and looks at some of the causes of teams violating it. He takes the audience through examples of the confusion or misinterpretation that have resulted, including a nonsensical ruling by a league president. Finally, he illustrates some of the potential strategic advantages available after a BOOT, ones that have rarely been used.
The Doug Pappas Award — originally established as the USA Today Sports Weekly Award in 1992 and renamed in 2004 to honor the late baseball researcher — includes a $250 cash prize with a matching amount donated to SABR.
Rewolinski, a recent Scripps Ranch High School graduate from San Diego who will be attending Rice University, won the SABR Convention Poster Presentation Award for his poster, "An Analysis of the Relationship Between Pitcher Size and UCL Tears." His abstract is posted below:
A UCL tear is a death sentence on the season of a player and can have large repercussions on the team and league as a whole, making it crucial for front offices to understand what puts players at a heightened risk for this injury. Due to these heavy consequences, UCL injuries have been thoroughly researched in numerous ways and fields. Zach takes an novel approach by examining these injuries in correlation with pitcher size. He analyzes the BMI, weight, age, and fastball velocity of MLB pitchers in years 2000-2017 to determine the impact of pitcher size on UCL tear probability. The results of this study will aid executives and front offices in evaluating pitchers and their risk of needing Tommy John surgery. Moreover, these findings may aid pitchers in lowering chances for injury by guiding their offseason training goals.
Click here to download a high-resolution image of Rewolinski's poster presentation (PDF)
An earlier version of Rewolinski's presentation was published in an article at FanGraphs.com earlier this spring.
The SABR Convention Poster Presentation Award was previously known as the USA Today Sports Weekly Award; it was first presented in 1990 as the John W. Cox Award and includes a $125 cash prize with a matching donation to SABR.
Honorable mentions for the oral presentation were:
Michael Haupert, "The Business of Being the Babe"
Andy McCue, "Don't Get Big Ideas: The Pacific Coast League Owners' Quest for Major League Status"
David W. Smith, "Time Between Pitches: Cause of Long Games?"
Honorable mention for the poster presentations was:
Dirk Lammers, "Where in the World is a No-No in San Diego?"
For more coverage of SABR 49, visit SABR.org/convention.
---
Originally published: June 29, 2019. Last Updated: July 27, 2020.
https://sabr.org/wp-content/uploads/2020/03/research-collection4_350x300.jpg
300
350
admin
/wp-content/uploads/2020/02/sabr_logo.png
admin
2019-06-29 19:15:56
2020-07-27 16:10:16
SABR 49: Pankin, Rewolinski win 2019 convention presentation awards