SABR Diamond Report: August 2012
Editor's note: Welcome to the first edition of the Diamond Report. The Diamond Report will be a series of monthly messages, written by SABR President Vince Gennaro and Executive Director Marc Appleman, to keep SABR members better informed about the Society's direction and progress. The Diamond Report archives will be collected at SABR.org/diamondreport. To learn more about becoming a SABR member, visit SABR.org/join.
August 1, 2012
By Vince Gennaro
SABR President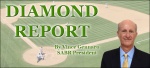 It's been an exciting year for SABR—one filled with change and major accomplishments. We've launched the SABR Analytics Conference, reached a licensing agreement with MLB Advanced Media (MLBAM) to allow more of SABR's research assets to be seen by many more people, and found ways to use our new Phoenix base to make SABR even stronger. In an effort to give our members more background about the direction and actions of SABR over the past year or so, I'd like to address the "why" — the reasons we are doing many of the things we're doing at SABR today.
Over the last year, nearly all of our actions have focused on two objectives: advancing our mission as a baseball research organization and stabilizing our financial base. I believe it's important to draw the connection between our actions of the past year and our mission as a research society, particularly since we are doing things differently than we had in the past as we try to adapt to a changing environment.
At our core, SABR is a research community dedicated to deepening the public's understanding and appreciation of the great game of baseball. This includes encouraging and supporting the study of baseball, as well as disseminating our research to a broad audience. Our ability to fulfill our mission can be distilled to:
Our ability to attract researchers with diverse baseball interests
The quality of our research
The way in which we disseminate our research
On the first two points, we do particularly well. SABR can claim many of the world's leading baseball researchers in their chosen areas of interest. Robert Fitts on Japanese baseball history, Alan Nathan on the physics of baseball, and John Thorn on the origins of baseball are just a few among the hundreds of active SABR members that are internationally recognized as experts in their field.
We also strive to maintain a high quality of research and do a fine job by utilizing our Committee structure, peer review, and other collaboration tools, including the use of SABR-L as a feedback mechanism.
But one area where we could stand to improve is in the dissemination of our research. It's not just how much research we produce, but it's also about who sees our research. It was with that goal in mind that we brought Marc Appleman on board as our Executive Director. Marc has done an outstanding job building our relationships within the baseball community. We cannot fulfill our mission without having our members' research reach the people and organizations to whom our work should matter most — those connected to organized baseball, which includes the Hall of Fame, MLB, MiLB, the MLBPA, and the baseball media, such as the BBWAA, MLB.com, and broadcast media. I would argue that a connection to baseball — being on its radar screen — is fundamental to our mission and gives our work even greater impact and relevance.
One concern I sometimes hear is, "Will our objectivity and independence be compromised by relationships with organized baseball?" From talking to people within baseball it is very clear to me that our objectivity and independence are the very traits that make us unique and different from all other entities that have a voice within baseball. Since many baseball people view our objectivity as central to the value we provide, I feel strongly that we will be able to maintain this all-important objectivity and independence.
Another priority area over the last year has been our focus on bringing in new members. What's our real motivation? I've even heard some members lament, "Why do we have to be bigger … what's the benefit?" Aggressively seeking new members is not all about being bigger. Our aging membership base has been well documented. In the last 20 years our median age has gone up 17 years. In addition to the very consistent churn rate we've had each year for the last couple of decades — members coming and going for various reasons — we are now losing an additional several hundred members each year, based on the standard mortality tables. Over the last 12 months we have brought in 1,100 new members, one of our highest new member totals in the last 15 years. But that increase has simply allowed us to stay about even (actually up about 50 members vs. the same date one year ago). Bringing in new members is both a defensive and forward-looking strategy. Defensive so that we can at least maintain our membership levels, which allows us to invest in a level of service for our members, but future-oriented so that we can expand member services and create the next generation of baseball researchers, who can carry on the mission of SABR for another 40 years.
Finally, I'd like to talk about why we produced the first SABR Analytics Conference in Phoenix in March. As we put the plan together last summer, it became clear that the Analytics Conference could accomplish multiple objectives to advance our mission:
It would capitalize on the location of our new office in Phoenix — the western nerve center of baseball — during the heart of spring training
It would elevate our profile within baseball and the media, which would pave the way for more outlets for our research — not just on analytics, but all of our research
It could provide a much-needed financial boost to SABR at a time when we had been running deficits for several years. We believed we could use it as a platform to launch a donation and sponsorship campaign outside of our membership base, within the baseball community
I'm happy to say the Conference delivered on all fronts. In fact, it is one of the key reasons we project a significant improvement in our financial results versus last year.
We are also working to provide even greater value to SABR members in terms of research tools, tools to enable you to function better as a community, and to give you even more for your dues. There are many initiatives underway in these areas as well, which we will talk more about on future updates.
In summary, I want to acknowledge that we are operating differently than we did for much of the last couple of decades. I also wanted to give you context as to "why" — which includes the need to offset our aging membership base, but also need to adapt to a changing environment and renew the organization. Finally, I want to convey to you my sense of optimism that is shared by our Executive Director, Marc Appleman, and the Board of Directors — that these actions position us to do an even better job of fulfilling SABR's mission in the months to come. It's a great time to be a SABR member.
Vince Gennaro was elected as SABR's President in 2011. He is also the author of "Diamond Dollars: The Economics of Winning in Baseball", a consultant to Major League teams, and appears regularly on MLB Network. Read his blog, "Diamond Dollars", at vincegennaro.mlblogs.com.
---
Originally published: August 1, 2012. Last Updated: August 1, 2012.
https://sabr.org/wp-content/uploads/2020/03/research-collection4_350x300.jpg
300
350
jpomrenke
/wp-content/uploads/2020/02/sabr_logo.png
jpomrenke
2012-08-01 15:31:02
2012-08-01 15:31:02
SABR Diamond Report: August 2012