SABR Diamond Report: January 2013
Editor's note: The Diamond Report is a series of monthly messages, written by SABR President Vince Gennaro and Executive Director Marc Appleman, to keep SABR members better informed about the Society's direction and progress. The Diamond Report archives are collected at SABR.org/diamondreport. To learn more about becoming a SABR member, visit SABR.org/join.
January 3, 2013

By Marc Appleman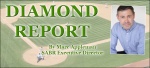 In keeping with its mission to showcase its top research through unique books and publications and in keeping with the industry-wide move to digital publishing, SABR has instituted an exciting publications program heading into 2013.
Starting this month, SABR will be offering free e-books to members on a regular basis. In addition to receiving free e-books, SABR members will be able to purchase print-on-demand (POD) copies at a greatly reduced member price. These will include new books produced by members and reprints of SABR books that have been published through the years. Two of the new books illustrate the type of research that only an organization like SABR could produce:
Calling the Game, by Stuart Shea, promises to be the definitive book on baseball broadcasters. Some of you might have seen Gary Gillette's presentation at SABR 42 based on research from the book.
Inventing Baseball: The 100 Greatest Games of the Nineteenth Century, edited by Willis Felber and the Nineteenth Century Committee. This looks to be an excellent collection of write-ups of great games and more than one hundred photos and vintage graphics.
Other new books that are in the works include team books on the 1964 Philadelphia Phillies, 1901 Boston Americans, 1960 Pittsburgh Pirates and 1914 Boston Braves.
SABR members will also once again get to enjoy a free version of The Emerald Guide to Baseball this spring.
SABR will also be re-releasing digital versions of SABR publications and bringing more than a dozen titles into e-book form. For the books that are still in circulation, we'll add e-book versions; and for those that are out of print, we'll make available print-on-demand editions that can be ordered through bookstores or from Amazon.com. The upcoming slate includes:
Batting, by F.C. Lane
Memories of a Ballplayer, by Bill Werber and Paul C. Rogers III
Award Voting, by Bill Deane
The Fenway Project, edited by Bill Nowlin and Cecilia Tan
Ward's Base Ball Book, by John Montgomery Ward
Baseball's First Stars, edited by Frederick Ivor-Campbell, Bob Tiemann and Mark Rucker
Minor League Stars, Vols. 1-3, by the SABR Minor Leagues Committee
Home Runs in the Old Ballparks, edited by David Vincent

This Date in Baseball History, edited by L. Robert Davids

Baseball in the Nineteenth Century: An Overview, by Jack Selzer

Baseball Historical Review, edited by L. Robert Davids
We are taking SABR's electronic publications program, headed by Cecilia Tan, to a new level in 2013, but it began last year with the release of seven titles.
You may have seen that we just released Detroit Tigers 1984! What a Start! What a Finish!, a BioProject book edited by Mark Pattison and David Raglin, ably assisted by Jan Finkel and Len Levin, and featuring biographies and articles written by more than 40 of SABR's finest.
The other new titles were: CAN HE PLAY? A Look At Baseball Scouts and Their Profession, edited by Jim Sandoval and Bill Nowlin; OPENING FENWAY PARK IN STYLE: The 1912 World Champion Red Sox, edited by Bill Nowlin, associate editors: Dan Desrochers, Len Levin and Maurice Bouchard; and Red Sox Baseball in the Days of Ike and Elvis: The Red Sox of the 1950s, edited by Mark Armour and Bill Nowlin, with Maurice Bouchard and Len Levin. With Fenway Park celebrating its 100th anniversary in 2012, it was a particularly big year for baseball books involving the Red Sox.
The three reprints were: NINETEENTH CENTURY STARS: 2012 edition, edited by Robert L. Tiemann and Mark Rucker, with a new preface by John Thorn; RUN, RABBIT, RUN: The Hilarious and Mostly True Tales of Rabbit Maranville, by Walter "Rabbit" Maranville; introduction by Dr. Harold Seymour, afterword by Bob Carroll; and GREAT HITTING PITCHERS, edited by L. Robert Davids, updated for 2012 by Mike Cook, aided by David Vincent.
The SABR publications program also features a six-book BioProject deal with The University of Nebraska Press. Last year's releases were The Team That Forever Changed Baseball and America: The 1947 Brooklyn Dodgers, edited by Lyle Spatz; and Pitching, Defense, and Three-Run Homers: The 1970 Baltimore Orioles, edited by Mark Armour and Malcolm Allen.
This spring will feature the release of Bridging Two Dynasties: The 1947 New York Yankees, edited by Lyle Spatz; and Drama and Pride in the Gateway City: The 1964 St. Louis Cardinals, edited by Bill Nowlin and John Stahl. The 2014 releases will be on the 1954 Cleveland Indians, edited by Joseph Wancho; and the 1975 Cincinnati Reds, edited by Mark Armour.
* * *
In a world where legendary magazines such as Newsweek and The Sporting News are going totally digital starting this month, SABR is bridging both worlds. As an organization that prides itself on maintaining the best of its past, but also constantly striving to move forward and take advantage of exciting new opportunities and technologies, SABR will offer its members the opportunity to opt out of receiving the printed version of the Baseball Research Journal. We'll be offering the BRJ as e-books as well, for those who are enjoying reading on their Kindles, Nooks, iPads or other e-reading devices. (Did you know that the Fall 2012 BRJ is already available in e-book form? Download your copy by clicking here.) We'll have more details regarding the opt-out in an upcoming "This Week in SABR".
Many of our SABR members are heavy readers, who have accumulated many books and periodicals over the years. Some members, whose bookshelves are near capacity, have asked us if they could still receive our stimulating content without the burden of a hard copy. By offering this totally voluntary option of receiving only an electronic version of the BRJ, we are keeping in step with the changing marketplace for printed publications, while accommodating any members who wish to have more "portability" of the written material our members produce. Furthermore, by not printing and mailing more than 6,000 copies each month, SABR would use the money it saves through printing and mailing costs and apply it to new research opportunities; this move also helps us to be more environmentally friendly.
Also starting this summer, The National Pastime — our annual convention journal, which will be considerably larger in 2013 than any previous edition — will be offered as a souvenir to members attending SABR 43 in Philadelphia. All other members will have the opportunity to download a free e-version in PDF, Kindle or iPad/Nook format, read the entire publication online at SABR.org, or purchase a print-on-demand version at a special discounted member price. Again, this will make it easier for members to digitally collect and save TNP publications in the years to come. By publishing larger versions of the TNP (up to 32 pages longer in some instances), more SABR members will have a chance to have their work published and SABR members will have the opportunity to read more top-level articles every summer.
As I mentioned at the beginning of this report, SABR has instituted a very exciting publications program, thanks in large part to Cecilia Tan and a talented team of SABR editors and writers — and it only promises to get bigger and better in the future.
Marc Appleman has been SABR's Executive Director since 2010. His broad-based media career began as a baseball writer at the Los Angeles Times, San Diego Edition, and he has also worked as a Senior Coordinating Editor at ESPN, Director of Programming at AOL Sports and Managing Editor at FoxSports.com. He can be reached at execdir@sabr.org.
---
Originally published: January 3, 2013. Last Updated: January 3, 2013.
https://sabr.org/wp-content/uploads/2020/03/research-collection4_350x300.jpg
300
350
jpomrenke
/wp-content/uploads/2020/02/sabr_logo.png
jpomrenke
2013-01-03 15:00:00
2013-01-03 15:00:00
SABR Diamond Report: January 2013